The fireproofing capabilities of asbestos also made it an ideal material to use in protective clothing such as protective jackets for firefighters and aprons and mitts for foundry workers. Weaving asbestos fibers along with other fibers also improved the tensile strength of textile products.
Years Produced: 1884 – 1980s
History
At A Glance
Places Used: Oil refineries, power plants, aluminum plants, steel plants, foundries, homes, offices
Toxicity: Medium
Asbestos Use Banned: No
Textile Cloth Friable: Yes
Textile Garments Friable: No
While the use of asbestos in cloth can be traced back as far as 2500 B.C., it wasn't until the late 1800s that it was commercially produced in the United States. One of the first companies to produce asbestos textiles was Johns Manville, which began manufacturing the cloth in 1884. As demand for the material rose — and because asbestos was spun in a similar method to cotton — several textile mills that were built to process cotton were converted to asbestos textile factories in the early 1900s.
Asbestos fibers of different grades were mixed in a fiber blender according to specifications of the intended product. The fibers are then combed into a fiber mat. The mat is pressed and layered into an arrangement of fiber mats called a lap. Thin ribbons, called roving, are made from the lap. At this stage, other fibers like cotton or rayon can be added. The roving is further spun and twisted to form yarn. Yarn can then produce thread. Thread can be used to make fabric for garments, rope, wicking or even tape.
In the United States, the Carolinas were particularly instrumental in the industry. There were large deposits of naturally occurring asbestos in both states, and textile mills were established in former cotton mills near the mines. One such textile plant was the Southern Asbestos Manufacturing Company mill in Charlotte, North Carolina. In 1920, the company purchased a cotton mill and converted it into an asbestos mill, producing yarn and cloth. In just two years, the company's profits more than tripled.
The use of asbestos in manufacturing cloth and garments declined due to the toxic nature of the mineral. Now, many different heat-resistant materials are used in the manufacturing of textiles and protective garments.
A number of companies produced asbestos textile cloth and garments, including:
Amatex Corp.
Anchor Packing Co.
Asten Group, Inc.
Atlas Turner, Inc.
Koppers Co. Inc
Dresser Industries, Inc.
Johns Manville Corp.
Southern Textile Company
Uniroyal
Wheeler Protective Apparel, Inc.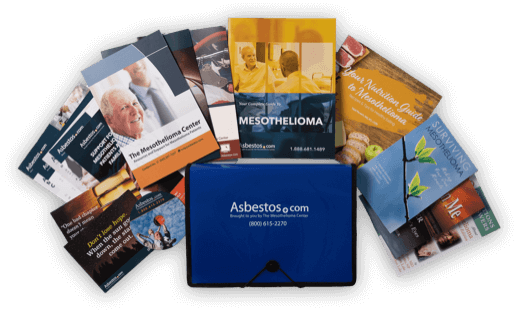 Get a Free Mesothelioma Guide
Free information, books, wristbands and more for patients and caregivers.
Get Yours Today
Dangers
When asbestos textile cloth and protective clothing become worn, the toxic fibers woven into the fabric are released into the air. Asbestos cloth can be made from as much as 100 percent asbestos. If used in garments, the percentage can vary. Garments meant to be worn in extreme temperatures will have a higher percentage. While these garments are not generally friable, when they are damaged they can become friable. Asbestos cloth in its raw form is considered friable, especially if it was used as thermal insulation.
Workers in foundries, glassworks and steel plants often wore these garments to protect them from extreme temperatures and from burns while working with molten materials. Protective garments often consisted of coats, gloves, leggings and aprons. Employees who worked with furnaces and stood along the paths where molten metal flowed wore asbestos coats and leggings during the casting process.
An analysis of the air quality in these plants and factories found that during the course of the workday, asbestos clothing regularly emitted fibers and exposed workers. If the clothing was not in good condition, there was a greater chance that the fiber count would be excessive. In regular use, clothing can become worn or cut by pieces of sharp metal or machinery in these plants and release extra fibers. Firefighters also used these jackets and gloves to protect them from fire and extreme heat. Uniforms are often exposed to extreme temperatures and wear and tear.
However, the occupation at greatest risk from these products was the textile mill worker. The extremely dusty conditions from milling and spinning raw asbestos contributed to high levels of lung disease in these workers. In fact, one of the first health claims of asbestosis was filed in 1927 by a textile mill worker.
Occupations where asbestos exposure from textile cloth and garments is common include:
Firefighters
Furnace operators
Glass workers
Loom fixers
Pipefitters
Shipbuilders
Shipfitter
Steel mill workers
Textile mill workers (including weavers, spinners, sewers, baggers, etc.)
Textile operatives
Average consumers were also at risk from asbestos cloth and garment products since it was used in home goods like ironing boards and oven mitts.
Exposed to an Asbestos Product?
Our Patient Advocates can answer your questions about asbestos exposure and help you find a top attorney.
Lawsuits
In Greenleaf v. Garlock et al., the jury ruled in favor of the plaintiff Charles Greenleaf and awarded $250,000 to Mr. Greenleaf's estate and $1.6 million for loss of consortium to the plaintiff's wife, Naomi Greenleaf. The plaintiff worked as a shipfitter and alleged that he developed mesothelioma from exposure from several materials including asbestos cloth and rope used in ships. The suit was filed against several manufacturers, including Johns Manville, Uniroyal and Garlock that were known for producing products made from asbestos textiles.
In another case, a shipyard storeroom worker named George Skleres filed suit against Raymark Industries, the manufacturer of Raybestos brand asbestos cloth. Mr. Skleres worked as a storeroom man from 1964 to 1982. He would routinely cut pieces of the cloth for orders. When the cloth was cut, he inhaled the dust. Many years later, he developed mesothelioma.
Products
Textile products that may have contained asbestos include:
Aprons
Canvas
Carpeting
Electrical cloth
Filter paper (for juices or chemicals)
Fire blankets
Fire draperies and curtains (for use in theaters)
Firefighter's clothing
Glassblower mitts
Gloves
Ironing board covers
Metal mesh blankets
Oven mitts
Pipe coverings
Pot holders
Prison cell padding
Protective clothing for metal and foundry workers
Upholstery
Welder's blankets
Brands
Some brands of asbestos textile products include:
3M Rubber Coated Asbestos Cloth
Amatex Asbestos Cloth
Amatex Asbestos Yarn
Atlas Turner Asbestos Cloth
Fire King Protective Clothing
Garlock Hydraulic Asbestos Fabric & Rubber#532
J-M A Grade Asbestos Cloth
J-M AA Grade Asbestos Cloth
J-M AAA Grade Asbestos Cloth
J-M AAAA Grade Asbestos Cloth
J-M Asbestos Pipe Blanket
J-M Asbestos Turbine Blanket
J-M Commercial Grade Asbestos Cloth
Min-Klad Blankets
PACOR Asbestos Cloth
Raybestos Cloth
Raymark Blankets
Raymark Cloth
Southern Textile Cloth
Therm-A-Gard
Thermowrap Blankets
Uniroyal Asbestos Cloth
Weldgard
6 Cited Article Sources
The sources on all content featured in The Mesothelioma Center at Asbestos.com include medical and scientific studies, peer-reviewed studies and other research documents from reputable organizations.
How did this article help you?
What about this article isn't helpful for you?
Did this article help you?
Thank you for your feedback.
Would you like to speak with a Patient Advocate?
Last Modified January 20, 2020