Emotional Freedom Techniques include a variety of practices that generally involve tapping acupuncture points while repeating statements that focus on a specific issue or goal a person wants to work on such as anxiety or addiction. EFT is also commonly called "tapping."
The underlying principles of EFT date back to the origins of acupuncture, but the therapy as it is practiced today was founded in the 1990s by Gary Craig, a Stanford engineering graduate and ordained minister. Craig developed EFT after studying with psychologist Roger Callahan, founder of Thought Field Therapy, which also involves tapping acupuncture points to treat psychological and physical ailments.
Advocates of EFT use the therapy to cope with stress, anxiety and panic attacks, among other mental, emotional and physical conditions. Cancer patients, such as those diagnosed with malignant mesothelioma, may use EFT as an alternative or complementary therapy to deal with stress, pain and anxiety.
Critics of EFT say the underlying principles are based on pseudoscience.
The American Psychological Association (APA) in 2012 published a review of the evidence for EFT, stating the therapy met the criteria for evidenced-based treatments, even though the mechanisms behind EFT are not understood. In short, evidence shows EFT works, but we don't understand why.
In 2013, the APA began granting continuing education credits for psychologists to study EFT, but the organization still does not advocate its use for any particular mental health condition.
EFT for Cancer-Related Stress
According to EFT practitioner and retired registered nurse, Sherrie Rice Smith, using EFT in times of stress helps to regulate the body's stress response. Smith says the tapping element of EFT sends signals to the brain that help calm the mind and body. The statements help people process their feelings related to the stress.
Smith refers to a 2012 study in which tapping was found to reduce a stress hormone called cortisol by 24 percent after one hour of tapping. The Mayo Clinic says cortisol is our primary stress hormone that helps people respond to stress in the moment, but when people are chronically stressed — such as throughout cancer treatment — cortisol can negatively affect the immune system, digestive system, inflammation levels and parts of the brain that influence mood, motivation and fear.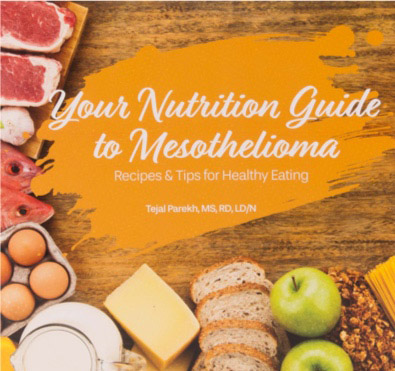 Free Mesothelioma Nutrition Guide
Eating right and balancing your diet while undergoing mesothelioma treatment can help ease your symptoms.
Get Free Recipes & Tips
The tapping of acupuncture points involved in EFT theoretically harnesses the nervous system and parts of the brain involved in stress response.
Functional MRI scans have shown acupuncture can reduce hyperarousal in areas of the brain that regulate stress response. This includes the amygdala and other parts of the limbic system, which is responsible for our emotional responses, stress response, learning ability and formation of memories.
EFT theoretically helps anyone under stress, such as mesothelioma patients undergoing harsh treatments or veterans coping with post-traumatic stress disorder (PTSD).
A growing number of mental health therapists and psychotherapists are trained in EFT. These therapists are qualified to teach EFT to their clients. They may also combine EFT with other psychotherapeutic techniques and recommend other types of support such as support groups or group therapy. All of these empower patients to process and control their response to stress.
Scientific Studies on EFT
Numerous studies of EFT have been conducted in recent years. Some of the researchers conducting the studies are proponents of the therapy and sell books or hold workshops on EFT, which critics say presents a conflict of interest.
Research has looked at the effects of EFT on anxiety, depression, stress management, PTSD, phobias, bodily pain, weight loss and addiction.
Although the results are mixed, a significant portion of the research indicates EFT can help people cope with all of the aforementioned conditions. EFT likely cannot cure these conditions alone, but it seems to improve treatment results when combined with other psychotherapeutic strategies from licensed therapists and medication management from a physician or psychiatrist.
Numerous studies show EFT may help people cope with pain, stress, anxiety and depression, which are common among cancer patients.
A significant decrease in anxiety scores was confirmed in a 2016 systematic review of 14 studies that tested EFT among people with anxiety.
A 2016 systematic review of 20 studies on EFT for depression reported a 41 percent mean reduction of depressive symptoms. Researchers found EFT was more effective than traditional treatment, diaphragmatic breathing and sleep hygiene education.
In a 2017 review of more than 40 clinical trials, researchers found EFT to be an effective treatment for PTSD. EFT helped to regulate stress hormones and the limbic system. Evidence was also found of the epigenetic effects of EFT, including improved function of immunity genes and regulation of inflammatory genes.
A 2017 study examined the effects of EFT among veterans with PTSD and found the therapy successful at helping veterans in as few as five to 10 sessions.
In 2009, a study was conducted to evaluate the impact of spiritually focused EFT on cancer-related pain. The study involved two groups of cancer patients taking medicine for pain, with one group only receiving pain medicine and the other receiving EFT in addition to pain medicine. Researchers reported the combination of EFT and pain medicine was more effective than pain medicine alone.
EFT Cannot Cure Cancer
It should be noted that some websites claim EFT can cure cancer. However, there is no research or evidence to support this claim.
The only research of EFT among cancer patients exclusively studied how the therapy impacted pain levels. While those results were positive, they had nothing to do with controlling or curing cancer.
EFT is an evidenced-based treatment for anxiety, depression and PTSD. The exact mechanisms of why EFT works are not understood, but a growing body of research is beginning to provide answers.
Regardless of the scientific underpinnings, people who practice EFT rely on it to help them through times of stress.
13 Cited Article Sources
Feinstein, D. (2012). Acupoint stimulation in treating psychological disorders: Evidence of efficacy. Review of General Psychology, 16(4), 364-380. doi: 10.1037/a0028602
Clond, M. (2016). Emotional Freedom Techniques for anxiety: A systematic review with meta-analysis. Journal of Nervous and Mental Disease, 204(5), 388-395. doi:10.1097/NMD.0000000000000483.
Nelms, J., & Castel, D. (2016). A systematic review and meta-analysis of randomized and non-randomized trials of Emotional Freedom Techniques (EFT) for the treatment of depression. Explore: The Journal of Science and Healing, 13(6), 416-426. doi:10.1016/j.explore.2016.08.001
Church, D., & Feinstein, D. (2017). The manual stimulation of acupuncture points in the treatment of post-traumatic stress disorder: A review of Clinical Emotional Freedom Techniques. Medical Acupuncture, 29(4), 1–12. doi:10.1089/acu.2017.1213
Church, D. et al. (2017). Emotional Freedom Techniques to treat posttraumatic stress disorder in veterans: Review of the evidence, survey of practitioners, and proposed clinical guidelines. Permanente Journal, 21(2), 16-23. doi: 10.7812/TPP/16-100
Hakam, M., Yetti, K., & Hariyati, T. S. (2009). Spiritual emotional freedom technique intervention to reduce pain in cancer patients. Makara Journal of Health Research, 13(2). doi: 10.7454/msk.v13i2.375
Burk, L. (2013, July 14). The tipping point for tapping: EFT goes mainstream. Retrieved from: https://www.huffingtonpost.com/larry-burk-md/eft-tapping_b_3269995.html
Church, D., Yount, G., & Brooks, A.J. (2012). The effect of emotional freedom techniques on stress biochemistry: A randomized controlled trial. J Nerv Ment Dis., 200(10), 891-896. doi: 10.1097/NMD.0b013e31826b9fc1
Mayo Clinic. (2016, April 21). Chronic stress puts your health at risk. Retrieved from: https://www.mayoclinic.org/healthy-lifestyle/stress-management/in-depth/stress/art-20046037
Smith, S.R. (n.d.). How EFT intervenes in chronic stress. Retrieved from: http://www.eftuniverse.com/anxiety-stress/how-eft-intervenes-in-chronic-stress
Craig, G. (n.d.). The EFT Manual, Sixth Edition. Retrieved from: http://www.spiritual-web.com/downloads/eftmanual.pdf
Church, D. (2012). The EFT Mini-Manual. Retrieved from: http://www.eftuniverse.com/images/pdf_files/EFTMiniManual.pdf
ACEP. (n.d.). Member search. Retrieved from: http://energypsych.site-ym.com/search/
How did this article help you?
What about this article isn't helpful for you?
Did this article help you?
Thank you for your feedback.
Would you like to speak with a Patient Advocate?
Last Modified July 24, 2019