Dealing with an illness such as mesothelioma doesn't just affect the body. It can also take a toll on someone's mental and emotional health. Keeping a healthy mind can also help the body better deal with the stress of illness, improve quality of life and help the body recover from treatment.
In addition to other complementary therapies, emotional effects therapies can help patients manage their emotional well-being as well as their physical health.
People have turned to meditation, counseling and pet therapy to cope with the emotional effects of cancer. There is evidence that these therapies provide multiple benefits that carry over from the mind to the body.
Meditation
At its core, meditation is simply a practice of awareness. Meditation may help not just with spiritual and emotional problems, but with physical ones as well. Adding meditation to traditional cancer treatment can reduce feelings of depression, anxiety and physical discomfort.
Presently, meditation is utilized in many medical facilities to help cancer patients cope by reducing grief and anger. It also teaches those in physical pain how to deal with the extreme discomfort.
There are many types of meditation, but the two basic forms are spiritually framed meditation and nonspiritual meditation.
Spiritually-Framed Meditation
Some patients may choose to meditate with a spiritual focus. Patients may incorporate prayer into their practice, or meditate on spiritual writings that provide reassurance, guidance or peace. One evaluation of devotional meditation, a practice involving prayer and quiet reflection on spiritual material, found it was more effective at reducing anger and anxiety than progressive muscle relaxation.
Many mesothelioma treatment centers host spiritual meditation programs, such as the MD Anderson Cancer Center's "Introduction to Centering Prayer." These programs are designed for patients of all faiths and denominations and focus on generating peace through deeper awareness. Hospice-employed clergy members may also provide guidance for spiritual meditation.
One Italian survey found that almost all cancer patients who identified as religious churchgoers felt that prayer and meditation helped them cope with their illness. Studies have also found that spiritual coping methods including meditation can help patients adjust to a cancer diagnosis.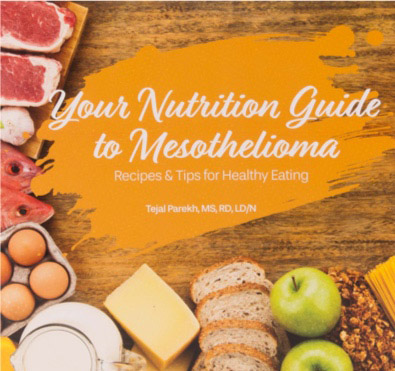 Free Mesothelioma Nutrition Guide
Eating right and balancing your diet while undergoing mesothelioma treatment can help ease your symptoms.
Get Free Recipes & Tips
Nonspiritual Meditation
Meditation does not have to have a spiritual focus. Patients can practice it without a religious inclination. In one small survey, nonreligious cancer patients explained that they practiced meditation to obtain peace of mind.
Mindfulness-Based Stress Reduction (MBSR) is a popular form of nonreligious meditation. This style is especially prevalent in the cancer community. Several hospitals (including the Abramson Cancer Center and the University of California San Diego Health System) offer eight-week MBSR programs for cancer patients. These courses help patients channel their own inner wisdom to rise above illnesses, stressors and other challenges in their personal life.
In one small study, 89 cancer patients completed a seven-week MBSR program. Participants reported immediate improvements in their sleep quality, fatigue, stress and mood, and maintained these benefits through their six-month follow-up visit.
Meditation may help people cope with the emotional and physical effects of radiation therapy. A 2013 study investigated the effects of practicing meditation among breast cancer patients undergoing radiation therapy and reported that meditation reduced anxiety, lessened fatigue and improved quality of life.
Counseling
A mesothelioma diagnosis is usually accompanied by treatment plans that care for the patient's physical well-being but not the feelings of being overwhelmed, fearful and anxious. Cancer patients are better able to handle and process negative emotions with the guidance of a mental health professional.
It's healthy to reach out for a little emotional support when you face cancer. Psychologists, therapists and clinical social workers are trained professionals who can help patients process their emotions. Depending on the type of health insurance the patient has, some counseling visits may be covered. Certain cancer centers offer free counseling to patients and their family.
Tips for Choosing a Counselor
When looking for a counselor, two of the most important factors are the patient's comfort level and the counselor's experience.
A few things to consider when choosing a counselor:
Counselors who work in a cancer treatment center might have more experience to assist with the specific emotions cancer patients may have.
A counselor should have at least a master's degree in a counseling field. The professional may also have a doctorate degree and be licensed.
A counselor should be warm and caring.
One of the best sources for a counselor is by word of mouth from other cancer patients.
If the first session or two doesn't "feel right," don't be afraid to look for a better match.
Trust is important. Take time to find a good counselor that makes you feel comfortable.
Ask if counseling is offered at your cancer center. You may also ask your insurance for a list of counselors covered under your plan.
Pet Therapy
Pet therapy, also known as animal-assisted therapy, employs the use of animals in the emotional treatment of a disease or illness. Pet therapy can range from watching fish swim in an aquarium to petting a dog to caring for livestock. A friendly animal companion can ease some of the stress and anxiety of dealing with mesothelioma.
Scientific studies prove that pet therapy can benefit patients. Lower medication costs, longer life, increased alertness and an improved mood are just some of the health benefits of pet therapy. While pet therapy should not be considered a replacement for conventional medicine, it is a wonderfully effective complement to traditional methods.
The most common animals used in this type of therapy are dogs and cats that are specially trained to be around hospital equipment and are comfortable around many people. Professional animal handlers may accompany the pet when visiting with patients.
This type of therapy can help mesothelioma patients reduce stress in just one visit. One study found that pet therapy participants noticed immediate changes to their mood, and this small amount of therapy reduced stress and mood disturbances by 57 percent.
Less stress equals a drop in fatigue, reduces pain perception, improves respiration and increases vital sign stability. For a mesothelioma patient, this can be a blessing. Ask if pet therapy is available at your cancer center or hospital.
8 Cited Article Sources
Miccinesi, G., Proserpio, T., Pessi, M. A., Maruelli, A., Bonacchi, A., Borreani, C., & Ripamonti, C. (2012). Is the spiritual life of cancer patients a resource to be taken into account by professional caregivers from the time of diagnosis? Tumori; 98 (1). Retrieved from: http://www.ncbi.nlm.nih.gov/pubmed/22495717
MD Anderson - Spiritual Support. Retrieved from: https://www.mdanderson.org/patients-family/diagnosis-treatment/patient-support/spiritual-support.html
Carlson, C. R., Bacaseta, P. E., & Simanton, D. A. (1988). A controlled evaluation of devotional meditation and progressive muscle relaxation. Journal Articles. Retrieved from: http://uknowledge.uky.edu/crvaw_facpub/166/
Acem Meditation International – FAQ. Retrieved from: http://www.acem.com/acem_sites/acem_co_uk/on_acem/node_6473/faq
Carlson, L., Ursuliak, Z., Goodey, E., Angen, M., Speca, M. (2001). The effects of a mindfulness meditation-based stress reduction program on mood and symptoms of stress in cancer outpatients: 6-month follow-up. Supportive Care in Cancer; 9 (2). Retrieved from: http://link.springer.com/article/10.1007%2Fs005200000206?LI=true
Good Therapy. (2010, November 17). Mental health and cancer: The often-overlooked connections. Retrieved from: http://www.goodtherapy.org/therapy-for-cancer.html#How%20Psychotherapy%20Can%20Help%20with%20Cancer
Coakley, A. B. & Mahoney, E. K. (2009). Creating a therapeutic and healing environment with a pet therapy program. Complementary Therapy – Clinical Practice; 15 (3). Retrieved from: http://www.ncbi.nlm.nih.gov/pmc/articles/PMC2798799/
Kim, Y., et al. (2013). Effects of mediation on anxiety, depression, fatigue and quality of life of women undergoing radiation therapy for breast cancer. Complementary Therapies in Medicine, 21(4):379-387. doi: 10.1016/j.ctim.2013.06.005
How did this article help you?
What about this article isn't helpful for you?
Did this article help you?
Thank you for your feedback.
Would you like to speak with a Patient Advocate?
Last Modified July 24, 2019