The goal of homeopathic treatment is to use natural substances to trigger minor symptoms similar to the disease. The body then goes to work fighting them off. For example, someone with a cough could be treated with natural medicine that also causes a cough.
Homeopathy is theoretically about strengthening your immunity to a particular sickness. This concept is similar to vaccination, which exposes people to inactive doses of a virus or substances that cause a disease or illness in order to build natural immunity. However, homeopathy is not a form of vaccination. No active or inactive viruses or bacteria are used in homeopathy.
Homeopathy typically involves taking small doses of extremely diluted substances that come from plants, minerals or animals. The principle of dilutions that is central to homeopathy means the lower the dose, the greater its effectiveness. Diluted substances are often shaken, called a "potentization" step.
During potentization, it is believed that information or some form of energy is transferred from the original substance to the final diluted remedy. It is this information or energy that helps stimulate the body's natural healing power.
Hans Burch Gram, a Danish-American, is generally credited with bringing homeopathy to the U.S. in the early 1800s. In a 2007 National Health Interview Survey that included complementary and alternative medicine, approximately 3.9 million U.S. adults and about 900,000 children used homeopathy during the previous year.
Clinical trials of homeopathy show that the therapy cannot prevent or treat cancer, but it may help some people cope with pain, reduce swelling, promote bruise healing and ease osteoarthritis.
A 2017 review of homeopathy in cancer care found no evidence it can treat cancer and proposed the placebo effect is the most likely explanation for people who report positive effects after homeopathic treatment.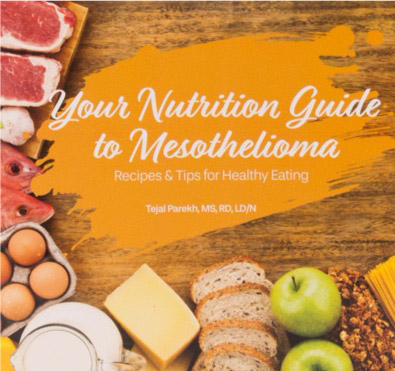 Free Mesothelioma Nutrition Guide
Eating right and balancing your diet while undergoing mesothelioma treatment can help ease your symptoms.
Get Free Recipes & Tips
Homeopathy May Ease Treatment Side Effects
The natural aspect of homeopathy is a central reason a mesothelioma patient might have interest in it. Homeopaths avoid antibiotics, over-the-counter drugs, prescription drugs and many standard forms of treatment.
Some of those treatments — chemotherapy and radiation therapy, for example — create side effects that can make a patient feel worse before they get better.
If someone prefers homeopathy and yet believes chemotherapy and radiation therapy provide the best path to a longer life expectancy, there are remedies that homeopaths say alleviate traditional side effects such as nausea, weight loss, hair loss, weariness and depression.
Chemotherapy Side Effects
One potential remedy is cadmium sulphuricum, which may help fight exhaustion, coldness, nausea, vomiting, hair loss and weight loss. Other remedies homeopaths recommend for nausea and vomiting associated with chemotherapy include arsenic album, ipecacuanha, nux vomica, phosphorus and tabacum.
Radiation Therapy Side Effects
For skin irritations associated with radiation therapy, homeopathic remedies such as belladonna, apis mellifica, fluoricum acidum, rhus-toxicodendron, causticum, ignatia, psorinum and kali-bichromicum may provide relief. Creams or rubs such as arnica (bruising) and calendula (rashes or burns) have also shown effectiveness.
Although homeopathy can be safely used for simple needs such as a cold, self-treatment for chemotherapy or radiation side effects is not recommended. Your oncologist is the right health professional to speak with if you're experiencing moderate to severe side effects from cancer treatment.
Find the Best Mesothelioma Treatment
Our team of Patient Advocates can connect you with the nation's top mesothelioma doctors & cancer centers.
Get Free Help Now
Medical Community Questions Homeopathy
Perhaps not surprisingly, these treatments are not widely accepted by the general medical community, and many doctors are doubtful about the healing that homeopathy can provide for a cancer patient.
A 2005 study from The University of Texas M.D. Anderson Cancer Center analyzed the efficacy of homeopathic remedies on cancer patients through several previous clinical trials. The study revealed there was insufficient evidence to support the effectiveness of homeopathy for cancer patients.
However, some studies have reported positive findings about the use of homeopathy following chemotherapy. In one study published in the journal Cancer, the homeopathic medication known as "traumeel s" was found to significantly reduce the severity and duration of stomatitis (an inflamed and sore mouth) from chemotherapy in children undergoing bone marrow transplantation.
Regulation of Homeopathic Products
Homeopathic remedies are made in adherence to the guidelines of the Homeopathic Pharmacopeia of the United States (HPUS), which became law in 1938 by the U.S. Congress. Such remedies do not require a prescription and they don't require a note or a recommendation from a doctor. If a remedy claims to treat cancer, it must be sold by prescription.
In 1988, the U.S. Food and Drug Administration (FDA) implemented a requirement that all homeopathic remedies provide a label that lists ingredients, dilutions, which medical problems can be treated and instructions for safe use.
All three classifications of homeopathy, including allopathic drugs, homeopathic drugs and dietary supplements, are regulated to some degree by the Food, Drug, and Cosmetic Act or the Dietary Supplement Health and Education Act. However, HPUS still excludes homeopathic remedies from many FDA rules that regulate other drugs.
Homeopathy is not known to interfere with standard treatments, but any homeopathic treatment should be discussed first with your oncologist.
Last Modified September 24, 2018
10 Cited Article Sources
National Center for Complementary and Alternative Medicine. (2010). Homeopathy: An Introduction. Retrieved from: http://nccam.nih.gov/health/homeopathy/
Homeopathy Plus. (2011). Homeopathy for Radiotherapy and Chemotherapy Side-Effects. Retrieved from: http://homeopathyplus.com.au/homeopathy-for-radiotherapy-and-chemotherapy-side-effects/
Milazzo, S., Russell, N., & Ernst, E. (2005). Efficacy of Homeopathic Therapy in Cancer Treatment. Retrieved from: https://www.ncbi.nlm.nih.gov/pubmed/16376071
Homeopathic Medication Traumeel S Reduces Chemotherapy-Induced Stomatitis in Children. (2001). Retrieved from: http://news.cancerconnect.com/homeopathic-medication-traumeel-s-reduces-chemotherapy-induced-stomatitis-in-children/
Coulter H. Divided legacy: the conflict between homeopathy and the American Medical Association. Berkeley, CA: North Atlantic Books; 1973.
Borneman, J. & Field, R. (2004). Regulation of Homeopathic Drug Products. Retrieved from: http://www.hylands.com/news/regulation.php
Cancer Research UK. (2015). Homeopathy. Retrieved from: http://www.cancerresearchuk.org/about-cancer/cancer-in-general/treatment/complementary-alternative-therapies/individual-therapies/homeopathy
Ernst, E. (2007). Homeopathy for cancer? Curr Oncol, (14(4):128-130. Retrieved from: https://www.ncbi.nlm.nih.gov/pmc/articles/PMC1948867/
Memorial Sloan Kettering Cancer Center. (2015). Arnica. Retrieved from: https://www.mskcc.org/cancer-care/integrative-medicine/herbs/arnica
Unlu, A., et al. (2017). Homeopathy and cancer. Journal of Oncological Sciences, 3(2):77-80. doi: 10.1016/j.jons.2017.05.006
How did this article help you?
What about this article isn't helpful for you?
Did this article help you?
Thank you for your feedback.
Would you like to speak with a Patient Advocate?