Pleural Specialist
A medical doctor who treats pleural mesothelioma, an asbestos-related cancer that develops in the pleura, which is the thin lining that covers the lungs and chest wall.
Dr. Jennifer M. Suga
Oncologist at the Kaiser Permanente Vallejo Medical Center
Dr. Jennifer Suga is an oncologist serving as medical director of the Kaiser Permanente Clinical Trials Program. She specializes in helping develop the latest cancer treatments, including those for mesothelioma and lung cancer.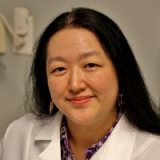 Kaiser Permanente Vallejo Medical Center Vallejo, California (CA)
Get to Know Dr. Jennifer M. Suga
Dr. Jennifer Suga is an innovative oncologist utilizing the latest clinical advances in treating patients with lung cancer, breast cancer, colorectal cancer and malignant pleural mesothelioma.
Suga serves as chair of the Kaiser Permanente National Lung Cancer Program and has been principal investigator for oncology clinical trials sponsored by the National Cancer Institute for more than a decade, playing a key role in advancing care to its highest level.
She works closely with thoracic surgeon Dr. Jeffrey Velotta as part of a personalized, multidisciplinary approach to treatment that is often used at Kaiser Permanente.
Kaiser Permanente is known as a leader in cancer prevention, treatment and recovery – a reputation that continues to grow with the team effort Suga is part of every day.
Suga also plays a leadership role in the National Cancer Institute's Thoracic Malignancy Steering Committee and its Community Oncology Research Program.
She has considerable expertise in identifying genetic aberrations across various tumor types that have allowed oncologists to better personalize treatment for patients. She is certified in both oncology and hematology.
Contact Dr. Jennifer M. Suga
Specialties of Dr. Jennifer M. Suga
Clinical Trials
Genetic mutations
Dr. Jennifer M. Suga's Experience and Medical Education
Kaiser Permanente Medical Center
UC Davis Medical Center (Fellowship)
Rhode Island Hospital (Residency)
Tufts University School of Medicine (M.D.)
Awards and Certifications
American Board of Internal Medicine (Hematology)
American Board of Internal Medicine (Medical oncology)
National Cancer Institute Thoracic Malignancy Steering Committee (Member)
Alliance Respiratory Committee, Southwest Cooperative Group (Member)
Publications of Dr. Jennifer M. Suga
Damodaran, S. et al. (2022, February 8). Phase II Study of Copanlisib in Patients With Tumors With PIK3CA Mutations: Results From the NCI-MATCH ECOG-ACRIN Trial (EAY131) Subprotocol Z1F. Journal of Clinical Oncology.
Tomlins, S.A. et al. (2021, August 19). Real-World Performance of a Comprehensive Genomic Profiling Test Optimized for Small Tumor Samples. JCO Precision Oncology.
Tutt, A.N.J. et al. (2021, June). Adjuvant Olaparib for Patients with BRCA1- or BRCA2-Mutated Breast Cancer. New England Journal of Medicine.
Abou-Alfa, G.K. et al. (2019, September 5). Assessment of Treatment With Sorafenib Plus Doxorubicin vs. Sorafenib Alone in Patients With Advanced Hepatocellular Carcinoma. JAMA Oncology.