Pleural Specialist
A medical doctor who treats pleural mesothelioma, an asbestos-related cancer that develops in the pleura, which is the thin lining that covers the lungs and chest wall.
Dr. John DeRosimo
Thoracic Surgeon
Thoracic surgeon Dr. John DeRosimo treats patients with malignant pleural mesothelioma at the Miami Cancer Institute at Baptist Health South Florida.
Get in Touch
Get to Know Dr. John DeRosimo
Dr. John DeRosimo performs the potentially curative pleurectomy and decortication operation and less-aggressive surgeries for mesothelioma, the rare cancer caused by asbestos exposure.
DeRosimo is an integral part of the mesothelioma program in Miami, which includes medical oncologists, radiologists and pulmonologists who also specialize in the disease.
He treats malignant and benign diseases of the lungs and esophagus. He also performs minimally invasive surgeries, including robotic surgery, for many of his patients.
DeRosimo joined the Miami Cancer Institute in 2011 after almost a decade performing thoracic surgery at the Medical University of South Carolina.
He made his decision to specialize in thoracic surgery during his fellowship training at Brigham and Women's Hospital in Boston, where he worked with famed mesothelioma specialist Dr. David Sugarbaker.
As part of the Miami Cancer Institute, DeRosimo is a big believer in the personalized and multimodal approach to therapy that has worked well for mesothelioma patients.
The institute's Baptist Health affiliation includes access to an occupational and environmental medicine division that can monitor patients with known asbestos exposure, helping to diagnose cancer earlier.
Contact Dr. John DeRosimo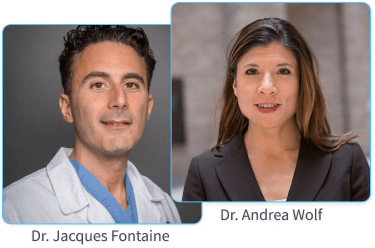 Find a Mesothelioma Specialist
Get specialized treatment from experienced mesothelioma doctors.
Specialties of Dr. John DeRosimo
Lung cancer
Pleural mesothelioma
Esophageal cancer
Thoracic surgery
Minimally invasive surgery
Robotic surgery
Benign and malignant disease
Dr. John DeRosimo's Experience and Medical Education
Miami Cancer Institute
Medical University of South Carolina
Brigham and Women's Hospital (Fellowship)
Case Western Reserve University (Residency)
Albany Medical Center (Residency)
University of Pittsburgh School of Medicine (M.D.)
Awards and Certifications
American Board of Surgery
American Board of Thoracic Surgery
Resident Golden Apple Teaching Award
Healthgrades Honor Roll
Publications of Dr. John DeRosimo
Garcia-Quintero, P. et al. (2015, March 5). Gastropleural fistula after bariatric surgery: a report of two cases. Journal of Robotic Surgery.
Hogan, K.A. et al. (2009, March 1). Superior vena cava compression during posterior spinal fusion for idiopathic scoliosis. A case report. The Journal of Bone and Joint Surgery.
Vincent, B.D. et al. (2008, January 1). Real-time Endobronchial Ultrasound-Guided Transbronchial Lymph Node Aspiration. The Annals of Thoracic Surgery.