Pleural Specialist
A medical doctor who treats pleural mesothelioma, an asbestos-related cancer that develops in the pleura, which is the thin lining that covers the lungs and chest wall.
Dr. Joseph Treat
Medical Oncologist
Table Of Contents
Dr. Joseph Treat is a medical oncologist at the Fox Chase Cancer Center. He has led many key clinical trials for mesothelioma treatment.
While some mesothelioma doctors spend much of their careers treating other thoracic illnesses such as esophageal cancer, Joseph Treat dedicates his entire practice to mesothelioma and lung cancer patients.
For more than 20 years, Treat has been exclusively treating these patients. In 1999 he was hired at Fox Chase Cancer Center to contribute to their mesothelioma team. At Fox chase, patients benefit from stage-specific treatment plans that incorporate tailored surgery and adjuvant treatments such as radiation therapy and chemotherapy. In light of the findings of current research, Fox Chase physicians strive to combine these treatments whenever a patient can safely complete the combined regimen. This approach has been shown to increase survival rate among mesothelioma patients, although it is Fox Chase's policy to use the treatments alone if necessary.
Treat's expertise is bolstered by his extensive research with chemotherapeutic drugs. Since 2003 he has written about his laboratory findings with medications such as pemetrexed and cisplatin.
Clinical Trials and Genetic Research
He has led several National Cancer Institute-sponsored clinical trials at Fox Chase, including an ongoing phase III study of directed customized chemotherapy for non-small cell lung cancer patients. Although most of his articles have discussed the effects of these drugs on lung cancer, these medicines are considered some of the most effective chemotherapeutic drugs for mesothelioma patients.
Treat has also been involved with genetic research for the treatment of mesothelioma. In 1996 he lead a team of researchers at the University of Pennsylvania to discover how advanced cases of mesothelioma responded to a genetically altered copy of the adenovirus. The study established a maximum dose of the virus that mesothelioma patients could tolerate and a response rate to the therapy. Treat's project also evaluated the biological side effects that were associated with a genetically-altered virus injection.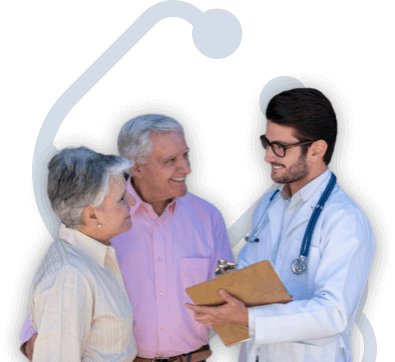 Talk to a Doctor About Your Diagnosis
We can help you or a loved one get in contact with Dr. Treat and find the treatment that's best for you.
While Treat's post-graduate training in internal medicine and medical oncology qualify him to adeptly handle the medical side of the mesothelioma cases, he often recommends that his patients also visit other physicians to round out their treatment. Treat often directs surgical candidates to his colleagues with expertise in video and robot-assisted surgery. He also refers interested patients to other branches of Fox Chase Cancer Center that can offer innovative treatment to mesothelioma patients, including the photodynamic therapy department or the stereotactic radiotherapy department.
In recognition of his skill and tireless work at the cancer center, Treat was named the vice-chairman of the Department of Medical Oncology. He was also elected one of Philadelphia Magazine's 24 "Top Docs 2002." He maintains active certifications with the American Board of Internal Medicine.
Dr. Treat is a consulting physician for the pharmaceutical development company Neopham.
Dr. Joseph Treat's Publications
Treat has written 19 articles for scholarly journals, including many reviews of popular chemotherapeutic drugs used to treat lung cancer. Much of his writing analyzes the effects of pemetrexed, paclitaxel, carboplatin and gemcitabine.