Peritoneal Specialist
A medical doctor who treats peritoneal mesothelioma, an asbestos-related cancer that develops in the peritoneum, which is the lining that covers the abdominal cavity.
Dr. Kevin El-Hayek
Surgical Oncologist
Table Of Contents
Dr. Kevin El-Hayek is a surgical oncologist at the Cleveland Clinic with expertise in treating patients with peritoneal mesothelioma.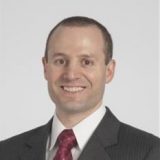 MetroHealth Medical Center Cleveland, Ohio (OH)
Get to Know Dr. Kevin M. El-Hayek
Dr. Kevin El-Hayek relocated to MetroHealth in Cleveland, Ohio, from the Cleveland Clinic in 2019. He brought his expertise in hyperthermic intraperitoneal chemotherapy, also known as HIPEC, a procedure used in combination with cytoreductive surgery to treat peritoneal mesothelioma.
"Someone with mesothelioma, who normally could have expected to live for months, could now expect a 50% chance at a five-year survival," El-Hayek said of the procedure. "So that's someone who could now expect to make it to their daughter's graduation, to see them get married."
El-Hayek joined the Cleveland Clinic staff in 2013. He previously completed a residency in general surgery and two fellowships in flexible surgical endoscopy and hepato-pancreato-biliary surgery at the Cleveland Clinic. He graduated from Case Western Reserve University School of Medicine after receiving his undergraduate degree from Harvard University.
"It's also important for me to know what the patient wants. Sometimes a patient will ask me, 'What would you do, doctor?' I often put that back to them," he said. "It's important for me to understand exactly what their wishes are. We talk a lot about risks and benefits, and getting to know exactly what they want."
Contact Dr. Kevin El-Hayek
Specialties of Dr. Kevin M. El-Hayek
Hyperthermic intraperitoneal chemotherapy
Minimally invasive surgery
Dr. Kevin M. El-Hayek's Experience and Medical Education
Case Western Reserve University School of Medicine (M.D.)
Cleveland Clinic Foundation (Residency)
Cleveland Clinic Foundation (Fellowship)
Awards and Certifications
Board certified in surgery by the American Board of Surgery
Publications of Dr. Kevin M. El-Hayek
Peng, J.S. et al. (2020, August). Neoadjuvant chemoradiation is associated with decreased lymph node ratio in borderline resectable pancreatic cancer: A propensity score matched analysis. Hepatobiliary & Pancreatic Diseases International.
Hasan, L.Z. et al. (2020, August). Surgical infective endocarditis and concurrent splenic abscess requiring splenectomy: a case series and review of the literature. Diagnostic Microbiology and Infectious Diseases.
Strong, A.T. et al. (2019, October). Safety and Feasibility of Per-Oral Pyloromyotomy as Augmentative Therapy after Prior Gastric Electrical Stimulation for Gastroparesis. Journal of the American College of Surgeons.