Pleural Specialist
A medical doctor who treats pleural mesothelioma, an asbestos-related cancer that develops in the pleura, which is the thin lining that covers the lungs and chest wall.
Dr. Raymond B. Wynn
Radiation Oncologist
Table Of Contents
Dr. Raymond Wynn is a retired radiation oncologist at the Loyola University Medical Center.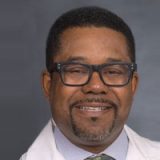 Get to Know Dr. Raymond Wynn
Dr. Raymond Wynn joined the Loyola University Medical Center in 2017 to oversee the expansion of the Chicago-area radiation oncology network.
The department now includes the latest MRI-guided radiation therapy with state-of-the-art precision.
Wynn has expertise in lung cancer, malignant mesothelioma, prostate cancer and brain and spine tumors. Under his leadership, Loyola developed one of the most advanced radiotherapy programs anywhere in the country.
"The great thing about the Loyola program, especially the Loyola radiation oncology department, is the large variety of tools we have to treat cancer," Wynn said. "We're very, very excited to have these tools because of the advancements, to be able to see things and treat cancer like we've never done before."
Dr. Wynn's More Precise and Aggressive Treatment Approach
More precise radiation therapy has allowed doctors like Wynn to treat diseases such as pleural mesothelioma more effectively, taking a more aggressive approach.
The new MRI-guided approach allows doctors to locate, target and track tumors as they move, delivering higher-dose therapy, requiring fewer sessions, while sparing healthy tissue.
"We can't catch all cancers early, but we have techniques now that allow us to address later-stage cancers in a way we never have before," he said. "To have MRI guidance is truly a game changer."
He continually stresses the importance of multidisciplinary care, working closely with medical oncologists and thoracic surgeons to personalize treatment for each patient.
Dr. Raymond Wynn Is an Award-Winning Radiation Oncologist
Wynn previously served at the University of Pittsburgh Medical Center, where he was associate director of one of the largest radiation oncology networks in the country. In 2016, he was presented the Physician of the Year Award from the Gateway Medical Society in Pittsburgh.
He has held leadership roles throughout his career. Wynn is past president and current fellowship committee chair for the Council of Affiliated Regional Radiation Oncology Societies. He is an inaugural member of the American College of Radiology Commission for Women and Diversity.
Wynn earned his degree from Meharry Medical College in Nashville, Tennessee. He did his residency in radiation oncology and fellowship in neuro-radiation oncology at the University of Rochester.
He was also a professor in the department of radiation oncology at the Loyola University Chicago Stritch School of Medicine.