Cancer Patients Should Savor Pumpkin's Health Benefits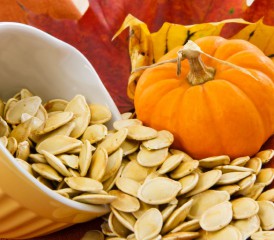 I think Andy Williams got it wrong.
The most wonderful time of the year isn't the one with kids "jingle-belling" and everyone telling you "be of good cheer." Certainly not.
The happiest season of all is when pumpkin makes its annual appearance, between the first cool autumn breeze and the first football game of the season. The time when coffee shops top steamy pumpkin spice lattes with frothy foam, bakeries serve sweet pumpkin muffins with a cream cheese drizzle, and the bars keep icy pumpkin lagers on tap.
It's the time of year when the trendiest food fad actually offers significant health benefits for cancer patients.
Sadly, I'm not talking about the sugar-laden confections that we all love to indulge in this time of year, but the squash in its natural, freshest form that's traditionally associated with fall.
Consider adding some whole pumpkin to your dietary regimen, whether you're looking for something organic to support your immune system's fight against mesothelioma, a non-pharmaceutical substitute to manage your side effects, or just a tasty way to incorporate more whole foods in your diet.
Pumpkin's Orange Hue Is Good for You
Beta-carotene, the pigment responsible for pumpkin's bright red-orange color, is a powerful immunostimulant, a substance that activates the immune system. Studies have found that beta-carotene may give your body a cancer-fighting boost by slowing cancer growth, preventing DNA damage, or even enhancing the enzymes that clear cancer-causing substances from the body. The carotenoid also accounts for more than 80 percent of the antioxidants in a serving of pumpkin.
Other Carotenoids Abound in Pumpkin
Among the many healthy carotenoids found in pumpkin, alpha-carotene has direct anticarcinogenic activity. Some studies suggest it's a more potent cancer inhibitor than beta-carotene. Lutein and lycopene, antioxidant carotenoids found in orange and yellow fruit, are also known to protect other bodily systems.
Pumpkin Seeds Protect Against Toxicity of Mesothelioma Medications
The seeds found in pumpkin are rich in squalene, an animal and plant sterol that helps minimize the side effects of several popular mesothelioma drugs. In a 2008 study, researchers found squalene was especially effective at protecting healthy tissues from Cisplatin- and Carboplatin-induced toxicity. The team also noted that squalene did notshield the tumors from the powerful and beneficial impact of the medications.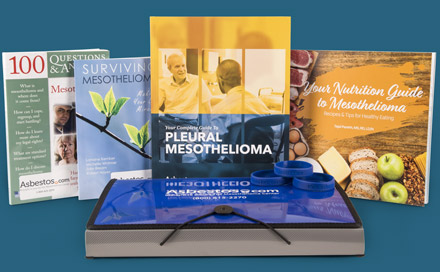 Get a Free Mesothelioma Guide
Free information about mesothelioma, support books, nutrition tips & more for patients.
Tryptophan in Seeds Also Boosts Your Mood
Pumpkin seeds also contain high levels of tryptophan, an amino acid also found in turkey, which produces the "feel good" substance serotonin. If your diagnosis has left you feeling more anxious than normal, the relaxation benefits (similar to those you feel after a hearty Thanksgiving dinner) may be quite welcome.
High-Fiber Content in Pumpkin Counteracts Chemotherapy-Induced Constipation
Although doctors often give mesothelioma patients prescriptions for chemotherapy-related digestive distress, patients may naturally alleviate these issues by increasing their dietary fiber intake: A cup of mashed pumpkin provides more than 2.5 grams of fiber.
Five Healthy Ways to Enjoy Pumpkin This Season
While pre-packaged pumpkin treats are delicious, most are artificially flavored and colored. The amount of actual pumpkin in these products — if there is any at all — is rarely high enough to provide you with any health benefits. To reap the real rewards, you'll want to prepare your own wholesome treats at home. Fresh or frozen pumpkin is best; canned may not contain all the original nutrients.
It's incredibly simple to cook your own pumpkin; there are even crockpot options for those of you who prefer a less hands-on approach. Once the flesh is tender to the touch, consider the following delicious options to spruce it up:
Simple side dish:Cut the pumpkin into cubes; sauté over medium heat with olive oil, then season with sea salt and sage.
Vitamin-packed alternative to mashed potatoes:Smash the pumpkin with a small pat of butter and a light drizzle of maple syrup.
Smoothie to start your morning right:Blend the pumpkin with 2 percent reduced-fat milk (or almond milk), a banana, a handful of ice cubes and a dash of pumpkin pie seasoning.
High-protein breakfast:Purée the pumpkin and stir into a serving of vanilla Greek yogurt; top with sugar-free granola for crunch.
Quick, healthy snack:Coat the seeds with coconut oil, cinnamon, and a pinch of brown sugar; roast until crispy.
Are you a pumpkin fan? Share your favorite pumpkin-flavored treat and any healthy ways to prepare it.

Free Mesothelioma Resources
Get Access to Free Resources for Patients & Loved Ones
Get Help Now