Cancer & Caregiving
Cancer Support Groups Benefit Mind, Body
Fact Checked
Our fact-checking process begins with a thorough review of all sources to ensure they are high quality. Then we cross-check the facts with original medical or scientific reports published by those sources, or we validate the facts with reputable news organizations, medical and scientific experts and other health experts. Each page includes all sources for full transparency.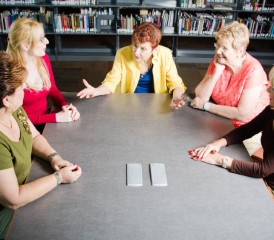 I have developed, promoted and facilitated many cancer support groups over the last 20 years.
Some of the groups were open to people with any cancer diagnosis. Some groups were designed only for caregivers. Others provided a place where people with a specific cancer diagnosis could meet others with the same condition.
Many support groups across the nation meet in hospitals; churches, synagogues and other places of worship, community centers, private homes and online.
All cancer support groups provide much needed psychosocial support regardless of who actually attends the group. I have seen firsthand the psychological benefits of peer support and heard from group attendees about how much they get out of their participation.
But support groups are not for every cancer patient, and not every patient attends a group. Studies show that 5 to 20 percent of cancer patients attend a support group during or after their cancer treatment.
Benefits of a Support Group
Many patients report they already have good support, or they don't feel well enough to attend. Others are uncomfortable sharing their experiences with strangers or believe hearing stories from other cancer patients will be depressing.
However, those who choose to attend a cancer support group do report benefits. In fact, studies have specifically measured emotional and psychological improvements as a result of attending a cancer support group.
Support groups help members:
Decrease anxiety
Reduce psychological distress
Improve adaptive coping with cancer-related stressors
Increase self esteem
Support group attendees also report many benefits of their participation, including:
A sense of belonging
Many cancer patients, even those with good family support, say their loved ones don't understand all the emotions that accompany a cancer diagnosis. Having a place where cancer patients don't have to explain or educate others about their diagnosis and treatment is comforting.
Normalization
It is hard to know if what you are thinking or feeling (physically or emotionally) is normal when you are battling cancer. Hearing your side effects are normal from another cancer patient going through the process is reassuring and helps patients to feel normal.
A safe place to give and receive support
Many cancer patients say they are reluctant to share everything they are feeling or experiencing with their loved ones because they don't want to burden or worry them further. By definition, cancer support groups are places where patients can share their thoughts and feelings, not just the positive ones. Group members also enjoy being able to listen, support and normalize other group members. It feels good to give and receive support.
Improved self-confidence and self-esteem
Most support group members report feeling empowered by being a part of the group. They feel less stigmatized as a cancer patient and realize their thoughts and feelings are understandable.
Better able to communicate with health care team
Cancer patients report feeling they communicate more effectively with their health care providers by having a forum to discuss treatment options, side effects and disease terminology.
They learn terminology and follow treatment protocols unfamiliar to most people. Support group members often educate each other about how to navigate medical and hospital systems, learn about clinical trials and how to get the help they need from health care professionals.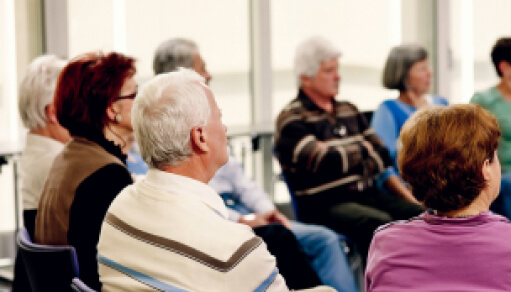 Support Group for Patients & Families
Our online support group helps patients and families cope with the emotional effects of mesothelioma.
New Way for Cancer Patients to Support Each Other
In the last decade, many cancer patients have turned to the Web for giving and receiving support. There are dozens of message boards which allow cancer patients to share their story, ask questions about treatment side effects and treatment options, and read other patients' accounts of their cancer journeys.
Some of these message boards are moderated by a health care or mental health professional, but some are not.
Another great forum is joining an online support group, which is just like a regular support group, but you don't have to leave your home.
You just call in or log in using your computer.
The Mesothelioma Center offers an online support group that meets monthly. It is open only to those with mesothelioma and their caregivers. Each meeting includes a short educational presentation and is followed by a moderated discussion between group members who share their cancer experience and ask questions to others with mesothelioma.
Because mesothelioma is so rare, it is difficult for patients to find peer support in their own community. A recent online support group on coping with mesothelioma allowed people to connect with others from all over the country and the world.
Patients and caregivers have said they look forward to the meetings because it provides them a place where they can learn from others who are battling the same disease.
Get Access to Free Resources for Patients & Loved Ones
Free Mesothelioma Resources