Kalispell Regional Medical Center
The doctors and staff of Kalispell Regional Medical Center have the expertise to serve patients with mesothelioma of the chest or the abdomen. Many people affected by Northwest Montana's history of asbestos mining go to Kalispell for treatment.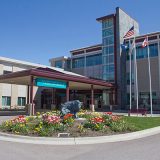 310 Sunnyview Ln, Kalispell, MT 59901
Treating Mesothelioma at Kalispell Regional Medical Center
The Kalispell Regional Medical Center in Northwest Montana includes a comprehensive cancer program that can handle both pleural and peritoneal mesothelioma treatment.
Although the town has an estimated population of just 25,000 people, the Regional Medical Center offers a spectrum of health care services that rival those in much larger cities.
The cancer program is accredited by the American College of Surgeons Commission on Cancer. Oncologists there use National Comprehensive Cancer Network guidelines in preparing personalized treatment plans for each patient.
They often take a multidisciplinary approach to treatment that can include the latest in radiology, chemotherapy, immunotherapy and surgery to fight a wide variety of cancers.
In addition to the Comprehensive Cancer Program, Kalispell offers a Neuroscience and Spine Institute, a wide range of orthopedic services, a neonatal intensive care unit and a cardiovascular program that includes electrophysiology and complex heart surgery.
The Kalispell Healthcare System includes more than 400 physicians spread over numerous facilities throughout the state.

In 2021, Kalispell Regional Medical Center was rebranded to Logan Health. "This is an exciting time for Logan Health," said Logan Health President and CEO Craig Lambrecht, M.D. "The work we have done, the relationships we've built and the market place has brought us all together under one, new unified banner to make us stronger and ready for the future."
Kalispell Regional Medical Center Offers HIPEC Procedure
Kalispell's doctors include surgical oncologist Dr. Randall Zuckerman and thoracic surgeon Dr. John Federico, both recruited in recent years to bolster their respective departments.
Zuckerman specializes in treating abdominal malignancies with the combination of cytoreductive surgery and the HIPEC procedure, otherwise known as hyperthermic intraperitoneal chemoperfusion.
He uses HIPEC with certain cases of appendix cancer, ovarian cancer, peritoneal mesothelioma and gastric malignancies.
Federico was recruited to expand the thoracic malignancy program. He handles cases of lung cancer and pleural mesothelioma. He came with experience in both benign and complex malignancies of the chest.
He was previously an assistant professor of surgery at the Yale School of Medicine. He also has helped Kalispell with improving its early-detection and lung cancer screening programs.
In addition, nurse practitioner Michelle Boltz joined the staff to play an expanded role in helping patients with asbestos-related diseases such as mesothelioma.
Before joining Kalispell, she served on the medical staff of the Center for Asbestos Related Disease in Libby, Montana, which is 90 miles away.
Libby is home to one of the worst environmental disasters in U.S. history, where asbestos dust from vermiculite mining killed hundreds of people. Although the mining has stopped, asbestos diseases continue to plague the surrounding area. Many of those patients are seen at Kalispell.
Mesothelioma Clinical Trials at Kalispell Regional Medical Center
A phase II clinical trial studying the effectiveness of using the immunotherapy combination of nivolumab (Opdivo) and ipilimumab (Yervoy) for rare tumors such as mesothelioma cancer.
A phase I clinical trial evaluating the use of atezolizumab, an immunotherapy drug, in combination with chemotherapy and surgery for pleural mesothelioma. Patients have the option of also using radiation therapy after surgery.