Mercy Medical Center
Table Of Contents
Led by Dr. Armando Sardi and Dr. Vadim Gushchin, the Institute for Cancer Care at Mercy Medical Center in Baltimore specializes in the treatment of peritoneal surface malignancies. The center offers peritoneal mesothelioma patients the innovative and life-saving HIPEC procedure.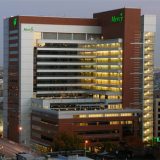 345 St Paul Pl, Baltimore, MD 21202
Mercy Medical Center's Innovative Cancer Care
The Institute for Cancer Care at Mercy Medical Center in Baltimore has been lauded for its ability to combine innovative, comprehensive medical care with a compassionate, caring atmosphere.
No one does it better.
In addition to treating breast, gynecologic, lung and skin cancers, the Institute for Cancer Care also handles the two common types of mesothelioma, with specialists who have the experience necessary to treat this rare and aggressive disease.
Medical Director Dr. Armando Sardi — who leads a team of oncologists, nurses and support staff at Mercy — carved his reputation as a pioneer in the treatment of abdominal malignancies and the development of heated intraperitoneal chemotherapy (HIPEC).
For many, hope and the healing process begin here.
Multidisciplinary Approach to Cancer at Mercy Medical Center
Patients throughout Maryland come to Mercy for a range of oncological services, access to the latest technological advances and state-of-the-art facilities.
Mercy has embraced the personalized yet multidisciplinary approach to treating cancer, utilizing the collaboration that has been a part of its philosophy for many years. The Institute for Cancer Care attracts the best medical, surgical and radiation specialists.
Cancers treated at Mercy include:
Breast
Gynecological
Lung
Skin
Digestive tract
Peritoneal malignancies
Head and neck
Bladder
Kidney
Prostate
Blood-related diseases
U.S. News & World Report, in its 2017-18 Best Hospitals for Cancer, rated Mercy Medical Center among the top three hospitals in Maryland.
Mercy also was named "high performing" in five of seven procedure and condition categories measured by the report.
Mercy Medical Offers HIPEC for Peritoneal Mesothelioma Patients
The Lung Center at Mercy — which treats patients with pleural mesothelioma — includes Dr. Albert Polito, chief of pulmonary medicine, and Dr. George Boyer, chief of the Department of Medicine.
Peritoneal surface malignancies, including peritoneal mesothelioma, are handled by Dr. Sardi and Dr. Vadim Gushchin. Both are specialists in aggressive cytoreductive surgery, which often is used in conjunction with the innovative HIPEC procedure.
Cytoreductive surgery, used for a range of abdominal cancers, involves the precise removal of all visible tumor cells. It can be a lengthy procedure, depending on the extent of disease.
HIPEC involves the use of a heated chemotherapy solution that is added to the abdominal cavity immediately following the cytoreduction.
The heat enhances the effect of the chemotherapy. The solution is designed to kill the microscopic tumor cells left behind from the cytoreduction. The solution remains in the abdominal cavity for 60 to 90 minutes before being drained.
"We have a great team here that works well together," Sardi told Asbstos.com. "That is incredibly important and something that not every place has. The surgeon is just one part of what makes us so good. Everyone is involved."
The Cancer Institute is just one part of the Mercy Medical Center.
Mercy also features an Orthopedic Specialty Hospital, an Institute for Digestive Health and Liver Disease, a Center for Women's Health and Medicine, a Center for Endocrinology and a Heart Center.
The Mercy network includes Mercy Personal Physicians, five primary and specialty care sites spread throughout the surrounding area to better serve the needs of patients.
Mesothelioma Clinical Trials at Mercy Medical Center
A phase II clinical trial studying the efficacy of using the immunotherapy combination of nivolumab (Opdivo) and ipilimumab (Yervoy) for patients with rare tumors, including mesothelioma.
A phase II clinical trial studying progression-free survival for mesothelioma patients who have at least stable disease after receiving pemetrexed disodium.