Peritoneal Specialist
A medical doctor who treats peritoneal mesothelioma, an asbestos-related cancer that develops in the peritoneum, which is the lining that covers the abdominal cavity.
Dr. Vadim Gushchin
Surgical Oncologist
Table Of Contents
Eminent surgical oncologist Dr. Vadim Gushchin is the director of Mercy Medical Center's HIPEC Program, Gastrointestinal Oncology department and the Melanoma and Skin Cancer Center.
Get to Know Dr. Vadim Gushchin
Dr. Vadim Gushchin has a lifelong commitment to his patients and the study of peritoneal mesothelioma. He has developed expertise in the cytoreductive surgery and heated intraperitoneal chemotherapy (HIPEC) combination that has been so effective for patients.
"My first mesothelioma patient was about eight years ago," Gushchin told The Mesothelioma Center at Asbestos.com. "And today, he's still hunting moose in Alaska. A fun guy. I can't brag that I cured him, but between him, his medical oncologist and myself, we're managing to keep him alive, functional and in control of his disease."
Training Gushchin received early in his career from Dr. Paul Sugarbaker, a mesothelioma treatment pioneer, sparked his interest in peritoneal surface malignancies. Gushchin's belief in a personalized, long-term approach to patient care, as well as his honed expertise, affords patients treatment decisions and future follow-ups oncologists less familiar with peritoneal mesothelioma may miss.
Gushchin stressed the importance of patients finding a specialty center with extensive experience in treating the disease.
"I'm not interested in only the surgery and HIPEC, then sending them into the wilderness. We follow these patients and own all their future successes and failures," he said. "You need expertise from an entire staff to do that, but it's important."
Gushchin earned his medical degree at Russian State Medical University in Moscow. He completed a fellowship at Roswell Park Comprehensive Cancer Center in Buffalo, New York, and residencies at Moscow Hospital, Hospital of the University of Pennsylvania in Philadelphia and MedStar Washington Hospital Center in Washington, D.C.
Contact Dr. Vadim Gushchin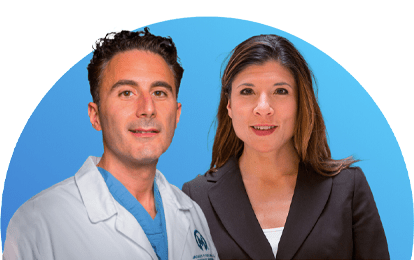 Find a Mesothelioma Specialist
Get specialized treatment from experienced mesothelioma doctors.
Specialties of Dr. Vadim Gushchin
Peritoneal mesothelioma
Robotic surgery
Research
Heated chemotherapy
Dr. Vadim Gushchin's Experience and Medical Education
Russian State Medical University (M.D.)
Roswell Park Comprehensive Cancer Center (Fellowship)
Moscow Hospital (Residency)
Hospital of the University of Pennsylvania (Residency)
MedStar Washington Hospital Center (Residency)
Awards and Certifications
Board certified in surgery
Publications of Dr. Vadim Gushchin
Baron, E. et. al. (2020, December). Pelvic Anastomosis Without Protective Ileostomy is Safe in Patients Treated with Cytoreductive Surgery and Hyperthermic Intraperitoneal Chemotherapy. Annals of Surgical Oncology.
El-Sharkawy, F. et. al. (2020, September 10). Minimally Invasive Surgery for T4 Colon Cancer is Associated with Better Outcomes Compared to Open Surgery in the National Cancer Database. European Journal of Surgical Oncology.
Baron, E. et. al. (2020, July). ASO Author Reflections: When Laboratories Could Help Avoid Unnecessary Surgery. Annals of Surgical Oncology.
Diaz-Montes, T.P. et al. (2018, July). Efficacy of Hyperthermic Intraperitoneal Chemotherapy and Cytoreductive Surgery in the Treatment of Recurrent Uterine Sarcoma. International Journal of Gynecological Cancer.