NCI-Designated Cancer Center
Cancer center recognized by the National Cancer Institute as one that meets rigorous standards for multidisciplinary, innovative research focused on developing new and improved approaches to preventing, diagnosing and treating cancer.
Perlmutter Cancer Center in New York City is an internationally recognized treatment and research center. On staff is Dr. Daniel Sterman, director of the Multidisciplinary Pulmonary Oncology Program, and thoracic surgeon Dr. Harvey Pass, a pioneer in pleural mesothelioma treatment.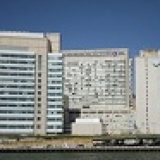 160 E. 34th St New York, NY 10016
Perlmutter Cancer Center A Worldwide Leader
Perlmutter Cancer Center is dedicated to being a worldwide leader in cancer care, accentuating a translational approach that turns the scientific discoveries from its laboratories into novel therapeutic advances for its patients.
The center is a part of the NYU Langone Medical Center, one of America's premier centers of excellence for research, education and clinical care, spanning four hospitals, two medical schools and six clinical facilities throughout Manhattan.
"Our mission is to discover the origins of human cancer and to use that knowledge to eradicate the personal and societal burden of cancer in our community, the nation and the world," reads the center's mission statement.
Serving a diverse patient population that comes from many different countries, the center offers up-to-date care and counseling for all cancers, including malignant mesothelioma, the rare and aggressive cancer caused by exposure to asbestos fibers.
Mesothelioma Expertise at Perlmutter Cancer Center
Dr. Dan Sterman joined the New York University Langone Medical Center in January 2015 as director of the Multidisciplinary Pulmonary Oncology Program. Previously, he served at the University of Pennsylvania's Abramson Cancer Center.
Also on the Perlmutter staff is renowned thoracic surgeon Harvey Pass, M.D., a research and clinical pioneer in the treatment of pleural mesothelioma. Pass brings a level of experience and expertise that is difficult to match anywhere.
Pass is in his fourth decade of working with mesothelioma patients, and his relevance in the field continues to grow. He led a research team that in 2012 discovered the protein product of a little-known gene that is now used for early detection and monitoring of mesothelioma.
Perlmutter Turns Research into Treatment Advancements
Pass and Sterman are a small part of a collaborative effort at the cancer center that is studying many cancers at the molecular level to help reduce the risk, make diagnosis easier and create more effective ways to treat patients.
The center has special programs in lung cancer, melanoma, molecularly-targeted therapy, cancer health care disparities and signaling-cancer pathways. It also joined the Worldwide Innovative Networking Consortium in personalized cancer care. This assures that the center will play a more active role in translating the most innovative approaches in medicine to a global stage.
The center also is a National Cancer Institute-designated cancer center, a distinction given only to centers committed to the ongoing development of more effective approaches to prevention, diagnosis and therapy.
Being part of the Langone Medical Center allows the cancer center to broaden its ability to help patients with non-cancer needs. Heart disease, for example, can be handled under the same umbrella. The personalized care includes prevention, diagnosis, treatment and post-treatment support.
NCI Designation for Perlmutter Cancer Center
Among the facilities associated with the cancer center are three hospitals, six clinical centers, two Centers of Excellence, two New York University schools of medicine and 16 departments and divisions. Among those divisions are the Institute of Environmental Medicine, the Department of Pathology and the Division of Hematology/Oncology.
The NYU Clinical Cancer Center on East 34th Street is just one of the six clinical facilities and the home base for cancer patients, bringing together a variety of specialists in a 13-level, 85,000-square-foot home. It includes specialized clinical care, screening and diagnostic procedures, treatment centers, radiation therapies, a women's cancer division, genetic counseling and various support services.
The Radiation Treatment Center, which is within the cancer center facility, provides convenience and eliminates the often-frustrating need to travel for chemotherapy/radiation therapy. The cancer center is the only NCI-designated center in New York City to offer radiation therapy in a free-standing outpatient facility.
Perlmutter Cancer Center Utilizes Clinical Trials
Clinical trials play a central role in the research arm of the cancer center, promoting the translational approach to care. Trials are designed to offer the latest approach to medicine and the finest care for patients.
Some trials are used to evaluate safety and effectiveness of new drugs, new drug combinations or new approaches to treatment. Others are used to advance diagnostic or preventative tools. Some explore the genetics of cancer or quality-of-life issues.
Patients in clinical trials have an opportunity to try novel care that has yet to be approved by the FDA — and also to help advance cancer care for those who follow. All clinical trials are voluntary. The goal of a particular trial, and the potential side effects, are discussed beforehand, and patients are carefully monitored.
Mesothelioma Clinical Trials at Perlmutter Cancer Center
A phase III clinical trial randomized to evaluate the effectiveness of Interferon Alpha-2b, delivered through a virus, when used in combination with chemotherapy and an anti-inflammatory for pleural mesothelioma.
A phase II clinical trial studying the efficacy and safety of using the immunotherapy combination of nivolumab (Opdivo) and ipilimumab (Yervoy) for rare tumors, such as mesothelioma.
A phase II clinical trial evaluating the use of durvalumab, an immunotherapy drug, in combination with first-line standard chemotherapy for patients with unresectable pleural mesothelioma.