Asbestos Exposure & Bans
EPA Evaluation Finds Asbestos Still An Unreasonable Risk
Fact Checked
Our fact-checking process begins with a thorough review of all sources to ensure they are high quality. Then we cross-check the facts with original medical or scientific reports published by those sources, or we validate the facts with reputable news organizations, medical and scientific experts and other health experts. Each page includes all sources for full transparency.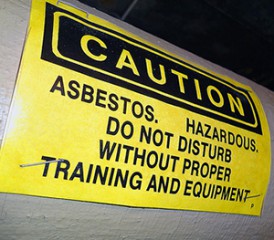 The U.S. Environmental Protection Agency released Part 1 of its Final Risk Evaluation for Asbestos, reaffirming preliminary findings from March that were roundly criticized for underestimating the dangers of exposure to this toxic mineral.
Six ongoing use categories of asbestos were evaluated by the EPA, which found 16 conditions of use that presented unreasonable risk to human health through either occupational exposures or consumer uses.
Part 1 of the evaluation, released in late December 2020, involved the chrysotile type of asbestos. Chrysotile is the only type of asbestos being imported, processed or distributed for use in the U.S. today.
The Part 2 preliminary evaluation, which will become public in mid-2021, will include five other types of asbestos, along with legacy asbestos and associated disposals of chrysotile asbestos.
"EPA found unreasonable risks to consumers and bystanders from all consumer uses of chrysotile asbestos," the report stated.
It also found unreasonable risks to workers and those "nearby but not in direct contact with chrysotile asbestos."
Part 2 of Risk Evaluation Will Bring More Scrutiny
The EPA's risk evaluation stemmed from the 2016 amendment of the Toxic Substances Control Act, which identified asbestos as one of the first 10 chemicals to be examined.
After the Part 2 final evaluation, the EPA may propose increased regulations to further limit the processing, manufacturing or use of asbestos or asbestos products. As part of the TSCA, the EPA must address any unreasonable risk that is found.
In this latest report, the EPA found unreasonable risk in these occupational conditions:
Processing and industrial use of asbestos diaphragms in the chloralkali industry
Processing and industrial use of asbestos-containing sheet gaskets in chemical production
Industrial use of asbestos-containing brake blocks in the oil industry
Commercial use of aftermarket automotive asbestos-containing brakes/linings
Commercial use of other asbestos-containing friction products
Commercial use of other asbestos-containing gaskets.
It found unreasonable risk in consumer uses of automotive asbestos-containing brakes and brake linings and in asbestos-containing gaskets.
The EPA found no unreasonable risk in the actual importation of chrysotile asbestos or the distribution of asbestos-containing products. It found no unreasonable risk in the use of asbestos-containing brakes or sheet gaskets in a specialized NASA transport plane.
It also found no risks to the environment from any condition of use and verified that U.S. automotive manufacturers are not installing asbestos brakes on new cars for domestic distribution.
Asbestos Imports Are Limited
Asbestos, which already is heavily regulated, has not been mined in the U.S. since 2002. According to the U.S. Geological Survey Mineral Report, a record low of 100 metric tons of raw asbestos was imported in 2019, a fraction of the record high of 803,000 metric tons imported in 1973.
In recent years, the chloralkali industry has consumed all the raw asbestos being imported, using it for semipermeable diaphragms to make chlorine.
Asbestos is a naturally occurring mineral that was once used ubiquitously in hundreds of products. It was valued for its heat resistance and tensile strength.
It's toxicity, though, can lead to serious health issues, including lung cancer and mesothelioma.
Manufacturing of asbestos products such as insulation, vinyl floor tiles, commercial paper and many other building materials is now prohibited.
The product list of imports today includes brake blocks, sheet gaskets, aftermarket automotive brakes and other gaskets and friction products.
Criticism of EPA Is Widespread
While the EPA knows how much raw asbestos and what asbestos products are being imported, the exact import volumes of asbestos products are not fully known.
That unknown is part of the criticism often levied against the EPA from various critics.
Only days before the final risk evaluation was released, U.S. District Judge Edward Chen in San Francisco ordered the EPA to improve its data collection on the amount of asbestos products coming into the country.
His ruling stemmed from a lawsuit brought against the EPA by a group of nonprofit organizations trying to close asbestos reporting loopholes, which include voluntary submissions and no mandated reporting.
In September, the Science Advisory Committee on Chemicals, a peer-review mechanism for the EPA, found considerable flaws in the Risk Evaluation for Asbestos draft, believing it was too limited in scope.
The Science Advisory Committee is a mix of scientists, medical doctors and Ph.D.s, many of whom testify on behalf of plaintiffs in asbestos litigation.
Some of the criticisms being levied – such as the impact of legacy asbestos, asbestos disposal issues and non-chrysotile asbestos – will be handled in Part 2 of the final risk evaluation.
Others, such as including the potential of ovarian cancer from asbestos-contaminated talc, will not be addressed.
One of the biggest threats to the public today is legacy asbestos in homes and other buildings, which remains after decades of unbridled use throughout the construction industry.
"The agency [EPA] has issued a piecemeal and dangerously incomplete evaluation that overlooks numerous sources of asbestos exposure and risk," said Linda Reinstein, president of the Asbestos Disease Awareness Organization, the country's leading anti-asbestos advocate. "Americans can't wait for the EPA to do its job. We need an asbestos ban."
Free Mesothelioma Resources
Get Access to Free Resources for Patients & Loved Ones