Pleural Specialist
A medical doctor who treats pleural mesothelioma, an asbestos-related cancer that develops in the pleura, which is the thin lining that covers the lungs and chest wall.
Dr. Luis Herrera
Thoracic Surgeon
Dr. Luis Herrera is a respected thoracic surgeon at the UF Health Cancer Center in Orlando, specializing in tumors of the chest, lung and esophageal malignancies.
Get in Touch
Get to Know Dr. Luis J. Herrera
Surgical oncologist Dr. Luis Herrera serves as medical director of the Rod Taylor Thoracic Care Center at UF Health Cancer Center, part of the Orlando Health system.
Herrera treats patients with pleural mesothelioma, performing aggressive and minimally invasive mesothelioma surgeries.
He is a big believer in the multidisciplinary approach to treatment that involves medical oncology, radiation oncology and pulmonary care, adding to his thoracic surgical skills.
Herrera focuses exclusively on non-cardiac thoracic surgery. He is best known for his expertise in minimally invasive procedures, including robotic, laparoscopic and video-assisted surgeries, most often used with lung and esophageal malignancies.
"I'm committed to providing the latest and most innovative care available," he said. "I utilize minimally invasive procedures about 90% of the time. My patients really appreciate it; their recoveries are much easier and faster than they expected."
Herrera stresses the need to increase early screening for lung cancer and improve technology to make screenings more effective. His goal is to improve survival odds by finding the disease earlier when treatments can be more effective.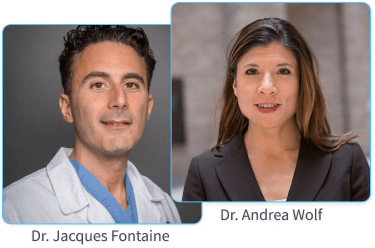 Find a Mesothelioma Specialist
Get specialized treatment from experienced mesothelioma doctors.
Specialties of Dr. Luis J. Herrera
Thoracic surgery
Minimally invasive surgery
Robotics
Video-assisted thoracic surgery
Lung cancer
Esophageal cancer
Dr. Luis J. Herrera's Experience and Medical Education
Orlando Health UF Health Cancer Center
University of Texas MD Anderson Cancer Center (Fellowship)
University of Pittsburgh Medical Center (Residency)
University of Puerto Rico School of Medicine (M.D.)
Awards and Certifications
Board certified in general surgery and thoracic surgery
American Association for Cancer Research Minority Scholar Award
NIH Minority Supplement Grant
Regional Top Doctor, Castle Connolly
Publications of Dr. Luis J. Herrera
Nguyen, D.M. et al. (2020, March). Clinical and economic comparative effectiveness of robotic-assisted, video-assisted thoracoscopic, and open lobectomy. Journal of Thoracic Disease.
Herrera, L.J. (2011, October). Invited Commentary. Annals of Thoracic Surgery.
Herrera, L.J. (2010, March). Extent of lymphadenectomy in esophageal cancer: how many lymph nodes is enough? Annals of Surgical Oncology.
Herrera, L.J. et al. (2005, January). Quantitative analysis of circulating plasma DNA as a tumor marker in thoracic malignancies. Clinical Chemistry.