UF Health Cancer Center at Orlando Health
Orlando Health's UF Health Cancer Center is a top mesothelioma treatment center in Florida with innovative clinical trials led by thoracic surgeon Dr. Tirrell Johnson. UF Health Cancer Center adopts a multimodal approach to patient care and offers both experimental and traditional therapies.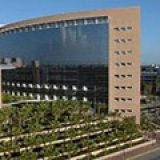 1400 S. Orange Ave Orlando, FL 32806
Cutting-Edge Therapies at UF Health Cancer Center
Orlando Health has joined forces with University of Florida Health to become the UF Health Cancer Center at Orlando, switching from its previous affiliation with the University of Texas MD Anderson Cancer Center.
It's a positive move, resulting in greater access to clinical trials and cutting-edge therapies, along with personalized patient care and enhanced team collaboration.
The center remains committed to providing the best cancer care available, and maintaining the highest standards of excellence in patient care, education and basic science. The goal is to become just the third NCI Designated Cancer Center in Florida, joining the Moffitt Cancer Center in Tampa and the Sylvester Comprehensive Cancer Center in Miami.
The UF Health Cancer Center at Orlando embraces a multidisciplinary approach to patient care, which plays a crucial role in the hospital's reputation for the diagnosis and treatment of mesothelioma, as well as lung and esophageal cancers and other conditions affecting the chest. These diseases are effectively treated by the Rod Taylor Thoracic Care Center, the region's only team specially trained in advanced thoracic cancer surgery.
The Thoracic Care Center includes Luis Herrera, M.D., a specialist in all thoracic surgeries with a particular expertise in multimodality treatments (chemotherapy/radiation/surgery). He and the full team — including board-certified surgeons, oncologists, pathologists, radiologists, nurses, researchers and therapists — provide patients with all necessary services, from diagnosis through treatment and follow-up.
UF Health Cancer Center Takes a Multidisciplinary Approach
Among this team's achievements are the first uses of minimally invasive video-assisted thoracoscopic surgery (VATS) and robotic thoracic surgery. In regard to treatments, patients' abilities to tolerate treatment and their specific cancer stages may determine the specific therapy. The Thoracic Care Center performs surgeries, chemotherapy, radiation, and/or combination treatments. However, they may opt for advanced, experimental procedures.
Treatment options, both conventional and experimental, include the following:
Thoracoscopy and pleurodesis, to drain fluid
Pleurectomy or pleurectomy/decortication (P/D), which remove affected lung tissue, while sparing healthy organs
Extrapleural pneumonectomy (EPP), in which all affected organs are removed, including a lung, lymph glands and parts of the diaphragm and pericardium
Minimally invasive procedures, which use smaller incisions and cause less discomfort, such as video-assisted thoracic surgery (VATS) and robotic surgeries
Radiation therapy, typically that of intensity-modulated radiation therapy (IMRT), which utilizes high-dose radiation to spare healthy organs
Chemotherapy, the main option for advanced cases
Continued Growth at UF Health Cancer Center
The new partnership is expected to result in twice as many patients, from 5,000 annually in the past to 10,000, along with doubling the staff size to 170 cancer physicians and scientists.
The growth will give patients more access to specialists and personalized care through genetic research, which is particularly important for a cancer like mesothelioma. More patients means better access to the newest drugs through clinical trials that were not always available with the previous affiliation.
UF Health Cancer Center's Access to Treatment Experts
Based in the state-of-the-art Charles Lewis Pavilion, a comprehensive, 60-bed cancer center, this facility provides direct access to national and international cancer experts, advanced facilities and equipment and access to the latest clinical research trials. Undoubtedly, this institution has succeeded in its mission of "using every available resource to defeat cancer."