Pleural Specialist
A medical doctor who treats pleural mesothelioma, an asbestos-related cancer that develops in the pleura, which is the thin lining that covers the lungs and chest wall.
Dr. Robert C. Miller
Radiation Oncologist and Medical Director
Table Of Contents
Dr. Robert C. Miller is a retired radiation oncologist and Professor Emeritus at Mayo Clinic in Rochester, Minnesota.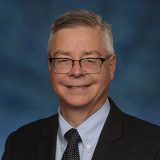 Get to Know Dr. Robert C. Miller
Dr. Robert Miller joined the University of Maryland in 2019 to lead the Maryland Proton Treatment Center. It is the first facility in the Washington, D.C., Baltimore and northern Virginia area to offer this precise, cutting-edge form of radiation therapy.
The Maryland Proton Treatment Center opened in 2016 and treated more than 2,000 patients with cancer in its first three years.
Proton therapy is now being used as part of a multidisciplinary, curative approach to treating mesothelioma at the University of Maryland's Greenebaum Cancer Center.
Expertise with Proton Therapy
Proton therapy allows radiation specialists to narrowly target — called pencil-beam scanning — mesothelioma tumors while sparing healthy, surrounding tissue and organs, allowing much higher doses than typical radiation.
It often is used in combination with surgery or chemotherapy. Proton therapy is noninvasive, painless and well tolerated by patients.
"The technology here is state of the art," Miller said. "Proton therapy will be future for many forms of cancer treatment. We can offer a range of solutions."
Before joining the University of Maryland, Miller spent 25 years at the heralded Mayo Clinic in Rochester, Minnesota, where he served as vice chair in the Department of Radiation Oncology.
One of his duties was overseeing the cancer care delivery at all of the Mayo Clinic's facilities across the country.
"Taking care of patients is tremendously satisfying for me. It's what I enjoy about work," Miller said. "There are a lot of great things about the Maryland Proton Center, but first and foremost is the team of doctors and staff, people who really care about their patients."
Leader in Radiation Therapy Research
Miller also has conducted extensive clinical research throughout his career, including studies on the use of various compounds to lessen the risk of normal tissue injury while undergoing radiation therapy.
He has served as national principal investigator for five phase III clinical trials funded by the National Institutes of Health that explored novel radiation techniques.
Miller has authored more than 170 peer-reviewed papers. He is the founding editor-in-chief of Advances in Radiation Oncology, an academic journal produced by the American Society for Radiation Oncology.
He was also a professor at the University of Maryland School of Medicine.