Meet Dr. Raja Michael Flores
Thoracic Surgeon & Contributing Writer
Dr. Raja Flores is chairman of the Department of Thoracic Surgery at Mount Sinai Hospital and is gaining a reputation as a world leader in the treatment of pleural mesothelioma. He shares his expertise as a contributing writer for The Mesothelioma Center, the nation's most trusted mesothelioma resource.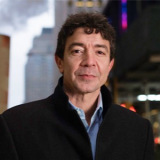 Last modified: December 20, 2022
Quick Facts
Certifications:

American Board of Surgery
American Board of Thoracic Surgery
Brigham and Women's Hospital (Residency)
Columbia-Presbyterian Medical Center (Residency)
Columbia University (M.S.)
Albert Einstein College of Medicine (M.D.)

Expertise:

Pleural Mesothelioma
Pleurectomy and Decortication Surgery
Lung Cancer
VATS Lobectomy
Thoracotomy
Clinical Research

Author Profiles:
About Dr. Flores
Dr. Flores has helped refine the approach to aggressive surgery for mesothelioma cancer, including the use of intraoperative chemotherapy.
From Day 1, he has earned national acclaim for his work with so many first responders from the 9/11 World Trade Center terrorist attack in 2001.
Many of these firefighters and other first responders have been hit with respiratory diseases stemming from the cloud of toxic chemicals that covered the lower Manhattan area for weeks. He has been seeing a growing number of cases involving asbestosis, lung cancer and mesothelioma.
Experts have lauded Flores for his work with firefighters and policemen throughout New York City, many of whom labored in the cleanup efforts in the aftermath of the attack.
Flores' roots grow deep in the city. He graduated from the Albert Einstein College of Medicine in the Bronx and did a residency at nearby Columbia University.
After another residency at Boston's Brigham and Women's Hospital, he returned to New York's Memorial Sloan Kettering Cancer Center.
He moved across town in 2010 to Mount Sinai, where he is known today as an excellent surgeon with an ability to relate to his blue-collar patients.
"I come from a family of cops. Police work is in my blood," he said. "I'm familiar with the culture. That's important when treating these patients."
Flores has served as a reviewer and editorial board member on several reputable medical journals, including Journal Clinics in Oncology, Journal Clinics in Surgery, Journal of Thoracic Diseases, and Annals of Translational Medicine among others.