The Last Place Asbestos Should Be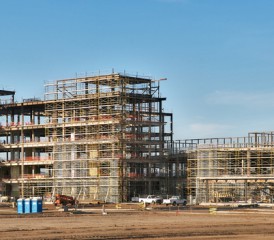 We don't think asbestos should be anywhere, least of all in a hospital. Yes, you read that correctly, a hospital.
McGill University Health Centre (MUHC) in Montreal, Canada announced that it will be using asbestos fibers in its cement drainage pipes.
Asbestos, a naturally occurring mineral, was once used in the construction of houses and buildings because of its superior insulation and heat resistant properties. But it wasn't until the 1970s that the correlation between asbestos exposureand mesothelioma cancer became well known. Currently, asbestos is banned in 50 countries worldwide, excluding the United States and Canada.
Even the Canadian Medical Association has stated that asbestos is hazardous to human health and is campaigning to ban asbestos mining in Canada. So why would MUHC choose to use asbestos cement pipes at their facility?
The engineering firm SNC-Lavalin, lead partner in building MUHC, made the decision to use asbestos pipes. Although the MUHC acknowledges that asbestos cement does carry some risks, officials don't see a problem using it. Theyhave given the go ahead on the plans, despite the fact that it will cost MUHC its notable Leadership in Energy and Environmental Design (LEED) "green" certification.
Hospital officials are sticking to their story that the asbestos-containing pipes will only be used in the disposal of storm water and that the material is very rigid, meaning it cannot disintegrate or become friable. In this state, fibers are easily released from the pipes to cause harmful exposures. The officials also assert that any risks are well-controlled and all precautions are being taken in accordance to the law.
While it's true that non-friable asbestos is less likely to release airborne fibers, there is no telling when damage could occur that causes the pipes to become friable. Surely that risk shouldn't be taken in a hospital filled with patients already fighting off serious illnesses.
Yet, there are some who don't see a problem with the use of asbestos in the new hospital. Who might that be you ask? That would be the representatives from Balcorp Ltd.
Does that name sound familiar to you? It should.
In October of 2011, BaljitChadha, president of Balcorp Ltd., began campaigning for a $58 million loan to reopen the asbestos mines in Quebec.Chadha's main focus is on the Jeffrey Mine located in the town of Asbestos. Until recently, this town's asbestos mine was the largest in the world. Even while posing serious health risks, asbestos continues to be a big business for companies thatexportthe material to developing countries. Many of these nations, which often have lacking health and safety regulations, have not yet banned asbestos.
We know why Balcorp wants to convince the public that asbestos is safe for public use. We're just surprised a hospital would agree.
What do you think about MUHC using asbestos in the piping in their new hospital?

Free Mesothelioma Resources
Get Access to Free Resources for Patients & Loved Ones
Get Help Now