NCI-Designated Cancer Center
Cancer center recognized by the National Cancer Institute as one that meets rigorous standards for multidisciplinary, innovative research focused on developing new and improved approaches to preventing, diagnosing and treating cancer.
Alvin J. Siteman Cancer Center
Located in St. Louis, Missouri, Alvin J. Siteman Cancer Center ranks as one of the nation's best cancer treatment centers. Oncologist Dr. Ramaswamy Govindan leads some of the more than 250 clinical studies at Siteman, including many trials for mesothelioma patients.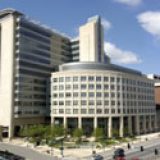 1 Barnes Jewish Hospital South St Louis, MO 63110
Siteman Cancer Center Stresses Multidisciplinary Approach to Care
For quality mesothelioma or lung cancer care in St. Louis, Missouri, there's no better destination than the city's world-famous Alvin J. Siteman Cancer Center. Siteman is the only Comprehensive Cancer Center in all of Missouri, meaning the National Cancer Institute (NCI) has designated it as maintaining the highest standards of excellence in patient care, clinical research, cancer prevention, education and basic science.
Not only is Siteman consistently ranked by U.S. News & World Report as one of the nation's best cancer treatment centers, its parent institutions, Barnes-Jewish Hospital and Washington University School of Medicine, both rank highly as well. The staff of Siteman and its affiliated locations includes more than 350 research scientists and physicians from these institutions. Every year, the hospital treats about 8,000 newly diagnosed cancer patients, receiving more than $165 million in cancer research and related training grants in the process.
This dedicated community of specialists, including doctors and surgeons, nurses and researchers, utilizes a multidisciplinary approach to patient care. This is certainly beneficial for diagnosing and treating mesothelioma and lung cancer patients. Siteman has a malignant mesothelioma treatment team and is one of very few facilities to have its own dedicated chest surgery unit.
The multidisciplinary team includes medical oncologist Ramaswamy Govindan and thoracic surgeons Alexander Patterson and Benjamin Kozower. Pulmonologists and radiation oncologists are also part of the diagnostic and treatment decisions.
Govindan is involved in clinical trials with lung cancer and pleural mesothelioma. Patterson is known internationally for his work in pioneering lung transplantation advancements.
Treating Mesothelioma at Siteman Cancer Center
When treating mesothelioma, Siteman's physicians typically rely on surgery and radiation to treat local tumors. Meanwhile, chemotherapy is used for the whole body, as it can be directed toward cancerous cells that may break away from the source.
Mesothelioma treatments may also depend on the disease's stage. For instance, Stage I (the less advanced type) patients may undergo surgery to remove affected chest lining and tissues, followed by radiation therapy. However, patients with more advanced stages may undergo surgery to drain fluid in the chest, followed by radiation, chemotherapy or even combinations of these treatments. Palliative treatments, which are designed to improve quality of life by relieving the pain associated with symptoms, are used in conjunction with other treatments throughout the process of managing the disease.
Siteman surgeons are also utilizing biologic therapy ("immunotherapy"), an experimental treatment in which certain substances are used to boost the patient's own immune system to fight the cancer.
Siteman Cancer Center Turns Latest Research into Novel Treatments
Siteman is considered a leader in research for all cancer subtypes. But research for lung cancer and related conditions is a particular strength, as the program is actually ranked among the nation's best.
The close partnership between Siteman and the medical and academic communities ensures the latest in diagnostic tests and cutting-edge treatments. The lung cancer specialists regularly participate in clinical cancer trials, such as "Phase I/II, Open-Label, Randomized Study of the Safety, Efficacy and Pharmacokinetics of Erlotinib With or Without PF-02341066 in Patients with Advanced Non-Small Cell Adenocarcinoma of the Lung (A8081002)."
Patients are able to participate in more than 250 clinical studies involving such paths as nanotechnology, bioinformatics, chemoprevention, pharmacogenetics, gene therapy, proteomics, imaging, genomics and leukemia and lymphoma.
Mesothelioma Clinical Trials at Siteman Cancer Center
A phase I/II clinical trial comparing the effectiveness of pembrolizumab (Keytruda) with and without anetumab ravtansine in mesothelioma patients whose tumors test positive for mesothelin.
A phase II clinical trial studying the effectiveness of the combination of nivolumab (Opdivo) and ipilimumab (Yervoy) for patients with rare tumors, including mesothelioma.
A phase I/II clinical trial to determine the effectiveness of using INCAGN01876 in combination with nivolumab (Opdivo) in patients with advanced metastatic malignancies, including mesothelioma.