Houston Methodist Cancer Center
Houston Methodist Cancer Center is a top treatment facility in Texas renowned for its specialized team of experts, clinical research and innovative mesothelioma treatments such as HIPEC. Medical oncologist Dr. Jun Zhang and others at Houston Methodist have considerable mesothelioma experience.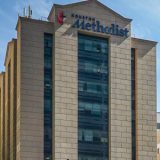 6565 Fannin St., Houston, TX 77030
Houston Methodist Cancer Center Known for Excellence
Houston Methodist Cancer Center offers a full range of medical, surgical and radiology services for the most common cancers and the rarest malignancies, such as mesothelioma.
With a combination of pioneering research, excellence in clinical care and a compassionate, personalized approach, Houston Methodist has carved out a reputation as one of America's leaders in cancer treatment. It has six locations spread across the Houston metropolitan area.
U.S. News & World Report ranked Houston Methodist No. 39 among 885 cancer hospitals in the U.S., and the No. 1 hospital overall in Texas.
Houston Methodist Cancer Center boldly promotes a three-pronged approach:
Reduce cancer development
Foster discovery of novel treatments
Provide personalized care for each patient
Medical oncologist Dr. Jun Zhang has considerable expertise in treating pleural mesothelioma, along with thoracic oncologist Dr. Shawn Tittle.
Patients at Houston Methodist have access to the latest technology to help with screening for various cancers, often leading to early detection that has saved countless lives.
The staff can provide genetic counseling, which reviews family medical history and assesses the risk of developing cancer, leading to lifestyle changes for family members.
HIPEC for Peritoneal Mesothelioma at Houston Methodist Cancer Center
Houston Methodist is among a select group of cancer centers nationwide that have the expertise and technology to use the hyperthermic intraperitoneal chemotherapy procedure for abdominal cancers such as peritoneal mesothelioma.
The procedure, also known as HIPEC, involves heated, high concentration chemotherapy. It is often used immediately after cytoreductive surgery. The combined procedure can take anywhere from six to 14 hours, depending upon the tumor involvement.
It has been especially effective in advancing the treatment for peritoneal mesothelioma and other malignancies that have spread to the abdominal lining. Surgeons also are using it with ovarian, stomach and colon cancers.
Surgical oncologists Dr. Nestor Esnaola and Dr. Murtaza Shakir are the peritoneal specialists at Houston Methodist.
Research Is Important at Houston Methodist Cancer Center
Translational research, which gives Houston Methodist access to the latest cancer treatment advances, is a top priority. Patients have access to dozens of clinical trials.
Dr. Bin Teh at Houston Methodist co-authored a study in 2018 involving pleural mesothelioma patients. It revealed a glaring underutilization of radiation therapy, leading to changes in treatment guidelines.
Teh's study found that only 3.1% of patients diagnosed with pleural mesothelioma underwent radiotherapy treatment in combination with aggressive surgery.
"I was surprised at how little it was used overall," said Teh, vice chair of the department of radiation oncology. "Surgery plus radiation improves overall survival."