Jupiter Medical Center in Jupiter, Florida, is a top hospital with a multidisciplinary team focused on innovative mesothelioma treatments, such as HIPEC, performed by surgical oncologist Dr. Shanel Bhagwandin. Dr. K. Adam Lee is medical director of the thoracic surgery and lung center program.
Get in Touch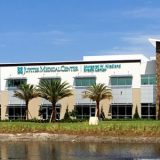 1210 S Old Dixie Hwy, Jupiter, FL 33458
Elite Anderson Family Cancer Institute
The Anderson Family Cancer Institute at Jupiter Medical Center is a comprehensive, multidisciplinary treatment facility featuring state-of-the-art technology and the highest level of clinical care.
For more than 30 years, Jupiter Medical Center has guided cancer patients through diagnosis, treatment and survivorship with personalized treatment plans and the latest technology.
When the Anderson Family Cancer Institute opened in 2020, it raised the level of care, comfort and convenience, offering patients everything they need at one integrated location.
Patients can now see physicians, get lab work, radiation, chemotherapy procedures and other infusions in an ultramodern environment.
The institute offers specialty programs in breast, gynecologic, thoracic and gastrointestinal oncology. There are also specialists to treat both pleural and peritoneal mesothelioma.
Jupiter Medical Center Broadens its Reach
Oncology is just one part of the Jupiter Medical Center, which also provides specialty care in cardiology, digestive health, orthopedics and emergency care. The medical center has more than 600 physicians.
The center includes the Joe Namath Neurological Research Center, dedicated to improving long-term recovery from traumatic brain injuries.
It benefits immensely from an affiliation with Sylvester Comprehensive Cancer Center at the University of Miami Miller School of Medicine.
Sylvester is the only National Cancer Institute Designated Cancer Center in South Florida. The connection provides seamless care for patients with rare cancers such as mesothelioma, providing easier access to clinical trials available only at Sylvester.
Mesothelioma Specialists at Jupiter Medical Center
Surgical oncologist Dr. Shanel Bhagwandin has the expertise to offer the innovative cytoreduction with heated intraperitoneal chemotherapy (HIPEC) procedure. He developed those skills working previously at Mount Sinai Health System in New York City.
Only select cancer centers around the country can perform this combination treatment being orchestrated by Bhagwandin. It has worked exceptionally well for several abdominal cancers, including peritoneal mesothelioma.
"This procedure can make a tremendous difference for a patient," said Bhagwandin, who arrived in 2017. "When you tell a patient he may be leaving the operating room with no disease left inside, that is powerful."
Dr. K. Adam Lee is the medical director of the thoracic surgery and lung center program at Jupiter Medical Center. He takes the lead in cases involving the more common pleural mesothelioma.
Lee is a national pioneer in minimally invasive lung and chest surgeries. He has expanded the reach of Jupiter Medical Center's cancer program through his expertise in robotic surgery.
His lung cancer program includes advanced imaging services, a lung nodule clinic, a CT lung screening program, a thoracic multidisciplinary clinic and a survivorship program.
"Patients in our area who used to travel a great distance to get the best possible care don't have to do that anymore," Bhagwandin said. "We have it all right here."