NCI-Designated Cancer Center
Cancer center recognized by the National Cancer Institute as one that meets rigorous standards for multidisciplinary, innovative research focused on developing new and improved approaches to preventing, diagnosing and treating cancer.
University of Alabama at Birmingham Comprehensive Cancer Center
The O'Neal Comprehensive Cancer Center at the University of Alabama at Birmingham is renowned for its focus on personalized care and its team of experts, including thoracic surgeon Dr. James Donahue. The center also offers several ongoing mesothelioma clinical research trials.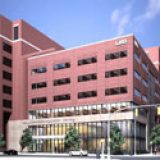 1824 6th Ave S. Birmingham, AL 35233
Treating Mesothelioma at O'Neal Comprehensive Cancer Center
The O'Neal Comprehensive Cancer Center at the University of Alabama-Birmingham has extensive experience in treating all types of lung diseases, including lung cancer and malignant pleural mesothelioma. Because mesothelioma may not benefit from conventional therapies, patients need to seek out cancer treatment facilities with the proper breadth of experience.
The Lung Health Center (LHC), a designated University Wide Center within the Division of Pulmonary and Critical Care Medicine, is both a regional cancer referral center and a cutting-edge research entity.
Occupying 11,300 square feet on two campus locations, this department's clinical facilities boast pulmonary function laboratories as well as collection and storage capabilities for blood, saliva and other samples. Patients also have access to a state-of-the-art, 19-bed Thoracic Surgery Unit, which is one of the world's only facilities dedicated solely to caring for diseases and disorders of the lung and esophagus.
O'Neal Comprehensive Cancer Center Stresses Personalized Care
The LHC is home to such internationally renowned figures as Mark T. Dransfield, M.D., medical director and an authority on research trials and advanced therapies for lung cancer and associated thoracic malignancies.
Comprised of physicians, clinical research nurses, respiratory therapists, health educators and other professionals, this team excels at diagnosing and managing lung cancer and mesothelioma. The department collaborates weekly to discuss patient cases and develop personalized treatment options incorporating surgery, chemotherapy, radiation and combinations, as needed. These specialists are among the world's leaders in lung cancer research, including basic and translational efforts, in which findings are directly transferred to patients. These researchers also take part in mesothelioma studies, such as "Pilot Phase II Study of MORAb-009 Chemotherapy in Combination with Pemetrexed and Cisplatin in Subjects with Mesothelioma."
Among the research successes are the utilization of genetically engineered monoclonal antibodies and, through the efforts of the prestigious Cancer Vaccine Development team, clinical trials involving a series of genetically engineered vaccine reagents. The UAB Cancer Care Network, a partnership of the UAB Comprehensive Cancer Center and UAB Medicine, provides both doctors and patients with access to the latest findings and techniques, along with state-of-the-art tools and equipment.
O'Neal Comprehensive Cancer Center Earns Special NCI Designation
UAB received its NCI designation in 1972, meaning it maintains the highest standards of excellence in patient care, education, basic science, clinical research and cancer prevention. Within the UAB community, including locations throughout Alabama and Georgia, the hospital is home to more than 330 physicians and researchers recognized nationally and abroad for their cancer expertise.
The hospital's faculty and staff are divided into such cancer specialties as tumor biology, virology/gene therapy, targeted immunotherapy, and experimental therapeutics. UAB medical professionals treat an estimated 5,000 new patients each year, utilizing a multidisciplinary approach toward research and patient care. In terms of funding, these combined efforts earn the hospital more than $100 million annually.
With a global reputation as a leader in research, treatment and education, this institution is the only National Cancer Institute (NCI)-designated Comprehensive Cancer Center within Alabama, Arkansas, Georgia, Louisiana and Mississippi. And beyond cancer, UAB is internationally hailed for its wide array of medical programs, including those for cardiovascular health, intensive care and transplants. This is also the home of the state's only adult Level 1 trauma center.
Mesothelioma Clinical Trials at O'Neal Comprehensive Cancer Center
A phase II clinical trial studying the effectiveness of the immunotherapy combination of nivolumab (Opdivo) and Ipilimumab (Yervoy) in treating rare tumors such as mesothelioma cancer.