Asbestos Exposure & Bans
Tenth Anniversary of 9/11 Brings Threat Of Mesothelioma, Awareness of Asbestos Exposure
Fact Checked
Our fact-checking process begins with a thorough review of all sources to ensure they are high quality. Then we cross-check the facts with original medical or scientific reports published by those sources, or we validate the facts with reputable news organizations, medical and scientific experts and other health experts. Each page includes all sources for full transparency.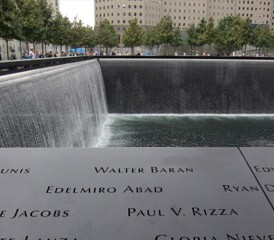 The official opening Sunday of the National 9/11 Memorial on the 10th anniversary of the terrorist attack at the World Trade Center in New York City is designed to help America remember, but it will also provide some closure for families of those who died.
There will be no closure for the illnesses left behind.
Although tens of thousands more first responders, volunteer workers, residents nearby have been suffering for years from a wide range of physical and psychological ailments related to 9/11, the real death toll from the attack will not be known fully for decades to come.
The threat of mesothelioma, the slow-developing cancer caused by an exposure to asbestos, is just beginning.
The much-chronicled "World Trade Center Cough," a respiratory ailment that has dogged thousands, could be just the tip of the iceberg. The long-range health problems — cancers like mesothelioma that takes many more years to emerge — could be even more deadly.
The dust cloud that lingered over Lower Manhattan for weeks after the attack was a cocktail of toxic poisons, including an estimated 400 tons of asbestos fibers— that already have led to hundreds of deaths and could lead to thousands more.
Although various studies through the past decade have shown that responders, residents and workers in New York have suffered from respiratory problems stemming from the airborne poisons, the National Institute of Occupational Safety and Health did not find enough evidence to include cancer among the illnesses covered in the last $2.8 billion 9/11 healthcare funding bill.
That could change soon. A new study released last week and published in the Journal Lancet, found firefighters who worked at the World Trade Center were 19 percent more likely to have cancer than those who did not.
Instead of relying on the anecdotal evidence that seemed so prevalent in the past, this study showed the first definitive link to cancer that was undeniable because it included a benchmark to work against.
"This is not an epidemic, but an increased risk," said Dr. David Prezant, chief medical officer of the FDNY, during a news conference to explain the study results.
The study identified 263 cases of cancer among fire fighters who were at Ground Zero in the days after the attack, as compared to 153 cases of cancer among fire-fighters who were not there, according in Time Inc.
Although the difference was not as significant as some expected, part of the reason is that many of the cancers — like mesothelioma — usually don't begin showing up until at least 10 years after exposure. Symptoms typically don't appear for 20 years or longer.
There already was at least one highly publicized mesothelioma death, early in 2006, within the New York Fire Department (an emergency medical technician) that was traced directly to asbestos exposure from 9/11. There have been other mesothelioma cases, but they were not so definitively linked to 9/11.
An estimated 90 percent of the New York City firefighters working at Ground Zero complained of various coughing symptoms. Many developed serious symptoms often associated with asthma or bronchitis. For some, their conditions became chronic, requiring long-term treatment. Respiratory illnesses also have been widely reported from residents living in Lower Manhattan close to the site.
The problems were not unexpected. A mixture of asbestos, cement, glass fibers, combusting jet fuel and a variety of other toxic chemicals from collapsed buildings created a volatile mixture of carcinogens.
According to Dr. Joan Reibman, director of the New York City World Trade Center Health and Environmental Center, these respiratory illnesses now suggest that there are increased risks for abnormal lung function in the future.
"We've just begun to understand what's happening after the World Trade Center," Prezant said. "We may find that some of our conclusions change over time, get stronger, or change entirely."
Free Mesothelioma Resources
Get Access to Free Resources for Patients & Loved Ones