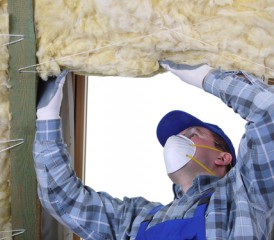 The death of two welders helped place welding, along with nine other careers, among the top 10 deadliest jobs in Rhode Island, according to local reports from that state. More than 30,000 workplace injuries have been reported in these top ten
occupations
in the state. Even worse, dozens of Rhode Island residents have lost their lives because of work-related duties. Because asbestos has heat-resistant and insulating characteristics, it was widely used throughout countless industrial settings. Exposure to this substance has been conclusively linked to multiple cancers and diseases, including lung cancer, mesothelioma, asbestosis and pleural plaques. Across the nation, these diseases are statistically more common among
construction workers
, automobile mechanics and electricians, rather than white-collar careers. In Rhode Island, the same results likely apply.
Occupational Exposures to Hazards in Rhode Island
The deadliest jobs in the state include some commonly-perceived dangerous jobs, in addition to some less-obvious occupations. Truck drivers, construction workers, delivery service workers and electricians are all at the top of the list, with jobs like janitors and non-construction laborers towards the bottom. The top 10 list was compiled utilizing data from the Rhode Island Department of Labor and Training between 2001 and 2010. Some are surprised by the report's results, with added confusion coming from two interesting explanations of the analysis. First, the report found that the most common reason for occupational injuries and deaths involved the failures by employees and employers to even recognize the presence and existence of these hazards. For example, in the case of
automobile mechanics
, it may not be widely known that brake pads and other car parts may be constructed partially of asbestos. So continuous handling of these supplies and breathing in resulting fumes can cause tremendous health concerns over the course of decades. Without the knowledge of the asbestos parts, better safety measures were not put in place. The second is the lack of action even when the hazard is known. Reports show that employees are often aware of these workplace dangers but don't speak up, and therefore, nothing gets done to improve the situation. A common reason for this lack of communication involves foreign laborers, many of whom may not speak English. Because many of these workers have language barriers and fear complications with their immigration status and say nothing about the fatally-dangerous work environments. These workers have been known to be in occupations like waste removal, asbestos abatement and other jobs where the proper equipment and training is essential to safely perform the job task. Unfortunately, the training and equipment isn't always provided. An additional insight into the numbers noted that unionized industries tended to have safer environments that invested more in training programs, resulting in less workplace accidents and deaths. Rhode Island's Deadliest Jobs (2001-10)
| Job / Occupation | # of Deaths | Total # of Injuries |
| --- | --- | --- |
| Truck Drivers | 5 | 4,134 |
| Construction Laborers | 3 | 1,978 |
| Delivery Service Workers | 3 | 7,130 |
| Electricians | 3 | 2,207 |
| Welders & Cutters | 2 | 1,546 |
| Automobile Mechanics | 2 | 2,288 |
| Janitors & Maintenance Workers | 2 | 9,701 |
| Non-Construction Laborers | 2 | 602 |
| Moving Equipment Operators | 2 | 631 |
| Ushers (death due to fire)* | 2 | 23 |
| TOTAL | 26 | 30,240 |
*This figure is considered an anomaly because the deaths were caused by an accidental fire unrelated to the daily duties of the position.
National Trends
Most of the Rhode Island occupations noted for workplace accidents and deaths can also be seen at a national level, especially with regards to
exposure
to asbestos and related toxins. The National Institute for Occupational Safety and Health (NIOSH) has stated that over 75 different occupational groups likely have had asbestos exposure, putting these workers at risk of developing one or more of the asbestos-related diseases. Because the mineral's fibers are microscopic, the presence of asbestos fibers in the air may not be apparent. Continual intake over the course of a career can severely increase the chance of developing an asbestos-related disease.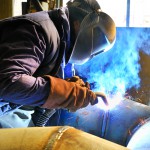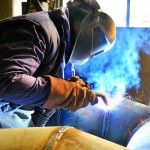 These diseases commonly take up to 50 years to become evident, posing additional problems related to treatment. Asbestos was so widely used during the 1900s that experts believe that it can still be found in thousands of products, potentially causing harm today, years after its discontinued production. Mesothelioma, a cancer known to be caused by asbestos exposure, affects approximately 3,000 Americans every year, most of whom developed the disease from workplace hazards. Anyone who was involved in the manufacturing or distribution of asbestos-containing materials is at risk of exposure and should consider receiving regular screenings for asbestos diseases.