About Maryland
Ranking in U.S. for mesothelioma & asbestosis deaths

21st

Mesothelioma Deaths

856

Asbestosis Deaths

223

Total Deaths

1,079
The state, which has a border along the Atlantic Ocean, is also home to a handful of shipyards, some of which have known issues with asbestos exposure. And Baltimore, Maryland, thanks in large part to its role as a thriving shipyard and steel mill city during and after World War II, saw many of its residents work for power plants, chemical plants and construction companies performing labor jobs that posed a high risk for asbestos exposure.
In addition, Maryland courts are considered favorable to plaintiffs in civil actions, even in mass tort cases like asbestos litigation. Although state lawmakers created an inactive docket for asbestos cases in which plaintiffs do not have enough merit to file a claim, the process is streamlined to help valid cases move through the court system.
Occupations at Risk
Shipyard employees, construction workers, steel mill workers, foundry workers and sheet metal workers are among the occupations at risk for asbestos exposure in Maryland. In 1983, Maryland was the first state in the country to pass requirements for abatement contractors or demolition contractors involving asbestos. Training and licensing are part of the standards, which lawmakers have not updated significantly since 1990.
Occupations at risk include:
Automobile mechanics
Chemical plant workers
Construction workers
Flooring installers
Military service personnel
Power plant workers
Roofers
Sheet metal workers
Shipyard workers
Steel mill workers
Tile installers
Job Sites with Known Asbestos Exposure:
Anchor Packing Company
Eastern Stainless Steel
Curtis Bay Shipyard
Foreign Motors
Key Highway Shipyard
Porter Hayden Company
Bethlehem Steel
Baltimore Marine Industries
Fairfield Shipyard
Maryland Drydock Shipyard
Patuxent River Naval Air Station
Treatment Centers near Maryland
Doctors in Maryland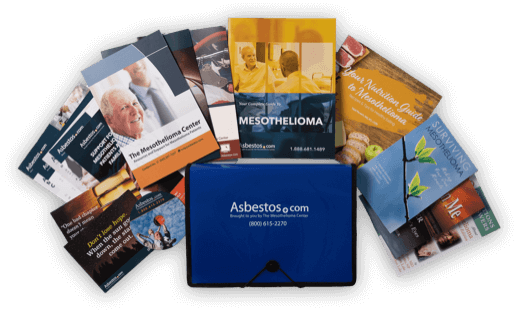 Get a Free Mesothelioma Guide
Free information, books, wristbands and more for patients and caregivers.
Get Your Free Guide
Maryland Shipyards and Asbestos
Shipyards are part of the state fabric of Maryland, but they, unfortunately, posed a serious risk of asbestos exposure to workers. Contractors who supplied parts to the U.S. Navy and built vessels used asbestos materials during the World War II era. Boilers and pipes were wrapped with asbestos lagging or covered in asbestos-containing paint to minimize heat. Almost all the insulation on a ship contained asbestos. The Curtis Bay Coast Guard Yard and Maryland Shipbuilding and Drydock are two yards that exposed workers to asbestos.
At the Curtis Bay yard, asbestos was confirmed in Fleet Hall, a barracks that was constructed with asbestos shingles on its roof. The yard's salvage lot was an active scrap metal yard since the 1940s and was also used for dumping asbestos debris.
In addition, a burn pit near the salvage lot was active from the late 1940s through 1963, and that's where used batteries, oil, scrap metal, liquids and asbestos-containing materials were disposed of or incinerated. Areas around both sites were used as dumping grounds, and officials fear asbestos materials were disposed of there as well.
The Curtis Bay Coast Guard Yard was designated a Superfund site by the U.S. Environmental Protection Agency (EPA) in 2008, although asbestos was a minor part of that designation.
At Maryland Shipbuilding and Drydock, workers who used asbestos-containing parts from Garlock later won lawsuits against the company after they developed asbestos-related illnesses. One plaintiff was Paul J. Wilson, an electrician whose work history included stints at Bethlehem Steel's Key Highway Shipyard and Maryland Shipbuilding and Drydock.
Learn About Asbestos Exposure in Other States
Maryland Schools and Asbestos
Schools across the country were built with asbestos construction materials such as pipe insulation, floor tiles, glue and drop ceilings. These materials have to be monitored and inspected to ensure they are not creating an exposure risk. From time to time, schools must close down for asbestos abatement projects and when asbestos materials are disturbed.
In January 2019, Kenwood High School in Essex, Maryland closed early when maintenance workers believed they found asbestos-containing materials. The workers found the material in two fire doors that were not inside classrooms. They closed off the area and evacuated the school as a safety precaution.
Asbestos Litigation in Maryland
For years, Maryland has been known as a wasteland for civil lawsuits. The state's court system was one of the nation's annual leaders in inactive dockets. Courts in Baltimore were assigned all of the state's asbestos cases, and a significant number of them sat and sat. The cases that sat often involved plaintiffs with a proven history of asbestos exposure, but they had yet to develop physical impairment because of a related disease.
Maryland courts see many asbestos lawsuits because the state's industrial and transportation industries exposed many residents to asbestos products. In an effort to serve the sickest plaintiffs first, Baltimore was one of the first jurisdictions to create an active and inactive asbestos docket. The sickest plaintiffs go on the active docket and plaintiffs who aren't impaired go on the inactive docket.
Maryland does have a statutory cap on non-economic damages, although it is not retroactive and does not apply in lawsuits that prove exposure to asbestos prior to the enactment of the cap. This cap varies in value depending upon the year the injury was discovered.
Maryland courts have ruled in favor of those who claim they developed mesothelioma and other asbestos-related illnesses as a result of secondary exposure to asbestos. Sometimes called take-home exposure, secondary exposure happens when someone occupationally exposed to asbestos unintentionally brings home asbestos fibers on their work clothes, leading to exposure among people they live with or see frequently. Lawsuits for secondary asbestos exposure are not as common as occupational exposure lawsuits, but some have resulted in beneficial verdicts for plaintiffs.
Georgia-Pacific Corp. v. Pransky: The Maryland Court of Appeals upheld a 2002 case in which a woman was awarded $9 million by a jury. The woman got mesothelioma from exposure to an asbestos joint compound that her father used to make repairs to their home basement.
Grimshaw v. Anchor Packing: A woman was awarded $3.21 million after she testified that she developed an asbestos-related disease from asbestos fibers carried home on her stepfather's clothes.
Grewe v. Ford Motor Co.: A Baltimore jury awarded $8,069,934 to the family of former automobile mechanic Keith Grewe following his death from mesothelioma in 1993 at the age of 55. Grewe worked at Foreign Motors for 36 years, routinely repairing and replacing brakes and clutches, parts that Ford Motor Co. acknowledged contained asbestos. Ford lost its appeal, in which it argued Grewe was previously exposed to asbestos as a sheet metal worker in the mid-1950s and while working with asbestos-containing joint compound in the mid- and late 1960s as a home remodeler.
Learn How to Hire a Qualified Mesothelioma Lawyer

Get Help Contacting this Cancer Center
9 Cited Article Sources
The sources on all content featured in The Mesothelioma Center at Asbestos.com include medical and scientific studies, peer-reviewed studies and other research documents from reputable organizations.
Centers for Disease Control and Prevention, National Center for Health Statistics. (2018). Underlying Cause of Death 1999-2017 on CDC WONDER Online Database. Retrieved from: http://wonder.cdc.gov/ucd-icd10.html
FindLaw. (1997, April 3). Anchor Packing Company v. John Grimshaw. Retrieved from: http://caselaw.findlaw.com/md-court-of-special-appeals/1310451.html
Georgia-Pacific Corporation v. Lisa J. Pransky et al., 800 A.2d 722 369 Md. 360 (Md. Ct. App., 2002).
Maryland State Archives. (2011, January 12). Maryland Asbestos Oversight Committee. Retrieved from: http://www.msa.md.gov/msa/mdmanual/26excom/html/02asb.html
Schneider, A. (2006, May 4). Brakes using asbestos raise fresh concerns. Retrieved from: http://articles.baltimoresun.com/2006-05-04/news/0605040031_1_asbestos-brakes-mechanics
U.S. Department of Justice. (2008, January 10). Environmental supervisor sentenced for violations at Patuxent River Naval Air Station. Retrieved from: http://www.justice.gov/archive/opa/pr/2008/January/08_enrd_017.html
U.S. Geological Survey. (2006). Reported historic asbestos mines, historic asbestos prospects, and natural asbestos occurrences in the Eastern United States. : Retrieved from: http://pubs.usgs.gov/of/2005/1189/pdf/Plate.pdf
Wilson v. John Crane. (2004, September). Case summary. Retrieved from: http://www.courts.state.md.us/opinions/coa/2005/79a04.pdf
Solomon, L. (2019, January 23). Kenwood High School in Essex reopens Wednesday after 'potential asbestos' scare. Retrieved from: https://www.baltimoresun.com/news/maryland/baltimore-county/towson/ph-tt-kenwood-0123-story.html
How did this article help you?
What about this article isn't helpful for you?
Did this article help you?
Thank you for your feedback.
Would you like to speak with a Patient Advocate?
Last Modified February 8, 2019