Pleural Specialist
A medical doctor who treats pleural mesothelioma, an asbestos-related cancer that develops in the pleura, which is the thin lining that covers the lungs and chest wall.
Dr. Wesam Ahmed
Medical Oncologist
Table Of Contents
Dr. Wesam Ahmed is a respected medical oncologist at the Cleveland Clinic in Weston, Florida, seeing patients with mesothelioma as part of a multidisciplinary approach to treatment.
Get to Know Dr. Wesam Ahmed
Dr. Wesam Ahmed is a medical oncologist at Cleveland Clinic Florida who specializes in treating cancers of the blood in addition to mesothelioma.
Ahmed joined the Cleveland Clinic in 2017 after spending the previous three years in Orlando, Florida, where he served as medical director of the Cellular Therapy Laboratory at AdventHealth Orlando and as an assistant professor of medicine at the University of Central Florida.
At the Cleveland Clinic he handles a variety of roles, including cancer screening, genetic testing, chemotherapy, bone marrow biopsy and aspiration.
Ahmed sees patients with lung cancer, bladder cancer, breast cancer, ovarian cancer and central nervous system cancers, and provides treatment for mesothelioma. He talks often about the benefits of a multidisciplinary approach in the care of each patient he serves at the Cleveland Clinic.
"I tell my patients, we will work as a team to take care of your cancer. Look at us like a circle around you," he said. "We each look at you from a different set of eyes, from different angles, and together we will be able to provide you with the best possible care."
Ahmed attended medical school at Menoufia University in Egypt and Virginia Commonwealth University in Richmond, Virginia. He did his residency at Brown University and Memorial Hospital of Rhode Island. He completed his fellowship at Tufts Medical Center in Boston, where he began his career.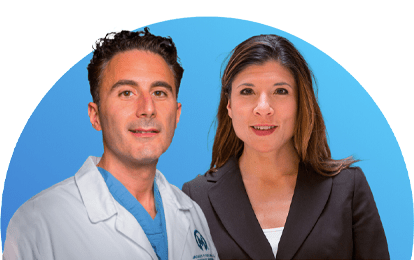 Find a Mesothelioma Specialist
Get specialized treatment from experienced mesothelioma doctors.
Specialties of Dr. Wesam Ahmed
Lung cancer
Bladder cancer
Breast cancer
Ovarian cancer
Pleural mesothelioma
Dr. Wesam Ahmed's Experience and Medical Education
Cleveland Clinic Florida
AdventHealth Orlando
Tufts Medical Center
Menoufia University and Virginia Commonwealth University School of Medicine (M.D.)
Brown University and Memorial Hospital of Rhode Island (Residencies)
Tufts Medical Center (Fellowship)
Dana-Farber Cancer Institute (Fellowship)
Awards and Certifications
Board certified in medical oncology
Board certified in hematology
Testimonials
"Dr. Ahmed has been by far the best doctor I have ever had," one patient said in a May 2018 review. "The dedication, professionalism and interest he demonstrates to patients is not only very informative, but he helps one understand clearly step by step what is going on, and what needs to be done to correct the issue. I am extremely satisfied with his care."
Publications of Dr. Wesam Ahmed
Sadler, D. et al. (2020, July). Practical and cost-effective model to build and sustain a cardio-oncology program. Cardio-oncology.
Ahmed, W. & Van Etten, R.A. (2013). Alternative approaches to eradicating the malignant clone in chronic myeloid leukemia: tyrosine-kinase inhibitor combinations and beyond. Hematology: American Society of Hematology Education Program.
Ahmed, W. & Van Etten, R.A. (2013, March). Signal transduction in the chronic leukemias: implications for targeted therapies. Current Hematologic Malignancy Reports.