The Maroone Cancer Center at Cleveland Clinic in Weston is one of Florida's top treatment centers. It is known for its multidisciplinary team of experts that includes medical oncologist Dr. Wesam Ahmed. Cleveland Clinic also has ongoing clinical trials available to mesothelioma patients.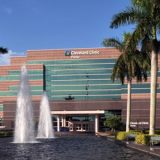 2950 Cleveland Clinic Blvd, Weston, FL 33331
Excellence in Care at Cleveland Clinic Florida
The Maroone Cancer Center at Cleveland Clinic Florida in Weston is known for its multidisciplinary, innovative treatment approach for thoracic malignancies such as lung cancer and pleural mesothelioma.
Dedicated surgeons, pulmonologists, pathologists, medical oncologists and radiation oncologists have come together to form one of the country's finest cancer care teams.
Patients coming to Cleveland Clinic can enroll in clinical trials, where the latest treatment advances are working their way through the FDA approval process.
Several of those trials today involve novel biological-targeted drugs and gene therapies that were unavailable only a few years ago.
"Cleveland Clinic Florida is a future-focused model for health care," the center's website proclaims. "It is not enough to react to our current reality, but rather we must continually invest in identifying macro trends and developing targeted solutions."
Cleveland Clinic Florida is the No. 1 hospital in the Miami/Ft. Lauderdale area according to the 2018-19 U.S. News & World Report's Best Hospitals rankings.
It has the only nationally ranked orthopedic program in Florida, and both Cancer and Geriatrics at Cleveland Clinic Florida were ranked as High-Performing specialties.
Cleveland Clinic Florida's Experienced, Multidisciplinary Medical Team
The addition in 2019 of medical oncologist Dr. Evan Alley added valuable experience to Cleveland Clinic Florida's expertise in treating mesothelioma.
Alley served previously as the co-director of the much-heralded Mesothelioma Program at the University of Pennsylvania's Abramson Cancer Center.
He played a key role in the study and development of the immunotherapy drug Keytruda, known generically as pembrolizumab, now being used successfully by patients with lung cancer and pleural mesothelioma.
He fits well with Cleveland Clinic's reputation for harnessing the benefits of cutting-edge technology and research advancements.
The Florida team also includes medical oncologist and immunotherapy expert Dr. Bruno Bastos, medical oncologist Dr. Wesam Ahmed, radiation oncologist Dr. Toufik Djemil and cardiothoracic surgeon Dr. Edward Savage.
"One of the things that makes our practice at the Cleveland Clinic unique is a true team approach," Savage said. "We have the unique ability here to involve a team in the evaluation process of each patient."
Cleveland Clinic Florida completed a major expansion in 2018 to better serve its growing number of patients. The cancer center offers a wide range of support services, along with prevention and early detection education.
Mesothelioma Clinical Trials at Cleveland Clinic Florida
A phase III clinical trial studying the safety and efficacy of Apixaban for prevention of cancer-related thrombosis for patients who have completed at least six months of anticoagulation therapy.
A phase II randomized clinical trial studying the use of ramucirumab and pembrolizumab versus standard of care for patients previously treated with immunotherapy.