NCI-Designated Cancer Center
Cancer center recognized by the National Cancer Institute as one that meets rigorous standards for multidisciplinary, innovative research focused on developing new and improved approaches to preventing, diagnosing and treating cancer.
UC San Diego Moores Cancer Center
The University of California San Diego Moores Cancer Center in La Jolla is a top treatment center with ongoing mesothelioma clinical trials. Moores is recognized for developing novel mesothelioma treatments such as HIPEC, used by Dr. Andrew Lowy, chief of the Division of Surgical Oncology.
Get in Touch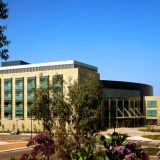 3855 Health Sciences Dr., La Jolla, CA 92093
UC San Diego Moores Cancer Center a National Leader
The University of California-San Diego Moores Cancer Center has a bench-to-bedside approach to research and cancer care that has made it one of the country's most respected medical institutions. The center is one of 41 National Cancer Institute-designated Comprehensive Cancer Centers in the United States and the only one in the San Diego region.
Promoting a multidisciplinary team approach, Moores Cancer Center includes world-class research facilities along with the latest technologically advanced clinical treatments. The treatment process is designed to uncover the mysteries surrounding cancer and to discover potential cures and new treatments for it.
Moores has the staff and the facilities to handle both pleural and peritoneal mesothelioma, the two most common types of a rare cancer caused by an exposure to asbestos. It's a cancer that has touched a disproportionate number of professionals who worked in shipyards, either in the United States Navy or in the private sector. That makes the disease a fit for Moores' location, because thousands of people worked at the San Diego Naval Shipyard or other shipbuilding operations in nearby Stockton or San Pedro, California. Many former shipyard employees and Navy veterans who served in Southern California were stricken with asbestos-related diseases.
Although the use of asbestos has been reduced dramatically in the shipbuilding industry in recent decades, the long latency period between exposure and symptoms of mesothelioma (up to 60 years) leaves many still at risk.
Pioneering Development of HIPEC at UC San Diego
The Moores Cancer Center has been recognized internationally for its development of many novel cancer treatments, including hyperthermic intraperitoneal chemotherapy (HIPEC), which is used with mesothelioma and other cancers within the abdominal cavity.
It often is used in conjunction with cytoreductive surgery. The procedure involves pumping a heated chemotherapy mixture directly into the abdominal cavity, distributing it for 90 minutes, then draining it out. It has shown to be much more effective, with fewer toxic side effects, than intravenous chemotherapy.
Handling the peritoneal mesothelioma cases and the HIPEC treatment are veteran surgeon Andrew Lowy, M.D., director of the Division of Surgical Oncology at Moores, and Joel Baumgartner, a surgical oncologist who joined the team recently from the University of Pittsburgh Medical Center, another top HIPEC facility. Lowy is recognized worldwide for his expertise in novel cancer treatments. He co-chairs the National Cancer Institute's Pancreatic Cancer Task Force, which sets the direction for national clinical research.
The pleural mesothelioma team includes surgeons Anthony Perricone, M.D., and Patricia Thistlewait, M.D., along with medical oncologists Lyudmila Bazhenova, M.D., and William Mitchell, M.D. They are all lung cancer specialists with experience in pleural mesothelioma, which usually involves the lining surrounding the lungs.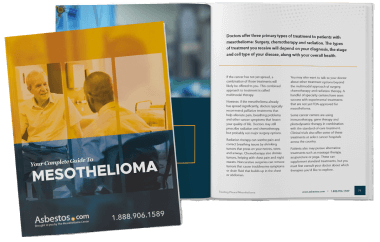 Free Mesothelioma Treatment Guide
Receive a free guide with the latest information on emerging treatments and clinical trials.
Treating Pleural and Peritoneal Mesothelioma at Moores Cancer Center
Individualized cancer care at Moores often involves a team that includes a pulmonologist, a radiation oncologist, a medical oncologist, an interventional radiologist, a pathologist and a surgeon.
Services at Moores Cancer Center were ranked among the top 50 in the country by U.S. News & World Report in its 2011-12 Best Hospitals survey. The UC San Diego Health System, of which Moores is a part, received two "A" grades for hospital safety by an independent national nonprofit known as the Leapfrog Group.
The Moores Cancer Center was the only hospital in the San Diego area to be featured in Becker's Hospital Review list of 70 Hospitals and Health Systems with Great Oncology Programs. In 2012, Moores became one of the first U.S. oncology practices to be recognized by the Quality Oncology Practice Initiative certification program.
Moores was established in 1979 and dedicated to a mission of scientific discoveries, new and better options for the diagnosis, treatment and prevention of cancer. It moved to its current home on the East Campus of UC San Diego in 2005.
UC San Diego's Academic Medical Center Research
As part of an academic medical center, Moores has the advantage of researchers constantly developing new therapies and medical devices, with treatment plans based on the latest breakthroughs. The comprehensive care includes specialists in nuclear medicine, nutrition, diagnostic imaging, nursing and social work.
The HIPEC Center is the largest on the West Coast, allowing Moores to attract patients from throughout California and well beyond. The Blood and Marrow Transplant Program is one of the largest in California and a national leader in physician expertise. There is a Palliative Care Program along with separate care units for brain, breast, lung, gastrointestinal, gynecological and pancreatic cancers, among many others.
Moores also has its own clinical trials office, where new surgeries, drugs, new combinations of treatments or types of radiation therapy are used. There usually are more than 100 active protocols at any given time. It offers high-quality care and access to treatments that aren't currently available to the general public. This allows patients to receive the best standard treatment available, along with new treatments that are closely monitored.
Mesothelioma Clinical Trials at UC San Diego Moores Cancer Center
A randomized phase II clinical trial studying the effectiveness of Keytruda (pembrolizumab) with or without anetumab ravtansine, a combination of immunotherapy and cytotoxic therapy, for patients with mesothelioma.
A phase II clinical trial studying the effectiveness of Opdivo (nivolumab) and Yervoy (ipilimumab), an immunotherapy combination, in slowing or stopping the growth of rare tumors, such as mesothelioma.