Asbestos Exposure & Bans
US Geological Survey: 750 Metric Tons of Asbestos Imported in 2018
Fact Checked
Our fact-checking process begins with a thorough review of all sources to ensure they are high quality. Then we cross-check the facts with original medical or scientific reports published by those sources, or we validate the facts with reputable news organizations, medical and scientific experts and other health experts. Each page includes all sources for full transparency.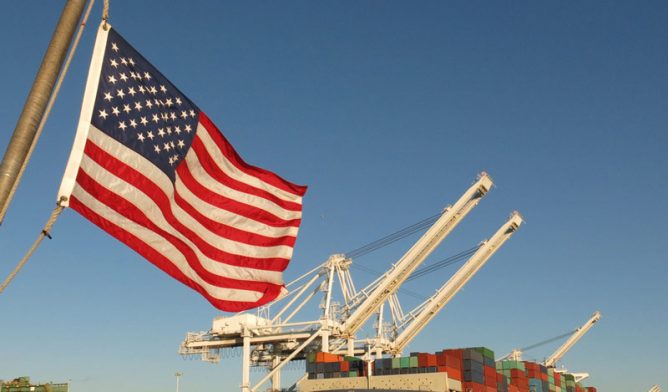 The United States imported an estimated 750 metric tons of raw asbestos in 2018, more than double the total in 2017 and the most entering the country since 2013, according to the recently released U.S. Geological Survey Mineral Commodity Summaries report.
For the first time, all of the imported asbestos went to the chloralkali industry, which uses it to manufacture semipermeable diaphragms to make chlorine.
The report was prepared by Daniel Flanagan, a mineral commodity specialist for the National Minerals Information Center at the U.S. Geological Survey. It is part of the U.S. Department of the Interior.
Asbestos consumers in the United States have been dependent on imports since 2002, when the last domestic production of asbestos products ceased.
Microscopic asbestos fibers — when inhaled or ingested — can lead to serious health issues, including mesothelioma.
Significant Drop Since Record High
Consumption of raw asbestos in the U.S. has dropped significantly since a record high of 803,000 metric tons in 1973.
The record low was 325 metric tons in 2015.
Recent U.S. consumption of raw asbestos:
| year | metric tons |
| --- | --- |
| 2010 | 1,040 |
| 2011 | 1,180 |
| 2012 | 1,610 |
| 2013 | 772 |
| 2014 | 406 |
| 2015 | 325 |
| 2016 | 747 |
| 2017 | 332 |
| 2018 | 750 |
While no other asbestos-containing products are being manufactured in the United States, the chloralkali industry has increased its consumption significantly.
Thirty-five percent of the imported asbestos in 2010 was purchased by the industry. In 2013, it accounted for 67 percent of the asbestos.
The chloralkali industry has lobbied continually against the growing regulations on asbestos and the push to ban the mineral entirely.
Latest Push to Ban Asbestos
A legislative bill that would ban asbestos by amending the Toxic Substances Control Act was recently introduced in the Senate and the House of Representatives.
The introduction of the bill came shortly after Dr. Raja Flores of Mount Sinai Medical Center wrote an op-ed urging legislators to ban asbestos.
A similar bill has been introduced throughout the last 15 years but has failed to advance through Congress.
The chloralkali industry has been the strongest critic of the latest bill, contending exposure risk is virtually nonexistent because of its wet processing of asbestos.
Most Industries Found Alternatives
In many industries that once used asbestos for its ability to strengthen products and resist heat, new technology and alternative materials have replaced its use.
The USGS report does cite an unknown amount of asbestos still being imported within several products.
They include asbestos-cement pipe, rubber sheets for gaskets, brake materials, tile and wallpaper products.
The Environmental Protection Agency recently finalized tougher restrictions that would require manufacturers to obtain approval before starting or resuming importation of asbestos products.
Worldwide Consumption Falling
Worldwide consumption of asbestos also has continued to drop, according to the latest Mineral Commodity Summaries report.
Estimated worldwide consumption has gone from 2 million tons in 2010 to less than a million in 2018.
The countries that mine and produce the most raw asbestos are Russia, Kazakhstan, China and Brazil.
However, Brazil is in the process of phasing out the mining, processing, marketing and distribution of chrysotile asbestos, after voting for a ban in 2017.
Zimbabwe has considered reopening two former asbestos mines, but those plans could not be confirmed.
Free Mesothelioma Resources
Get Access to Free Resources for Patients & Loved Ones