Pleural Specialist
A medical doctor who treats pleural mesothelioma, an asbestos-related cancer that develops in the pleura, which is the thin lining that covers the lungs and chest wall.
Dr. Roy H. Decker
Radiologist
As an assistant professor of therapeutic radiology for the Yale University School of Medicine, Dr. Roy H. Decker played a key role in this rapidly improving field of treatment for lung cancer and mesothelioma.
Get to Know Dr. Roy H. Decker
Decker, both a practitioner and professor, helped develop the stereotactic body radiation therapy (SBRT) that is used routinely and effectively on many patients each year at Yale. The SBRT procedure delivers radiation in higher doses and in very precise areas, cutting down the length of treatments and the harmful side effects, while getting more successful, long-term results.
Decker was one of the guest experts who appeared as part of a Yale Cancer Center weekly production, speaking primarily on lung cancer. His clinical practice focuses on head cancers, neck cancers, lung cancers and prostate cancers. He also touched on asbestos and its risk factor for causing mesothelioma.
Contact Dr. Roy H. Decker
Role of Radiation in Early Lung Cancer Treatment
"Something that we are very excited about at Yale is the role of radiation in early lung cancer," Decker said. "It is important to say that the mainstay of treatment is always going to be surgery, but there are a substantial number of patients who are unable to undergo even a minimally invasive surgery. (Radiation) would be the standard of care for patients who are not candidates for surgery."
We now have a technique that allows us to treat these tumors…over only three or four(radiation) treatment sessions. A treatment that used to take seven weeks and involved significant side effects can now be done in one week with minimal side effects.
Decker, who joined the Yale Cancer Center in 2008, emphasizes the multi-modality treatment approach that includes a team approach to better therapy. His practice combines cutting-edge procedures like image-guided radiation therapy, along with novel targeted agents.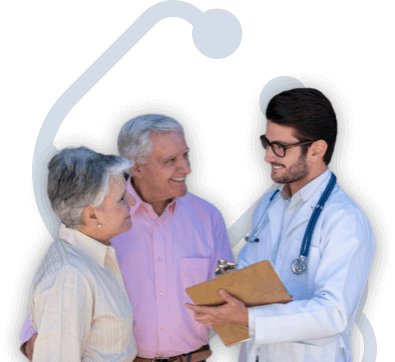 Talk to a Doctor About Your Diagnosis
We can help you or a loved one get in contact with Dr. Decker and find the treatment that's best for you.
"This is where it is vitally important to have a multidisciplinary approach," he said. "There are new surgical techniques available, minimally invasive surgery, where it is really important to get your thoracic surgeon, your medical oncologist, your radiation oncologist and your pulmonologist all in the same room discussing what they can offer a patient."
Decker said there are two distinct roles for radiation in the treatment of lung cancer. The first is radiation combined with chemotherapy before surgery. Then there is radiation therapy, even after the surgical removal of the lung cancer.
Dr. Decker has been involved with multiple investigations about the prognostic value for predicting the spread of various cancers.
"Yes, and this is an area of some controversy. There is good evidence that when patients have lymph nodes that have spread to the middle of their chest, what we call mediastinum, they benefit from radiation after surgery," he said. "This is based on several studies, one of which was pioneered here at Yale. We tend to evaluate these patients on a case-by-case basis. Many of them, we treat with radiation and chemotherapy, before surgery."
Decker is a member of Yale's Thoracic Oncology Program. He previously did his radiation oncology residency at Yale-New Haven Hospital.
Decker has written for a number of research publications, including the American Journal of Clinical Oncology and the Journal of Gastrointestinal Cancer. He was awarded one of the eight Young Oncologist Travel Grants to conduct more extensive research on nodal metastasis in salivary gland cancer.
Dr. Decker's Publications
Decker has served on a number of panels to assemble manuscripts related to lung cancer, radiation therapy, adjuvant radiation and metastasis of cancer. His articles have appeared in journals such as International Journal of Radiation Oncology Biology and Physics and Radiotherapy Oncology.