International Impact
Dr. Sugarbaker and the International Mesothelioma Program in Boston, MA
Fact Checked
Our fact-checking process begins with a thorough review of all sources to ensure they are high quality. Then we cross-check the facts with original medical or scientific reports published by those sources, or we validate the facts with reputable news organizations, medical and scientific experts and other health experts. Each page includes all sources for full transparency.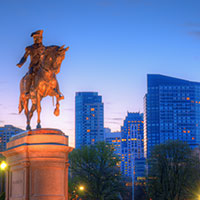 While attending the IMIG conference in Kyoto, I made plans with Dr. Sugarbaker to visit Boston, Massachusetts to immerse myself in the International Mesothelioma Program at Brigham & Women's Hospital this winter. The trip was long overdue, as I have spent the past three years researching, reviewing and recommending Dr. Sugarbaker and his one-of-a-kind practice and team. The International Mesothelioma Program at Brigham & Women's Hospital is one of the most highly regarded (if not the most highly regarded) facility in the world for diagnosing and treating malignant mesothelioma. An estimated 2,000 new patients are diagnosed with mesothelioma annually, and Dr. Sugarbaker's team completes 310 consultations per year and takes on more than 180 patients. This makes the International Mesothelioma Program (IMP) at Brigham and Women's Hospital / Harvard Medical School unarguably the largest program of its kind in the world.
The dream of creating a separate division of thoracic surgery to focus on general thoracic disease at Brigham & Women's Hospital was conceived by Dr. David Sugarbaker in 1988. In 2002, the International Mesothelioma Program was formally established, and the hospital's experience with mesothelioma and the extrapleural pnuectomy procedure increased dramatically. Today, more than 20 years after its conceptualization, the IMP offers patients top-of-the-line treatment and care catered toward mesothelioma and completes ongoing research to further aid in the fight against mesothelioma.
I planned my visit so that I would be able to attend the orientation that occurs at the facility every Tuesday. This meeting allows patients and their family members who are visiting the IMP for the first time to learn more about the facility and meet the people who will aid in their care. Chief of Thoracic Surgery, Dr. Sugarbaker, along with the Associate Chief of Thoracic Surgery, Dr. Bueno, and the entire social service team including clergy members, the housing director, the operations coordinator and the nurse coordinator for the mesothelioma program are all in attendance. On the day I happened to be visiting, I was thrilled to be in the company of two of the families I have worked with and directly referred to Brigham & Women's Hospital and the IMP program. It was wonderful to be able to meet the families face-to-face and catch up.
After the orientation meeting concluded and everyone finished their provided coffee and breakfast, patients were escorted to their individual appointments to meet with the specialists who were trained to handle each patient's unique situation and diagnosis. Though the initial day at the facility can be a bit long, all of the time spent with the doctors is worthwhile because at the end of the day, a course of action and a path of treatment has been discussed and decided. Surgeries are scheduled, arrangements are made and chemotherapy cycles are dictated. This is particularly significant to patients who have experienced a difficult road to diagnosis or have felt that precious time has been squandered with less specialized doctors who could not confidently decide on a proper course of treatment.
During my various talks and discussions with the doctors, surgeons and staff, something that really impressed me was the collective notion that mesothelioma does not have to be a death sentence. It is the belief of Dr. Sugarbaker and his colleagues that there are great possibilities for many patients to live long and fulfilling lives while managing the symptoms of this disease. This point was really driven home by a former patient who was in town visiting and participated in the orientation of new patients that morning. He received his diagnosis of pleural mesothelioma almost 10 years ago. After a successful extrapleural pnumectomy surgery and many rounds of chemotherapy, he now actively manages and monitors his disease, but also gets to enjoy spending some time on the golf course. And he is just one of many patients of Dr. Sugarbaker's who are nearly a decade into living with and managing their mesothelioma diagnosis.
In addition to offering top-of-the-line treatment, unmatched experience and exclusive novel therapies (including intracavitary chemotherapy, which is currently only being offered as a treatment for mesothelioma at the Brigham and Women's Hospital), the International Mesothelioma Program provides patients with an experience like no other by exemplifying a culture of care that not only focuses on the medical aspects of a mesothelioma diagnosis, but the emotional needs of the patient as well. Dr. Sugabaker has stated that it is his life's mission to treat those affected by this disease, and the support and care he has incorporated into his practice illustrates that this is not his job, but his passion. On site housing, travel and lodging grants, mesothelioma-specific therapy groups, tandem-surgeries, and a dedicated staff to assist patients through their visit and long after they leave are just a few of the services offered by the facility to ensure that each patient receives the highest level of care available.
I was confident that I would be impressed with the International Mesothelioma Program at Brigham and Women's Hospital, but nothing could have prepared me for how astonished I felt after experiencing the facility and meeting the staff first hand. I have never seen a program so dedicated, so synchronized and so evolved for any single diagnosis, let alone one as rare as mesothelioma. Dr. Sugarbaker and his staff far exceeded all of my expectations, and I can't describe my thrill in any other way than to state that I am simply grateful that such a place exists for the patients and families facing mesothelioma. With the most sincere gratitude and admiration, I'm thankful to my friends at Brigham and Women's IMP program for everything they have done and will do for the advancement and treatment of mesothelioma.
As one of the very first employees of The Mesothelioma Center, Kaylen Jackson is dedicated to working with patients and families who have received a mesothelioma diagnosis. Throughout her experience, she recognized the need for a medical branch of our advocacy services. This led her to develop our Doctor Match program as well as our Medical Outreach efforts.
Free Mesothelioma Guide
Get Answers to All Your Mesothelioma Questions