National Cancer Survivors Day Celebrates Life after Cancer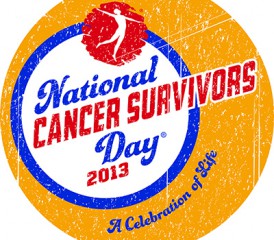 When your life is on the line, every day matters. Every dewy sunrise and every second of laughter is important. Each moment lived following a cancer diagnosis is a precious one, and those moments will be celebrated around the world on Sunday, June 2, 2013, during the 26th annual National Cancer Survivors Day.
Held on the first Sunday in June since 1988, the yearly celebration honors cancer survivors and the people who support them, including caregivers, friends, family and health care providers. In hundreds of communities throughout the United States and the globe, National Cancer Survivors Day (NCSD) events show that life after a cancer diagnosis is meaningful and worth celebrating.
This year, parades, carnivals, art exhibits, contests and other community events throughout the United States will honor survivors. The MD Anderson Cancer Center in Dallas, for example, will be celebrating with a week's worth of activities ranging from educational sessions to musical performances to art workshops.
According to the American Association for Cancer Research, there are nearly 14 million cancer survivors in the United States today. A small portion of them are surviving mesothelioma, a cancer with a median survival time of one year. The number of mesothelioma survivors may be small, but their appreciation for life is greater than most will ever comprehend.
Surviving Mesothelioma is Something to Celebrate
Though there is no cure for the cancer, people survive mesothelioma every year. Innovative therapy plans are treating mesothelioma like a chronic disease, and some survivors spontaneously baffle doctors with long-term remission. Anyone living with mesothelioma has much to celebrate this Sunday.
Pleural mesothelioma survivor Paul F., 62, feels fortunate to have optimism, faith and family on his side. "I'm enjoying life right now, living like nothing is wrong. One of my prayers is that I'm letting God know that I'm OK with this. I don't live with gloom and doom. He has a good plan for me," he said.
Trina C., 47, was diagnosed with peritoneal mesothelioma more than a decade ago and endured an eight-hour surgery followed by heated chemotherapy. "I've lived to see what my two children became. And that's all I ever prayed for. If I live to be 48, that's a wonderful thing. Every day is a blessing. I feel now, like I'm just living the dream," she shared.
Fellow peritoneal mesothelioma survivor Jacob H., 60, also credits his survival to the combination of surgery and heated chemotherapy. Jacob said, "I can't do everything I once could, but I'm still out there getting around. I was fortunate in the care I received. And I don't mind sharing my good fortune." He credits his clean checkups to the combination treatment, and says he'd do it all over again to remain a survivor.
What Constitutes a Survivor?
The NCSD Foundation believes that "anyone living with a history of cancer is a survivor — from the moment of diagnosis through the remainder of life." Regardless of remission status, anyone with a history of cancer is considered a survivor.
Beyond the general definition, cancer survivorship can be categorized into three phases: living with, through and beyond cancer.
Living with cancer is the phase that begins at diagnosis and continues through treatment.
Living through cancer refers to the phase following treatment when recurrence risk is high.
Living beyond cancer begins after the high-risk phase and marks long-term survivorship.
The NCSD Foundation is working to uproot the misconception that a person must achieve complete remission to receive survivor status. They are also working to expand resources, fund research and reform legislation to improve quality of life among cancer survivors, empowering them to enjoy another sunrise and another day of laughter.
Do you know a cancer survivor? Have you attended an NCSD event before? Tell us how you'll be celebrating National Cancer Survivors Day by leaving a comment below, or visiting our Facebook page.