Health & Wellness
Combining Natural Medicines and Traditional Therapies Without Complications
Fact Checked
Our fact-checking process begins with a thorough review of all sources to ensure they are high quality. Then we cross-check the facts with original medical or scientific reports published by those sources, or we validate the facts with reputable news organizations, medical and scientific experts and other health experts. Each page includes all sources for full transparency.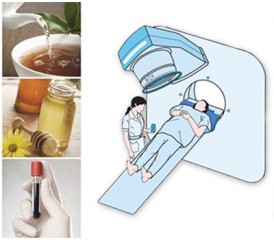 Whenever we write about a new alternative health topic, we explain that readers should talk to their oncologist before adding the treatment to their regimen. We do this for two main reasons:
So you can make informed health care choices based on a realistic discussion about what the Complementary and Alternative Medicine (CAM) could (or could not) improve about your condition.
So your medical team can review your treatment chart and help you avoid any negative interactions.
Just like it's hard to imagine that asbestos, a natural mineral, can cause cancer, it's hard to imagine that vitamins and herbs could cause health complications. However, when your body is processing chemotherapy drugs (or otherwise recovering from mesothelioma treatments), there is a possibility for negative interactions.
While it's not a complete list, we outline some of the most common interactions that mesothelioma patients may face in the paragraphs below:
Vitamin E & Cisplatin
Some studies, including one from the May 2013 issues of Science Signaling, suggest that the chemical structure of vitamin E might play a role in cancer cell death. However, patients may experience more frequent bruising and bleeding while taking vitamin E supplements in conjunction with the popular mesothelioma chemotherapy drug Cisplatin.
Both vitamin E and Cisplatin slow the natural blood-clotting process. A small cut could turn into a serious problem for patients taking both of these medications. (Passionflower and guarana also have a similar anti-coagulant effect.)
Vitamin C + Spirulina & Doxorubicin/Vinblastine/Methotrexate
Because the combination of vitamin C and spirulina may help undo chemotherapy-induced liver damage, patients may choose to take these supplements during treatment. However, the vitamin has the potential to decrease the strength of many anti-cancer drugs. In fact, vitamin C has been shown to reduce the effectiveness of three specific drugs often used in mesothelioma treatment: doxorubicin, vinblastine and methotrexate.
Mangosteen + Carboplatin/Cisplatin
The Memorial Sloan-Kettering Cancer Center cautions that mangosteen's antioxidant properties can interfere with platinum-based chemotherapy drugs. Carboplatin and cisplatin, two popular mesothelioma medicines, are of the platinum variety. (Pine bark, also taken for its antioxidant and immune system-stimulating properties, can also interfere with these platinum-based medications.)
Ginseng + Tramadol
Some traditional medicine systems use ginseng to treat cancer. While laboratory studies haven't completely identified the active properties, many patients still choose to add American (Panax) ginseng to their treatment regimens.
Mesothelioma patients taking Tramadol for moderate to severe pain caused by their tumors should avoid ginseng while on the prescription pain medication. Panax ginseng is safe for short-term use, but any use for more than three months can interfere with the way the liver absorbs Tramadol. It can also intensify the side effects caused by the drug.
Massage & Radiation Therapy
Because no medications are involved, it's hard to imagine how massage therapy could cause negative interactions with radiation therapy. However, patients who are currently in (or have recently completed) radiation therapy should wait several weeks to add therapeutic massage to their treatment regimen.
Radiation therapy often causes tenderness, soreness and skin blisters at the site of treatment. If a massage therapist were to apply pressure to the spot, the patient could experience even more pain and irritation.
Acai Berries & Magnetic Resonance Imaging
Technically, an MRI isn't a traditional therapy. However, it is an imaging test that many mesothelioma patients have during recovery to measure their response to treatment. Patients scheduled for an upcoming MRI should temporarily discontinue their consumption of acai.
Acai supplements, which cancer patients may take for its antioxidant properties, can interfere with accurate MRI results. On its own, it can be used as a contrast material for certain cancers. If it's in your system when you go for an MRI, it may look as though cancerous activity is happening in parts of the body that actually aren't affected.
It's important to note that these are just a small handful of the natural options mesothelioma patients may use to combat their cancer. We know you've heard it before, but it's worth saying again: Before adding any of them to your regimen, be sure to check with your oncologist.
Do you combine alternative medicine with traditional therapy? Tell us about it on Facebook.
Free Mesothelioma Resources
Get Access to Free Resources for Patients & Loved Ones