Treatment & Doctors
Innovations in Research, Treatment at Moffitt Help Mesothelioma Patients in Tampa
Fact Checked
Our fact-checking process begins with a thorough review of all sources to ensure they are high quality. Then we cross-check the facts with original medical or scientific reports published by those sources, or we validate the facts with reputable news organizations, medical and scientific experts and other health experts. Each page includes all sources for full transparency.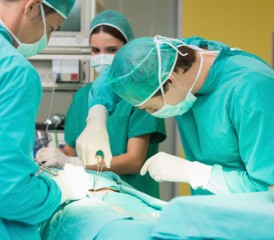 At the Moffitt Cancer Center in Tampa, we often treat mesothelioma patients whose disease did not respond to conventional therapies offered at other centers. It's what we do.
Moffitt is the third-largest free-standing cancer center in the U.S., and our Mesothelioma Treatment and Research Center handles more patients than any other medical center in the state of Florida.
This is such a rare cancer that it's difficult to diagnose, and the therapy is challenging, even for those who see it often and have treated it aggressively, like we do at Moffitt.
It's important for a few specialized centers with the knowledge and expertise like ours to see these patients, creating a concentration of experts and patients to accelerate medical research and innovation. These specialized mesothelioma teams have extensive experience with this disease. That's what you need.
Team of Experts Evaluates Cases
Our team here includes me as the thoracic surgeon, Dr. Scott Antonia and Dr. Tawee Tanvetayon in medical oncology, Dr. Tom Dilling in radiation oncology and Dr. Bela Kis in interventional radiology, along with a great support staff. Each of us uses our respective medical expertise to provide the best multidisciplinary treatment for patients.
Each mesothelioma patient we see at Moffitt is presented at the weekly thoracic tumor board. Those weekly meetings are attended by each member of the expert team, which reviews and discusses in detail each mesothelioma case we've seen. Using a roundtable discussion model, every team member renders an opinion from their specific expertise standpoint on every patient presented.
So instead of a patient getting the opinion of just one physician, mesothelioma patients at Moffitt get the opinion of an entire team of experts on the asbestos-related cancer. Consultations and treatment plans are formulated in a very effective, quick and comprehensive manner.
Clinical Trials at Moffitt
Our Mesothelioma Treatment and Research Center, established in 2012, is dedicated to offering state-of-the-art surgery, innovative treatments and cutting-edge clinical trials. Our team is often asked to provide second opinions to patients from around the country.
Among the clinical trials offered now to our patients is an immunotherapy vaccine known as CRS-207. A protein specific to the mesothelioma cancer cell is introduced into a Listeria carrier and given to the patient. This tailor-made vaccine induces the patient's own immune system to attack the cancer.
Possible side effects are very mild and usually are limited to a low-grade fever and chills. Although this therapy is not curative, the trial results so far are very promising. The vaccine is expected to help a patient's healthy cells fight off any new cancer growth. This vaccine is offered now in only a few specialized centers. We are one of them.
Innovative Chemotherapy Treatments
Another innovative option we offer to patients whose mesothelioma cancer has progressed, despite conventional chemotherapy, is percutaneous aortic chemoperfusion. The interventional radiologist gains access to the aorta through the groin, and injects chemotherapy directly in the aorta and the blood vessels feeding directly into the tumor found in the pleura (lining around the lung).
These injections are performed once a month. Although it is not curative, this minimally invasive technique stops tumor growth in 85 percent of patients. Most importantly, these injections improve the patient's quality of life. It alleviates symptoms like cough, chest pain and shortness of breath in more than 70 percent of patients.
I've seen one published report out of Germany, where it also is being used effectively. I don't think it's being done anywhere else in the U.S. right now. It is a palliative procedure for nonsurgical patients whose disease has progressed. While it's not a first-line treatment, it is used for patients who are running out of options.
These are just two of the innovative therapies being offered at Moffitt, where we have an experienced team to help guide a patient through a very difficult time. We can give patients hope.
Medically Reviewed by Top Mesothelioma Doctors
Free Mesothelioma Guide