Health & Wellness
Massage Therapy for Cancer Patients Gains Popularity
Fact Checked
Our fact-checking process begins with a thorough review of all sources to ensure they are high quality. Then we cross-check the facts with original medical or scientific reports published by those sources, or we validate the facts with reputable news organizations, medical and scientific experts and other health experts. Each page includes all sources for full transparency.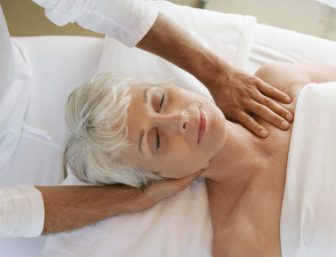 Around a year after my husband Brian passed away from pleural mesothelioma, I started working with the Solaris Care Cancer Support Centre, a nonprofit organization dedicated to improving the quality of life of cancer patients and their caregivers.
An integral part of the center's duty of care is providing complementary and integrative therapies.
Thanks to the generosity of volunteer therapists who contribute their time and talents, the service is free for recipients.
Depending on the availability of therapists, the center typically offers a range of therapies, including massage, Reiki, Pranic Healing, reflexology and kinesiology.
During my six years at the center, I've noticed massage therapy for cancer patients has gained popularity. Our clients request massage therapy more often than other available therapies. People diagnosed with mesothelioma may also benefit from this type of therapy.
Why Is Massage Therapy So Popular?
Rather than the pleasant indulgence I once thought it to be, massage therapy is a form of healing that dates to ancient times when civilizations in the East and West used natural healing and massage to heal injuries, relieve pain, as well as prevent and cure illness.
The medical community recognizes the healing qualities of massage, and it has earned its place alongside other therapies used in hospitals and treatment centers across the globe to improve the quality of life for people suffering from all kinds of diseases, including mesothelioma.
There are three main types of massage that target different conditions in the body.
Remedial massage: Helps heal soft tissue
Therapeutic massage: Also known as Swedish or relaxation massage, it promotes relaxation and a sense of well-being
Lymphatic drainage massage: Relaxes the nervous system and helps the body's immune system function more efficiently
The benefits of massage therapy include feelings of deep relaxation and calm, lessened muscle tension, improved circulation, stimulation of the lymphatic system and reduced anxiety and depression, among others.
Understanding Massage Therapy for Cancer Patients
Massage therapy for cancer patients is different from the type given to people without the disease.
Therapists trained in oncology massage are the best professionals to administer the therapy because they have a thorough understanding of cancer's effect on the body and side effects that can result from cancer surgery, chemotherapy, radiation and medications.
Before commencing massage treatment, a properly trained massage therapist will perform an assessment to design a treatment plan that ensures the safety and well-being of the patient at every stage of their cancer journey.
The assessment should include:
Cancer tumor location
Lymph node involvement
Affected blood cell counts
Organ involvement
Risk of blood clots
Immune system issues
Weak or unstable tissue
Medical devices prescribed
Types of pain experienced
Whether there is loss of sensation
History of cancer treatment
Current medications
Cancer patients should alert their therapist of any symptoms they are experiencing weariness, tendency to bruise or bleed, low white blood cell count, and lymphedema or edema, among other conditions.
Asking your oncologist to write a letter about your diagnosis and current medical procedures can be helpful to your massage therapist.
Preparing for the Massage
Massage therapy for cancer patients may be performed at the client's home, their cancer treatment center or a hospital setting. To gain the maximum physical and emotional benefit from a massage therapy session, it should be done in an area free from noise and distractions. Subdued lighting and relaxing music helps the patient relax.
Generally given while the recipient is face down, massages can also be done while the patient sits in a chair. Full body massages usually involve removal of all clothing except the underwear. Parts of the body not being massaged will be covered with a towel or light blanket.
Above all else, massage therapy is meant to be a positive experience. If for any reason the patient suffers any pain or feels uncomfortable, they should immediately let the therapist know.
It is also helpful if patients take note of how they feel several hours after the massage and report this to the therapist on their next visit. The information will help therapists determine what modifications may be necessary.
Free Mesothelioma Resources
Get Access to Free Resources for Patients & Loved Ones