Treatment & Doctors
Acupuncture: Treating Mesothelioma Through Mind, Body & Spirit
Fact Checked
Our fact-checking process begins with a thorough review of all sources to ensure they are high quality. Then we cross-check the facts with original medical or scientific reports published by those sources, or we validate the facts with reputable news organizations, medical and scientific experts and other health experts. Each page includes all sources for full transparency.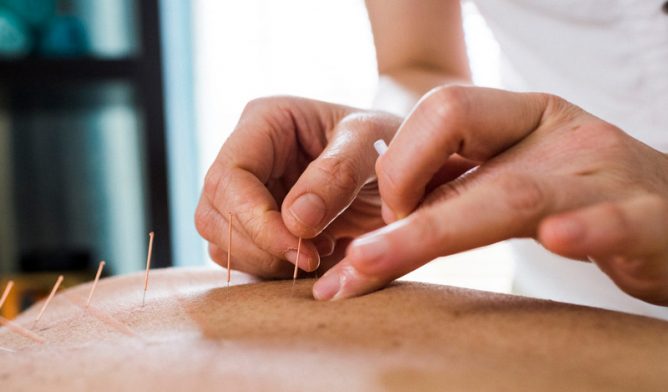 Being diagnosed with mesothelioma is something we all dread, but it helps to know advances in early detection and the management of the cancer has resulted in better quality of life and longer survival for a growing number of patients.
Treatment options have changed a lot over the last five decades. Complimentary therapy now plays a vital role in providing the best possible outcome for cancer patients.
Complimentary therapies integrate with or work alongside conventional mesothelioma treatments and procedures as a mind, body and spirit approach to wellness. They focus on the whole body rather than the site of the cancer alone.
The traditional Chinese medicine practice of acupuncture has been around for thousands of years.
Believed to have a positive influence on the immune system, it is the most popular of all Chinese medical practices in the Western world.
Rapid Growth of Acupuncture Therapy
Of all the complimentary therapies available to cancer patients today, acupuncture is the most rapidly growing treatment performed by physicians and licensed acupuncturists.
The goal of medical acupuncture is to remove energy blockages, balance energy flow and regulate mental and physical health to activate healing. It is a modern-day interpretation of acupuncture based on scientific research.
Based on the premise that energy flows through the meridians of the body, acupuncture therapy involves the insertion of hair-thin needles — typically six to 15 per treatment — to specific acupuncture points. There are roughly 2,000 of these points throughout the body
Once the sterile, stainless-steel needles have been inserted into the body, they are stimulated by one of the following techniques:
Manually twisting, turning and pulling the needles
Providing electrical pulses to the needles at different frequencies using a hand-held device
Providing heat to the needles through an infrared device
Generally, the needles are left in for around 10 to 20 minutes. They may be twisted during this time for added effect.
Is Acupuncture Painful?
Because acupuncture needles are very thin and not inserted deep enough to affect the nerves, it is rare for anyone to experience pain or discomfort during treatment.
There may however be a mild ache or tingling sensation as some of the needles are inserted, signifying the acupuncture point is being activated.
These feelings are fleeting and no reason for concern.
How Acupuncture Is Helping Cancer Patients
Acupuncture stimulates nerves and releases endorphins and serotonin into the spinal cord and brain. Research shows this can be beneficial to cancer patients.
Today, many hospitals, hospices, clinics and mesothelioma treatment centers have licensed acupuncturists on staff to help cancer patients manage the many challenges that come with a diagnosis.
Reliable studies prove acupuncture can help alleviate a number of symptoms associated with cancer and its treatments, including:
Pain: People living with cancer can experience pain from a number of causes. Acupuncture therapy can reduce pressure and inflammation caused by tumors, pain related to surgery, the effects of radiation and chemotherapy, and the side effects of opioids used for pain control.
Sleeplessness and Fatigue: According to many cancer patients, acupuncture helped them get the amount of sleep needed to recover from surgery and cope with post-surgical side effects such as discomfort, anxiety and pain.
Nausea: Acupuncture has proved successful in reducing the intensity and frequency of nausea and vomiting associated with chemotherapy. Acupuncture may also help relieve conditions such as gas, bloating, heartburn and indigestion.
Dry Mouth: Acupuncture treatment has proved effective in reducing the severity of side effects caused by radiation to the head and neck such as dry mouth, swelling of the mouth and throat and swallowing difficulties.
Anxiety and Depression: Acupuncture is known to decrease the distress associated with cancer and bring about a sense of well-being that helps to accelerate recovery.
Acupuncture for Mesothelioma Caregivers
Caregiving for a loved one with cancer is a huge undertaking that can cause a number of stress-related issues.
Acupuncture treatment is known to be helpful in alleviating a number of conditions caregivers may experience, including:
Depression
Anxiety
Migraines
Sleeplessness
Sciatica
Chronic pain associated with the back and neck
Are There Any Side Effects?
When acupuncture is carried out by certified acupuncturists using sterile needles, the most common effect is a feeling of calm and well-being.
However, there can be side effects of nausea, dizziness, fainting and minor bleeding or bruising on the needle sites.
Regardless of the known benefits of acupuncture, it is not recommended for everyone. Check with your doctor if you have a history of endocarditis, neutropenia or thrombocytopenia, lymphedema or if you have a pacemaker.
Medically Reviewed by Top Mesothelioma Doctors
Free Mesothelioma Guide