Ridley-Tree Cancer Center
Ridley-Tree Cancer Center in Santa Barbara, California, is a renowned mesothelioma treatment facility that focuses on innovative therapy options. It houses a team of experts, including Dr. W. Charles Conway, director of surgical oncology. Ridley-Tree also offers ongoing clinical research trials.
Get in Touch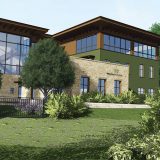 540 W Pueblo St, Santa Barbara, CA 93105
Ridley-Tree Cancer Center Provides Multidisciplinary Care
The Cancer Center of Santa Barbara became the Ridley-Tree Cancer Center in 2017 after a $68 million upgrade, making it one of the premier health care facilities on California's central coast.
Thanks to the expansion, patients now can find all aspects of multidisciplinary, state-of-the-art cancer care in a single location.
The three-story Ridley-Tree Cancer Center includes clinical research, surgical oncology, medical oncology, radiation oncology, hematology, genetic counseling, social work services and patient navigation in a 55,000-square-foot facility.
Ridley-Tree combines big-city oncology treatment with a friendly, small-town atmosphere where patients can receive the best of both worlds at a regional cancer center.
Treating Pleural and Peritoneal Mesothelioma at Ridley-Tree
Ridley-Tree, which is within two blocks of Cottage Hospital in the heart of Santa Barbara's medical village, has the staff and facilities to treat pleural and peritoneal mesothelioma cancers.
The hospital also treats cancers of the uterus, thyroid, colon, lung, breast, bladder and skin.
Dr. W. Charles Conway, who joined Ridley-Tree in 2017 as part of the expansion, leads a multidisciplinary mesothelioma team as director of surgical oncology and is a specialist in peritoneal malignancies.
The center includes two new radiation vaults, an infusion suite, space dedicated to specific clinical teams (oncology nutrition, genetic counseling, research), and everything needed to facilitate multidisciplinary collaboration while optimizing the patient experience.
"It's just a great place to go for medical care," said Conway, who worked previously at the Ochsner Medical Center in New Orleans.
Ridley-Tree Offers Innovation for Patients and Families
While major surgeries still will be done at the nearby Cottage Hospital, Ridley-Tree now has surgical procedure rooms for less invasive operations.
The radiation treatment equipment at Ridley-Tree rivals the ones at more high-profile cancer centers such as MD Anderson in Houston, Johns Hopkins in Baltimore and the University of California-San Francisco.
Its research division works closely with translational research in oncology, the U.S. Oncology Research Network and various pharmaceutical companies that facilitate novel therapies.
Innovations also include a music therapy program and a healing garden, where patients and families can go for physical, emotional and spiritual support.
Mesothelioma Clinical Trials at Ridley-Tree Cancer Center
A phase II study of NKTR-214 in combination with either nivolumab (Opdivo) or with Opdivo and ipilimumab (Yervoy) for patients with select advanced or metastatic solid tumors.