Survey: What Would Americans Do to Reduce Their Cancer Risk?
Nearly one in four people will be diagnosed with cancer at some point in their life.
Many diagnoses — and even deaths — could likely be prevented by adopting lifestyle choices such as eating healthier foods, exercising regularly, avoiding tobacco, avoiding excess sun exposure, limiting alcohol intake, and even changing occupations.
First, it's important to learn about the impact these lifestyle choices can have on cancer risk. Then, you'll be able to make more informed and empowered decisions about how you choose to live.
Lifestyle Choices Radically Impact Cancer Rates
Not all cancer diagnoses are predictable.
Numerous risk factors, such as genetic predisposition, age and gender, can't be controlled. However, conscious lifestyle decisions can positively impact certain cancers, including those of the skin, liver and lung.
This is why turning knowledge and intention into action is crucial for reducing cancer risk. The following lifestyle choices may lower cancer risk.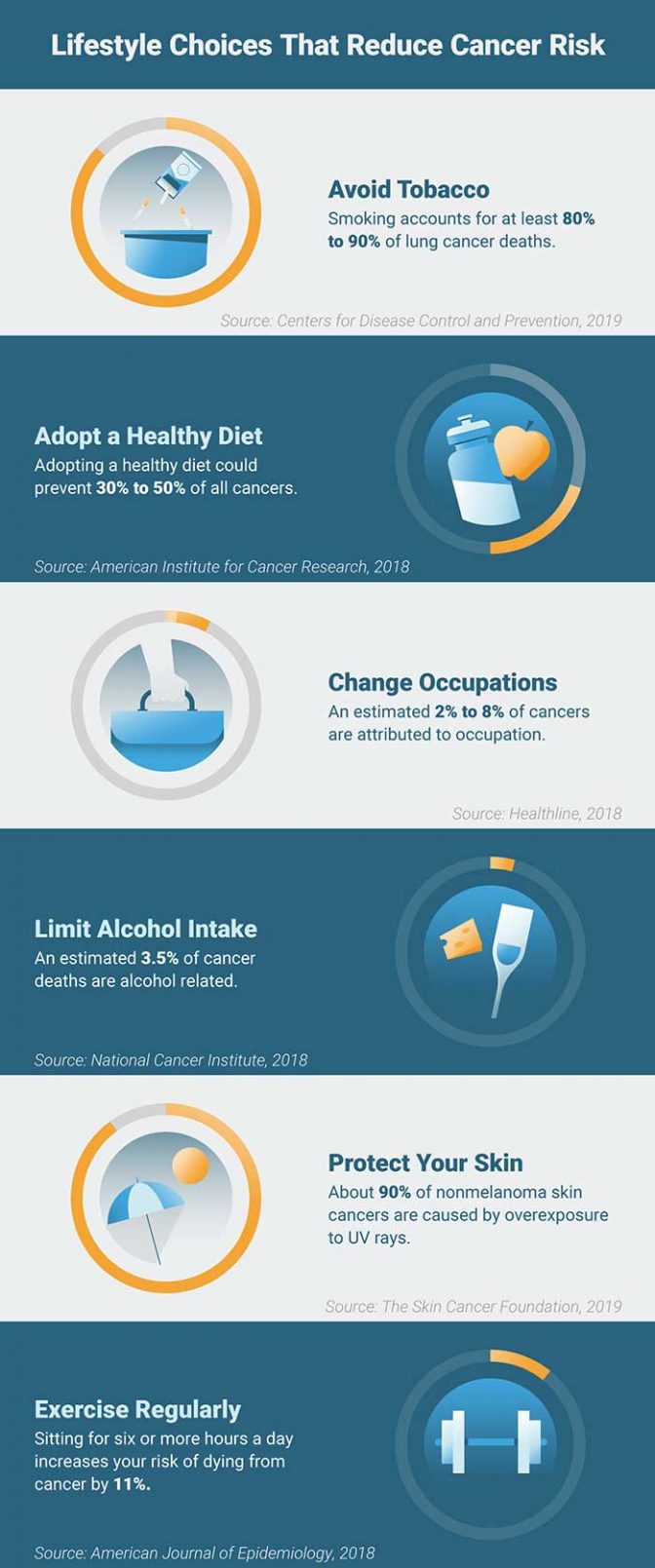 41% of Americans Would Make a Lifestyle Change to Reduce Cancer Risk
After surveying 1,000 Americans, The Mesothelioma Center at Asbestos.com found an overall reluctance to change lifestyle habits — despite the health benefits. Only 41% of respondents said they would consider making a major lifestyle change to lower their cancer risk. The rest responded "no" or preferred not to disclose their opinion.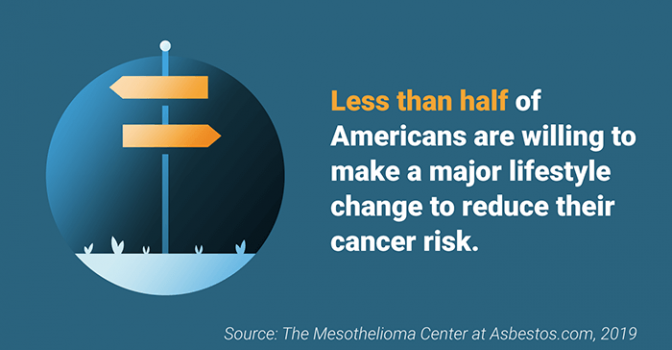 Older Americans were more open to a major lifestyle change than younger generations.
Of those aged 18–34, 35% responded "yes."
Of those aged 35–54, 32% responded "yes."
Of those aged 55 and older, 51% responded "yes."
According to Our World in Data's latest cancer data, approximately 70% of cancer cases are diagnosed in patients who are 50 or older. This likely plays a role in the increased willingness for change among this age group.
Actions Fall Short of Intentions
When we asked what lifestyle choices respondents would consider making versus which ones they actually live out, we found a discrepancy in every answer choice. The percentage of those willing to make a change was always greater than those who already had made the choice.
The biggest discrepancy was in regular exercise and a healthy diet, both of which showed a decrease of 10 percentage points in those who were willing to make a change versus those who already have.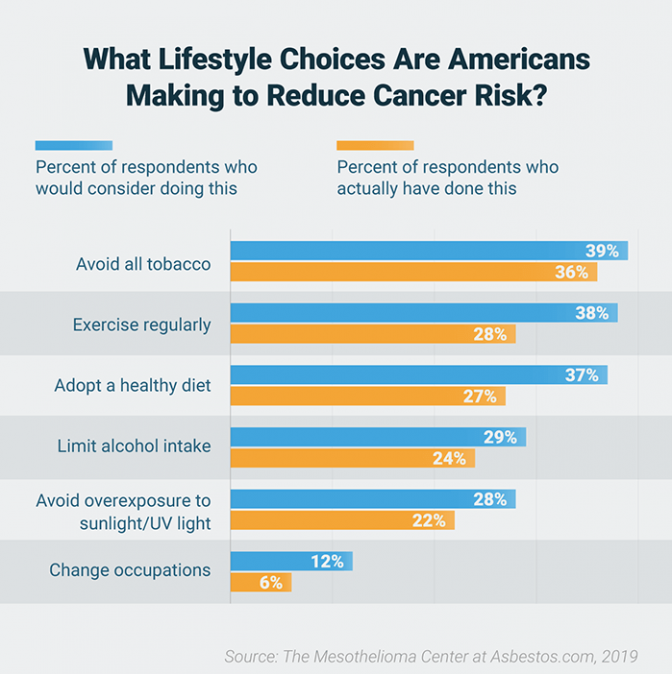 Which Lifestyle Changes Can Reduce Mesothelioma Risk?
The main lifestyle factor that influences risk of mesothelioma, or "the asbestos cancer," is occupation. Asbestos exposure is the number one cause of work-related deaths in the world. Occupations that pose the highest risk include construction workers, firefighters, industrial workers, power plant workers and shipyard workers.
At The Mesothelioma Center, one of our biggest goals is to increase awareness. Mesothelioma is preventable, but it's important to know where possible asbestos exposure could occur and follow safety precautions to avoid contamination. The following are a few safety tips to consider.
Mesothelioma is directly linked to exposure to asbestos. Therefore, the choices you make can drastically reduce your risk of developing mesothelioma.
However, if you suspect you have already been exposed to asbestos, through the military, a high-risk occupation or an asbestos-containing product, talk to your primary care physician. If you've already been diagnosed with mesothelioma, explore our free patient resources.
Methodology:
This study consisted of 3 survey questions conducted using Google Surveys. The sample consisted of no less than 1,000 completed responses. Post-stratification weighting has been applied to ensure an accurate and reliable representation of the total population. The survey ran in November 2019.
---