Treatment & Doctors
Boston VA Pioneers Heated Chemo for Pleural Mesothelioma
Fact Checked
Our fact-checking process begins with a thorough review of all sources to ensure they are high quality. Then we cross-check the facts with original medical or scientific reports published by those sources, or we validate the facts with reputable news organizations, medical and scientific experts and other health experts. Each page includes all sources for full transparency.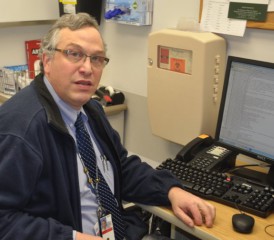 Thoracic surgeon Dr. Abraham Lebenthal in Boston recently performed the first intraoperative heated chemotherapy procedure in the VA health care system for a patient with malignant pleural mesothelioma.
The procedure should improve care and long-term survival for veterans who rely on the VA for their health care needs. It will help in the fight against this rare and aggressive cancer.
Lebenthal is hoping more veterans with mesothelioma take advantage of what he can offer now at the Boston VA, which utilizes a long-term, collaborative relationship with nearby Brigham and Women's Hospital and the International Mesothelioma Program (IMP).
"This means that veterans now can stay within network, and receive the very best care available anywhere for mesothelioma," Lebenthal told Asbestos.com. "For some veterans, it could mean the difference between long-term survival or not."
The intraoperative heated chemotherapy (IOHC), which is used in combination with aggressive surgery, has been utilized for several years by a handful of mesothelioma specialists at private facilities, including Lebenthal at Brigham and Women's. The procedure last month, though, was a first within the sprawling VA health care system.
The David Sugarbaker Influence
Lebenthal was trained by renowned mesothelioma pioneer Dr. David Sugarbaker, who was the first to do the IOHC procedure more than a decade ago at Brigham and Women's.
It was the collaboration with Brigham and Women's that enabled Lebenthal, who is on staff at both facilities, to assemble an experienced, highly specialized surgical team to handle the groundbreaking procedure at the Boston VA.
"It will give you a survival advantage," Lebenthal said. "We saw that time and again at Brigham, patients living five, six, seven years and more. There is a reason, though, they don't do it everywhere. It really takes a lot of teamwork, and the right patient, to do it successfully."
Lebenthal and surgical first assistant Dr. Jeff Siegert presented their experience earlier this month at the recent Association of VA Hematology/Oncology (AVAHO) Conference in Washington, D.C.
Their poster presentation was entitled "Is In-Network Care for Veterans Diagnosed with Malignant Pleural Mesothelioma Feasible within VAHCS?"
The answer from Boston was an obvious "Yes."
Disproportionate Number of Veterans Diagnosed with Mesothelioma
Approximately 3,000 Americans are diagnosed with mesothelioma annually and an estimated one-third of those are veterans. It's a disproportionate amount that stems from the military's extensive use of asbestos products in the 20th century.
Mesothelioma has a lengthy latency period (20-50 years) between asbestos exposure and symptoms and diagnosis, endangering veterans today from long-ago service.
Despite a large number of older veterans with asbestos-related diseases, the VA health care system has been slow to respond. That could be changing.
Veterans with mesothelioma now can get referrals from their local VA provider to see a specialist like Lebenthal, along with travel reimbursement to cover their costs.
"We have an open-door policy, welcoming veterans from across the country who receive their health care at the VA," Lebenthal said. "Treating this cancer is not about averages. It's about hitting the home run, and getting as many long-term survivors as we can."
The IOHC is used in conjunction with aggressive surgery. After the surgeon has removed all visible tumor cells, and before the chest is closed, a chemotherapy solution is pumped into the thoracic cavity and circulated for up to an hour before it is drained.
The hope is to prevent or delay any disease recurrence by eliminating any remaining microscopic tumor cells that were not reached by the surgeon.
Heated Procedure Is Also Used on Abdominal Cancers
Heated chemotherapy also is used for some abdominal cancers, including peritoneal mesothelioma, and is often referred to as HIPEC (heated intraperitoneal chemotherapy).
Many doctors believe that heated chemotherapy contributes to longer survival rates, although there has been some debate over its effectiveness. Lebenthal, after multidisciplinary scrutiny, has been lobbying for its use in the VA health care system for years before receiving recent approval.
"This is about treating everyone as well as we possibly can," he said. "It takes a team to get that done."
The interview with Dr. Abraham Lebenthal was approved by the press office of the VA Boston Healthcare System.
Medically Reviewed by Top Mesothelioma Doctors
Free Mesothelioma Guide