Treatment & Doctors
Mesothelioma Treatment Guidelines Not Followed Often Enough
Fact Checked
Our fact-checking process begins with a thorough review of all sources to ensure they are high quality. Then we cross-check the facts with original medical or scientific reports published by those sources, or we validate the facts with reputable news organizations, medical and scientific experts and other health experts. Each page includes all sources for full transparency.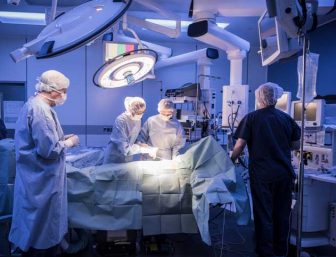 Too many patients with pleural mesothelioma are going without treatment recommended by National Comprehensive Cancer Network guidelines, according to a recent study at Cedars-Sinai Medical Center in Los Angeles.
Valuable survival time is being lost.
The Annals of Thoracic Surgery published the study that looked at disparities in compliance with national treatment guidelines and their impact on overall survival.
The National Comprehensive Cancer Network, along with the American Society of Clinical Oncology, recommends multimodal therapy — surgery, chemotherapy and possibly radiation therapy — for mesothelioma patients with the epithelial cell subtype who are healthy enough to tolerate the surgery.
Research was done by a team of thoracic surgeons and medical oncologists at Cedars-Sinai, which launched a multidisciplinary specialty program recently for pleural mesothelioma.
"The amount of under treatment we saw [in the study] was surprising," Dr. Harmik Soukiasian, director of thoracic oncology, told The Mesothelioma Center at Asbestos.com. "I had hoped to see people getting all the treatment required, at a higher percentage, than they currently are."
Recommendations Lead to Longer Survival
The retrospective study used 3,419 patients from the National Cancer Database participant user file. All were in clinical stages I, II or III and included epithelial (68.5%) sarcomatoid (17.2%) and biphasic (14.3%) subtypes.
Adherence to the recommended therapy, which differed with subtype and stage, was associated with an overall survival improvement.
"Patients should not give up because of a mesothelioma diagnosis. They should not lose hope," Soukiasian said. "Some patients do much, much better than others. There are patients who do very well, have a good quality of life and good outcomes. But they need to be at a place with expertise in treating this disease."
Median survival rates in the epithelial cohort included:
No Treatment: 10.2 months
Chemotherapy Alone: 15.4 months
Surgery and Chemotherapy: 21.1 months
Trimodality Therapy: 21.7 months
The study authors found suboptimal compliance with national guidelines, particularly at low-volume, nonacademic centers.
Too Many Going Without Proper Treatment
Overall, 31.1% of the mesothelioma patients did not receive any form of treatment.
Of patients with the epithelial subtype — which is the most treatable form of mesothelioma — only 27% underwent surgery. Nearly 30% were considered to be in the low-compliance group, defined as lack of therapy and no active surveillance.
The most common treatment among the epithelial cohort was chemotherapy alone (38.6%). Only 6.6% of the patients received trimodality treatment.
The National Comprehensive Cancer Network and American Society of Clinical Oncology recommend chemotherapy and close observation for nonsurgical candidates and only supportive care for those with low-performance status.
Surgery is not recommended for patients with sarcomatoid and biphasic histology.
Some form of treatment was received by 70.7% of those with epithelial histology, 42.4% with sarcomatoid and 57.7% with biphasic.
"The most important thing for a patient is to go to a place experienced in the diagnosis, staging and treatment of mesothelioma," Soukiasian said. "Finding an experienced surgeon is key."
High-Volume Centers Do Better
Other findings in the study, based on univariate analysis, include:
Age was the most significant clinical factor for low compliance with 41% of octogenarians not receiving any treatment.
Female patients were 21% less likely to receive treatment than male patients, despite having higher overall survival rates.
Patients with private insurance and Medicare had better odds of getting the recommended treatment, compared to uninsured patients.
Patients who traveled more than 100 miles to the facility were more likely to receive recommended care.
High-volume centers (more than 10 patients each year) and academic centers were more likely to provide multidisciplinary care, more accurate staging and a higher level of clinical trial recruitment.
"Just because you've been diagnosed with mesothelioma, it doesn't mean a death sentence," Soukiasian said. "With a multidisciplinary team that is versed in the management of mesothelioma, a patient will inherently do better."
Medically Reviewed by Top Mesothelioma Doctors
Free Mesothelioma Guide