Research & Clinical Trials
Mesothelioma Study Explores New Treatment When Chemotherapy Fails
Fact Checked
Our fact-checking process begins with a thorough review of all sources to ensure they are high quality. Then we cross-check the facts with original medical or scientific reports published by those sources, or we validate the facts with reputable news organizations, medical and scientific experts and other health experts. Each page includes all sources for full transparency.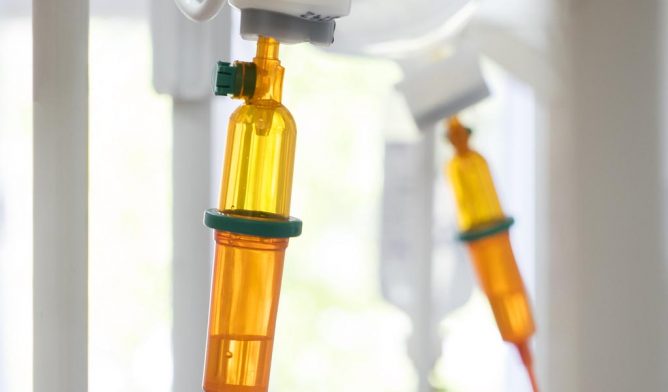 A clinical trial is exploring whether a novel immunotherapy/antiangiogenic combination can serve as an effective second-line treatment for pleural mesothelioma.
Early indications of the four-center, phase II clinical trial are positive.
The combination involves nivolumab (Opdivo) , a well-known immunotherapy drug, and ramucirumab (Cyramza), a therapy drug that blocks the formation of blood vessels needed for new tumor growth.
The Food and Drug Administration approved both drugs for the treatment of other cancers, but this clinical trial is the first to test them in combination for mesothelioma.
The single-arm trial began in 2018 and is expected to finish in 2021.
"Any assessment of outcomes at this point would be preliminary," medical oncologist Dr. Alberto Chiappori, principal investigator at the Moffitt Cancer Center in Tampa, told The Mesothelioma Center at Asbestos.com. "But we have not seen any reason not to be encouraged. There is everything to assume we can expect a positive outcome."
Help with Unresectable Disease
The trial is for patients whose unresectable tumors have progressed after chemotherapy.
The Moffitt Cancer Center is just one of four institutions hosting the trial. The others include Regions Hospital Cancer Center in St. Paul, Minnesota; Karmanos Cancer Center in Detroit; and the University of Maryland Cancer Center in Baltimore.
"I cannot provide details yet, but I can say that patients are doing well, and this encourages us to offer this study to other patients," said medical oncologist Dr. Arek Dudek at Regions Hospital, principal investigator and sponsor. "The study is doing well."
A potential synergy between the two drugs, which have already shown effectiveness as single agents, led to considerable optimism before the trial began.
Dudek said earlier he believed the combination could eventually replace chemotherapy as the standard option for treating pleural mesothelioma
"My personal nature is not to jump to conclusions early," Chiappori said. "This trial is by no means definitive, but it's a building block. A breakthrough? Sure, of course it could be, but that depends on the results. It's early."
Study Will Measure Two-Year Survival Rates
All four of the study sites still are accepting patients. The goal is to enroll at least 35 participants.
Those joining the study will receive the Opdivo/Cyramza combination intravenously every two weeks for up to two years, provided the disease does not worsen or cause severe side effects.
The study will measure progression-free survival, response rate and two-year survival. Patients may withdraw from the study at any point if they desire.
The need for a reliable, second-line treatment for pleural mesothelioma has grown more pronounced in recent years. The lack of therapeutic progress throughout the past two decades has been glaring.
Less than a third of patients diagnosed are even eligible for potentially curative surgery. First-line, standard treatment remains chemotherapy with a combination of pemetrexed (Alimta) and cisplatin, which has shown only short-term effectiveness.
Most patients receiving only first-line chemotherapy survive less than 18 months.
"I think the current available treatment for mesothelioma falls far, far short from where we would hope," Chiappori said. "And the only way new therapies will be discovered is through the scientific process that we are following with this trial."
Immunotherapy Combinations Are the Future
Most oncologists believe that some version of an immunotherapy combination eventually will become the future of treatment but finding it has been difficult.
There are 10 clinical trials worldwide for mesothelioma using Opdivo. Only this one, though, combines it with an antiangiogenic therapy such as Cyramza.
The FDA recently approved Cyramza in combination with certain chemotherapies for some stomach, lung and colorectal cancers.
The drug targets and negates the particular protein that stimulates blood vessel growth within a tumor.
Opdivo blocks another protein that often prevents a patient's immune system from recognizing the tumor as foreign, which allows it to attack.
Chiappori said the hope for the study is at least a 40% response rate, which is double the standard rate of effectiveness for this disease.
"I tell patients [who are considering the trial], you don't have to worry about making a wrong decision. There is no wrong decision. It's just a different decision," he said. "'Do I follow the known, which is proven to be insufficient, or do I follow the unknown that I hope is going be better.' That's the key."
Connect with a Mesothelioma Doctor
Find a Top Specialist Near You