Beta glucans are sugar compounds found in bacteria, yeast, fungi, algae and plants such as oats and barley. They are a source of soluble fiber and have been used for a variety of medicinal purposes.
They have been used to control high cholesterol, boost the immune system and improve skin conditions such as eczema, bedsores, wounds and radiation therapy burns.
Beta glucans are also considered prebiotics, which are food for the probiotics (good gut bacteria) that live in the human digestive system.
Researchers believe beta glucan deserves further study because it is affordable and has a good track record of safety.
Potential benefits of beta glucan for cancer patients:
Stimulates the immune system to fight bacterial infections
Activates parts of the immune system including natural killer cells that fight cancer
Patients with mesothelioma should discuss beta glucans with their oncologist prior to consumption to be aware of potential interactions and side effects.
How Beta Glucan Works
Beta glucans are chains of glucose (sugar) that are linked together. They vary in size and structural complexity based on the number of glucose chains that link up.
Larger beta glucans with more chains of glucose appear to have a greater impact on the immune system and better anti-cancer effects.
Beta glucans appear to directly and indirectly boost the immune system.
They directly work by activating a variety of receptors on immune cells.
They indirectly work by helping balance bacteria in the gut, where gut-associated lymphoid tissue (GALT) is located. According to a 2008 study published in Clinical & Experimental Immunology, approximately 70 percent of the immune system is located in GALT.
Once ingested, beta glucans are absorbed in the small intestine and broken into smaller parts. These parts are carried to the bone marrow and immune cells, where they activate various parts of the immune system including anti-cancer cells and compounds.
The anti-cancer cells activated by beta glucan include macrophages, natural killer cells, dendritic cells, neutrophils and monocytes.
The anti-cancer compounds activated by beta glucans include cytokines such as tumor necrosis factor-alpha and several different interleukins. Cytokines are inflammatory chemicals that help the immune system fight diseases such as cancer.
A study published in Cancer Immunology Immunotherapy in 2002 showed beta glucans from barley shrunk tumors and prolonged survival in mice with neuroblastoma, a form of adrenal gland cancer.
According to a 2012 study published in the journal Surgery Today, in 1989, Japan approved a beta-glucan compound in mushrooms for use in combination with chemotherapy to treat gastric cancer and colorectal cancer, and to prolong remission among patients with small-cell lung cancer.
Research does not indicate that beta glucans can directly kill cancer cells. Rather, they stimulate the immune system to kill cancer cells.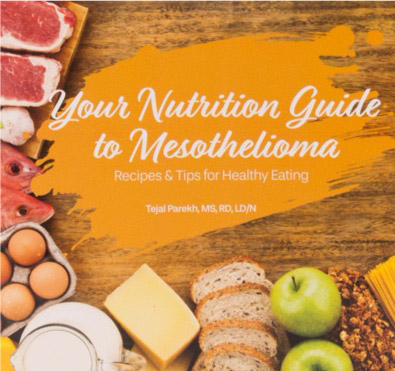 Free Mesothelioma Nutrition Guide
Eating right and balancing your diet while undergoing mesothelioma treatment can help ease your symptoms.
Get Free Recipes & Tips
Potential Side Effects and Risks of Beta Glucan
There are potential side effects and risks of using beta glucan. Patients should monitor how they feel after supplementing with beta glucan.
Patients with leukemia should not take beta glucan supplements because laboratory studies suggest that beta glucan can promote the growth of leukemia cells.
Possible side effects of beta glucan include:
Diarrhea
Nausea or vomiting
Pain in the back or joints
Blood pressure changes
Excessive urination
Fever or chills
Swollen lymph nodes
Skin rash
Foods Containing Beta Glucan
Doctors and dieticians generally recommend people consume beta glucans through their diet rather than taking a supplement. However, supplements are available and are generally considered safe.
A variety of fungi and plants contain beta glucan:
Reishi, shiitake and maitake mushrooms
Oats, barley, wheat, rye and sorghum grains
Seaweed
Algae
Brewer's and baker's yeast
Barley typically has the highest concentration of beta glucans. Oats have the second-highest.
One cup of cooked pearl barley contains 2.5 grams of beta glucans. One and a half cups of cooked oatmeal, or three packets of instant oatmeal, contain 3 grams of beta glucans.
In addition to their anti-cancer properties, beta glucans are beneficial for people with high cholesterol.
A 2016 study published in the British Journal of Nutrition found consuming three grams of oat fiber beta glucan daily decreased levels of bad cholesterol and reduced risk of cardiovascular disease. The U.S. Food and Drug Administration says eating 3 grams of beta glucan a day can lower blood cholesterol levels by 5 percent to 8 percent.
Not enough research has been conducted on beta glucans and cancer for doctors to recommend a specific dosage. This underscores the importance of discussing beta glucan with your oncologist as a complementary and alternative medicine, especially if you are interested in taking a beta glucan supplement.
Last Modified September 24, 2018
8 Cited Article Sources
How did this article help you?
What about this article isn't helpful for you?
Did this article help you?
Thank you for your feedback.
Would you like to speak with a Patient Advocate?