Treatment & Doctors
IMPRINT Mesothelioma Treatment Boosts Radiation Therapy
Fact Checked
Our fact-checking process begins with a thorough review of all sources to ensure they are high quality. Then we cross-check the facts with original medical or scientific reports published by those sources, or we validate the facts with reputable news organizations, medical and scientific experts and other health experts. Each page includes all sources for full transparency.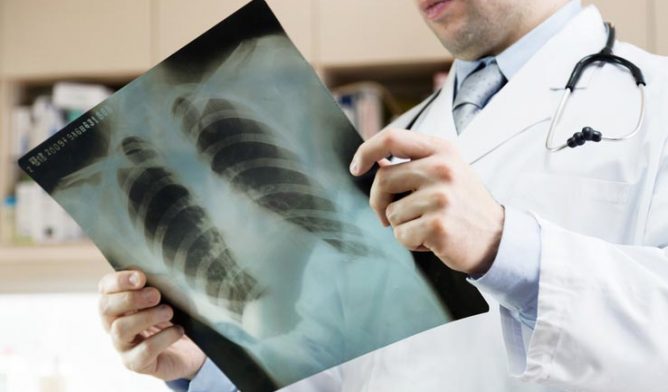 Doctors confirmed a novel radiation procedure can be combined safely and effectively with aggressive lung-sparing surgery to improve survival time and quality of life for patients with mesothelioma.
After a decade of refinement, a small number of mesothelioma specialty centers now are using intensity-modulated pleural radiation therapy (IMPRINT) as part of the recent advancements in multidisciplinary treatments.
"We're hoping that all centers with experience in treating mesothelioma will now look at this as another technique to put in their arsenal," radiation oncologist Dr. Kenneth Rosenzweig of the Mount Sinai Health System told Asbestos.com. "It's exciting that technology has caught up with what we needed to help these patients."
Rosenzweig has treated mesothelioma for 20 years. He was an early contributor to the recent multicenter, phase II study of IMPRINT that found an acceptably low incidence of radiation pneumonitis (RP), a potential adverse side effect. The Journal of Clinical Oncology published that study in June.
The study included patients at a New York cancer center, where Rosenzweig previously worked, and MD Anderson Cancer Center in Houston.
Helps Lung-Sparing Surgery
The findings should strengthen the growing belief among mesothelioma specialists that the lung-sparing pleurectomy/decortication (P/D) is a better option for most surgical candidates than the extrapleural pneumonectomy (EPP), which removes the entire lung.
Conventional radiation techniques of the past successfully decreased the risk of regional recurrence after an EPP, but it was difficult to safely deliver the same dosage levels without excessive toxicity to the lung after P/D surgery.
"One concern for surgeons was that if they don't remove the lung, and the patient does need radiation afterward, there isn't going to be a way to do it effectively. That was the challenge we were trying to overcome," Rosenzweig said. "But now I think if a surgeon has concerns about doing a more limited resection (P/D), we can allay that at this point."
The trial started with 45 patients who received pemetrexed, plus cisplatin or carboplatin chemotherapy. Eighteen of those were ineligible because of chemotherapy complications, disease progression or refusal of either surgery or radiation therapy.
Researchers began the IMPRINT stage with the remaining participants.
Manageable Rate of Side Effects
Eight eligible patients developed grade 2 or grade 3 radiation pneumonitis, a condition that creates pneumonia-like symptoms. All eight, though, recovered quickly after corticosteroid treatment. There were no grade 4 or 5 cases of radiation pneumonitis.
Twenty-one patients underwent P/D surgery. The other six were deemed unresectable and did not have surgery between chemotherapy and radiation.
The median progression-free survival and overall survival of all patients was 12.4 months and 23.7 months, respectively. Surgical patients had overall survival rates of 80 percent for one year and 59 percent for two years.
The one-year survival rate was 74 percent for those with unresectable disease, but the two-year survival rate dropped to just 25 percent.
Chemotherapy response played a big role in the survival rate, according to the study authors.
There was a 100 percent one-year survival rate and a 53 percent two-year survival rate for those with at least a partial response to chemotherapy.
"We know that giving radiation after surgery makes it less likely for the tumor to come back, but it's very challenging to deliver it safely when the lung is still there," Rosenzweig said. "Over the last 10 to 12 years, we've been working on this technique to deliver it safely. This is very encouraging."
Rosenzweig believes the study results will encourage more cancer centers to embrace the IMPRINT technique.
He also believes the next step is a larger, randomized, multicenter trial that will be even more convincing and ultimately improve the therapeutic options for mesothelioma patients.
"Even if radiation isn't the ultimate cure, it's still a good thing if we can get patients a significant amount of quality time with minimal side effects," he said. "It's a sign that things are getting better."
Medically Reviewed by Top Mesothelioma Doctors
Free Mesothelioma Guide