Treatment & Doctors
Doctors Debate Success of Earlier Mesothelioma Diagnosis
Fact Checked
Our fact-checking process begins with a thorough review of all sources to ensure they are high quality. Then we cross-check the facts with original medical or scientific reports published by those sources, or we validate the facts with reputable news organizations, medical and scientific experts and other health experts. Each page includes all sources for full transparency.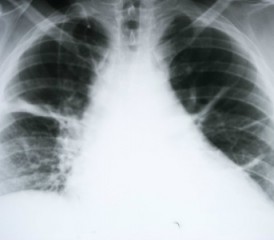 Early detection of cancer is a proven, effective tool in treating many variations of the disease. And it remains a focus for research in the field of mesothelioma.
Yet it might be little more than fool's gold in this case. There are no guarantees.
Even leaders in the field, those working tirelessly to find in-roads to help people who develop mesothelioma, admit there is no definitive proof that early detection of mesothelioma actually can extend anyone's chances of survival.
"We are making some measured progress [in early detection]," said thoracic surgeon Robert Cameron, M.D., scientific advisor of the Pacific Meso Center in Los Angeles, California. "But it is very hard to demonstrate that we are doing anything more than just detecting the disease earlier. People are aggressively pursuing this area of research, but how fertile it will be to actually making an impact on patient survival, remains to be seen."
Mesothelioma is the cancer caused almost exclusively by an exposure to asbestos. It affects the thin, protective membrane surrounding the lungs, heart or abdominal cavity.
Microscopic asbestos fibers are inhaled or ingested. They most often become lodged in that lining of the lungs, called the pleura, and over time cause inflammation, scaring, and genetic damage, setting the stage for pleural mesothelioma.
It can take 10 to 50 years after an initial exposure to asbestos before mesothelioma symptoms can appear to the point where someone acknowledges there is something wrong. By the time the cancer is detected, it is often so developed that there is a poor prognosis. Life expectancy typically is in the range of seven to 18 months.
Is Early Cancer Detection Really Early?
In theory, earlier detection should lead to more effective treatment options. It works with many cancers, catching the tumors while still small, and when they can be more easily removed or treated.
Advances in early detection of mesothelioma have come primarily in three categories:
Early radiographic detection through chest X-rays, CT scans, MRI's and PET scans. The screening of patients with a history of asbestos exposure, often before a patient becomes symptomatic with coughing, shortness of breath, or chest pains, which all can be early signs of mesothelioma, has shown promise. But they often can't differentiate between mesothelioma and other less-serious asbestos-related problems.
Biological molecules, or biomarkers, are being identified and can be detected from simple blood or urine tests. These already are being used with other cancers like prostate and colon. This involves chemically-modified DNA molecules that specifically bind to proteins identified with mesothelioma in its earliest stages. There are a number of studies currently being done in various labs, and the early results have been encouraging.
Breath testing with an electronic nose is an even newer concept gaining traction. It is completely non-invasive making it ideal for early screening — adapted from a concept that has been used for years to detect chemicals. Airport security today uses a form of this breath testing to detect potential explosives. Although still in its formative stages, a breath print can be established to detect scents exclusive to certain diseases.
"There is nothing quite ready yet for prime time, but stay tuned," said Harvey Pass, M.D., professor of thoracic oncology at the NYU Langone Medical Center, whose laboratory is doing extensive studies of early detection.
"There are a lot of people who are concerned with finding therapies now for patients with late-stage disease, which is extremely important, but the real gains will be made from finding it [mesothelioma] earlier. Treatments will work better. It could be very important in turning this into a chronic illness."
Mesothelioma is diagnosed in approximately 3,000 Americans each year, which is only a fraction of those found with other more prominent cancers like breast and lung cancer. The rarity has resulted in fewer studies, fewer trials and slower advances in treatment and diagnostics.
Searching for Consistent Mesothelioma Treatment Success
The typical treatment for mesothelioma now includes a multi-modality approach that includes surgery, chemotherapy and radiation. And while advances in treatment have occurred many patients are living longer there has been no consistent, across-the-board success related to earlier diagnosis.
"No matter what some people say, there really aren't very effective therapies yet (for mesothelioma)," Cameron said. "And there is absolutely no evidence that surgery, chemotherapy and radiation would be more effective if given at this earlier stage."
Cameron has company in his belief that an earlier diagnosis will not automatically lead to longer survival rates. He said that the calculations of those rates can be deceptive lead-time bias because they often just start the clock ticking earlier with the same ending date.
One of the reasons for Cameron's skepticism is the nature of mesothelioma cancer, which is very complex and different from other cancers. Every tumor, even at the earliest stage, is diffuse. The entire pleural surface is involved. The cancer often cannot be removed like a small nodule could.
"People make the assumptions that earlier stage diagnosis of mesothelioma means more treatment options and living longer, but unfortunately, we don't know that to be true," said Dr. Daniel Sterman, director of the Thoracic Oncology Gene Therapy Program at the University of Pennsylvania Medical Center. "It just hasn't been proven. It's tempting to make those assumptions to extrapolate from other cancers but they don't always work."
Lack of Diagnostic Tools
The lack of a proven, minimally-invasive diagnostic tool is another reason there has not been a widespread call for early screening for mesothelioma. There are particular occupations more vulnerable to asbestos exposure, but patients have come from all walks of life. Asbestos, through much of the 20th century, was everywhere in the United States.
"The population at risk is huge. The number of people who actually develop the disease is small," Sterman said. "We have the tools to do it, but screening large populations, with all the false positives and false negatives, might not be very effective."
Pass, Sterman and Cameron all have been treating mesothelioma patients for many years. All three are encouraged by the advances in early-diagnosis for lung cancer, but they point out how different mesothelioma can be from any other cancer.
"The only way we definitively can tell we are making a difference [with early diagnosis] would be if the treatment effect were huge," Cameron said. "And right now, that is very hard to demonstrate."
Medically Reviewed by Top Mesothelioma Doctors
Free Mesothelioma Guide