Pleural Specialist
A medical doctor who treats pleural mesothelioma, an asbestos-related cancer that develops in the pleura, which is the thin lining that covers the lungs and chest wall.
Dr. John R. Roberts
Thoracic Surgeon
Thoracic surgeon Dr. John R. Roberts at the Lynn Cancer Institute in Boca Raton, Florida, has extensive experience in treating lung cancer, esophageal cancer and pleural mesothelioma.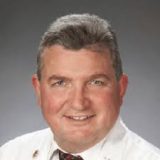 Eugene M. & Christine E. Lynn Cancer Institute Boca Raton, Florida (FL)
Get to Know Dr. John R. Roberts
Dr. John Roberts is a highly regarded thoracic surgeon at Boca Raton Regional Hospital and Baptist Health South Florida, where he treats patients with pleural mesothelioma, lung cancer and esophageal cancer.
He is an integral part of the multidisciplinary approach used by the Eugene M. & Christine E. Lynn Cancer Institute, where patients and families meet with medical oncologists, radiation oncologists and surgeons to formulate a personalized treatment plan.
Roberts joined the BocaCare Physician Network in 2018 after 20 years in Nashville, where he served as the chief of general thoracic surgery at the Vanderbilt School of Medicine, along with clinical appointments at Baptist and Centennial hospitals.
"I have the experience you need," he said proudly. "The diseases we treat are difficult and life-changing. Patients should know that they can count on us."
Roberts can perform the potentially curative extrapleural pneumonectomy or the pleurectomy and decortication mesothelioma surgeries, the most complex options available.
His prior experience also includes faculty appointments as instructor of surgery at the Johns Hopkins Hospital in Baltimore and assistant professor of surgery at the Perelman School of Medicine at the University of Pennsylvania in Philadelphia.
During his residency at Brigham and Women's Hospital in Boston, he trained under legendary mesothelioma specialist Dr. David Sugarbaker.
Roberts also has extensive experience in cardiac surgery, general surgery and vascular surgery. He has treated heart disease, breast cancer, liver cancer and esophageal diseases, along with all types of lung diseases.
He has been lauded for his personalized approach to his patients.
Contact Dr. John R. Roberts
Specialties of Dr. John R. Roberts
Lung cancer
Pleural mesothelioma
Esophageal cancer
Robotic surgery
Cardiothoracic surgery
Dr. John R. Roberts' Experience and Education
Eugene M. & Christine E. Lynn Cancer Institute
Vanderbilt University School of Medicine
Johns Hopkins Hospital
Brigham and Women's Hospital (Residency)
Yale School of Medicine (M.D.)
Awards and Certifications
American Board of Surgery
American Board of Thoracic Surgery
Society of Surgical Oncology (Member)
Best Doctors in America (2013-2018)
Mesothelioma Clinical Trials Under Dr. John R. Roberts
A phase III clinical trial evaluating the use of nivolumab and ipilimumab, an immunotherapy combination which was approved by the FDA in 2020. The drugs also are known by their brand names Opdivo and Yervoy, respectively.
Publications of Dr. John R. Roberts
Massion, P.P. et al. (2003, November). Significance of p63 amplification and overexpression in lung cancer development and prognosis. Cancer Research.
Yamagata, N. et al. (2003, October 15). A training-testing approach to the molecular classification of resected non-small cell lung cancer. Clinical Cancer Research
Roberts, J.R. (2003, July). Minimally invasive surgery in the treatment of empyema: intraoperative decision making. The Annals of Thoracic Surgery.