When you receive a mesothelioma diagnosis, a first step will be finding the best cancer care team available to you.
Your team should include a number of specialists including a mesothelioma doctor — an oncologist who has expertise and experience treating mesothelioma. You'll also have oncology nurses to support you.
Your team should include a respiratory specialist, too. This may be a nurse or a respiratory therapist. They can develop a plan of gentle stretching and exercises to help you breathe better.
One mesothelioma health care professional you may not think about is a registered dietitian, but a nutrition specialist should be on your team.
Treating mesothelioma may seem unrelated to eating, but good nutrition will give your body the fuel needed to prepare for and weather cancer treatment.
Mesothelioma patients can experience unique symptoms, making it difficult to eat well. A registered dietitian can help you address these challenges with an individualized nutrition plan.
They can develop protein and calorie goals and provide food lists and menus to help you meet your goals. This will keep you stronger as you go through treatment.
Nutrition Needs Vary
Cancer and treatment side effects can vary significantly from person to person. At one end of the spectrum, some people struggle not to gain too much weight.
For this group, lean protein, healthy fats, and lots of vegetables, fruit and whole grains are a great place to start.
However, people with malignant mesothelioma often have the opposite nutritional challenge: Unintentional weight loss before, during and after treatment.
They can require more protein and calories than usual to meet basic nutrition needs, withstand cancer therapy and recover.
For mesothelioma patients, serious malnutrition is a real threat. A whole-food, "cancer-fighting diet" that is right for one patient may do more harm than good for someone receiving mesothelioma care.
Clearly, people with cancer can have very different nutrition needs. While your nurse will give you great tips to manage many side effects, only a registered dietitian is qualified to develop an eating plan tailored just for you.
A dietitian also can help you evaluate dietary supplements or herbs you may have heard are helpful for cancer patients. Even though these products are "natural," they are not always safe, especially during cancer treatment.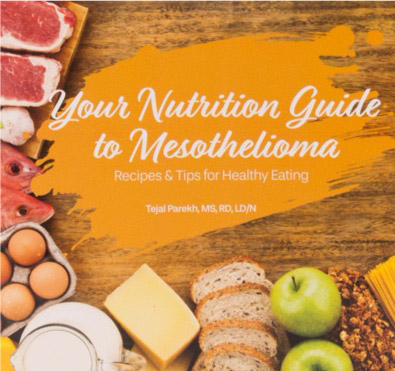 Free Mesothelioma Nutrition Guide
Eating right and balancing your diet while undergoing mesothelioma treatment can help ease your symptoms.
Get Free Recipes & Tips
Why Nutrition Matters
Under normal circumstances, weight loss can benefit your health if you carry excess fat. However, cancer treatment is far from normal circumstances.
Our bodies don't always respond in a healthy way to weight loss during cancer treatment. This is particularly true if you are losing weight without trying.
The stresses and inflammation during cancer care can prevent the body from using fat for fuel. This can happen even in people who carry excess body fat.
Instead, patients end up losing the muscle, organs, blood and immune cells making up lean tissue.
This can lead to more severe treatment side effects, treatment dose reductions and breaks in scheduled therapy, none of which supports your treatment goals and recovery.
The multibillion-dollar diet industry attests to the difficulty of weight loss. If you're dropping weight without trying, it's a red flag.
Ask for a Referral to a Dietitian
Many cancer centers have just one dietitian or no dedicated dietitian at all. This means the nutrition specialist is only going to see a small portion of the patients treated at the facility.
In these cases, you need to ask to see a dietitian. It really is true, "the squeaky wheel gets the grease." Your health is at stake, so don't be afraid to ask for the help you need.
Ideally, your mesothelioma care team will include a dietitian. If you do not have access to one right away, ask for a referral from your doctor or nurse.
If possible, obtain a referral to see a dietitian with cancer experience. However, even a non-specialist dietitian can offer significant support and develop your plan for adding in more calories and protein each day.
If your cancer center does not have a dietitian, ask your nurse for the number to the hospital's clinical nutrition services. You can call this department, explain your situation, and ask if you can see a dietitian in their outpatient clinic.
Another resource is the Academy of Nutrition and Dietetics free Find an Expert service. Enter your zip code and this creates a map of nearby dietitians who may be available to see you.
See the Right Expert
Be wary of people with the title "nutritionist." A nutritionist may have completed a six-week, a six-day or a six-hour class on nutrition. There are no qualifications for holding this title.
A registered dietitian on the other hand, must earn a minimum four-year bachelor's degree and complete a supervised internship treating patients.
Dietitians may be referred to as registered dietitian nutritionists, but "nutritionists" are not dietitians.
The combination of a college degree and a supervised internship mean dietitians are the only professionals qualified to deliver medical nutrition therapy (MNT).
And every person with mesothelioma needs and deserves the best care, including MNT.
Last Modified October 18, 2018
6 Cited Article Sources
Nicholson, B.D. et al. (2018 April 9). Weight loss as a predictor of cancer in primary care: a systematic review and meta-analysis. Br J Gen Pract. pii: bjgp18X695801. DOI: 10.3399/bjgp18X695801

Dogan, M. et al. (2014). The clinicopathological characteristics with long-term outcomes in malignant mesothelioma. Med Oncol, 31, 232. DOI: 10.1007/s12032-014-0232-0.

Kuo, Y.H. et al. (2018). Prognostic significance of unintentional body weight loss in colon cancer patients. Mol Clin Oncol, 8, 539-543. DOI: 10.3892/mco.2018.1582.

Gangadharan, A. (2017). Protein calorie malnutrition, nutritional intervention and personalized cancer care. Oncotarget, 8, 24009-24030. DOI: 10.18632/oncotarget.15103.

Loh, K.W. et al. (2012). Unintentional weight loss is the most important indicator of malnutrition among surgical cancer patients. Neth J Med, 70, 3656-9.

Mattox, T.W. (2005). Treatment of unintentional weight loss in patients with cancer. Nutr Clin Pract, 20, 400-10.
How did this article help you?
What about this article isn't helpful for you?
Did this article help you?
Thank you for your feedback.
Would you like to speak with a Patient Advocate?