Cancer & Caregiving
Pain Medications for Mesothelioma: Side Effects vs. Efficacy
Fact Checked
Our fact-checking process begins with a thorough review of all sources to ensure they are high quality. Then we cross-check the facts with original medical or scientific reports published by those sources, or we validate the facts with reputable news organizations, medical and scientific experts and other health experts. Each page includes all sources for full transparency.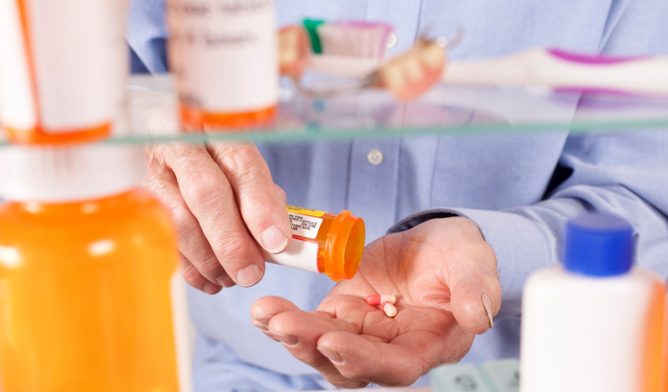 After a recent trip to the dentist's office, I found myself having an unexpected oral surgery.
Following the procedure, the doctor prescribed an opioid to manage my dental pain. The nausea I experienced was nearly as awful as the pain and stitches in my mouth.
I felt terrible, so I called the dentist.
The dentist explained nausea and vomiting are common side effects of narcotic pain medications. My nauseated stomach reminded me of my father's struggle with opioid side effects while managing his mesothelioma-related pain.
It seemed like everything we tried worked for a while, then another symptom would arise.
Many mesothelioma patients and their families are familiar with the side effects of pain medications but aren't aware of the causes.
Talking with your oncology team, understanding the symptoms and causes, and pinpointing your specific experiences can lead to better pain management.
Potential Side Effects of Opioid Medications
According to the American Cancer Society, oncologists often manage patients' moderate to severe pain with opioids and other medications.
Sometimes doctors will combine opioids with other medications to address chronic and breakthrough pain.
Talking to your oncology team is the first step in finding the right combination of medications to manage your pain.
The most common side effects cancer patients experience includes:
Constipation

Upset stomach

Vomiting
Oncologists understand the underlying causes for specific adverse effects of opioid pain management.
They can help identify the patient's individual experience such as when the symptoms occur, the intensity of the symptoms, if there may be another cause, or if anything seems to worsen the side effects.
Factors That Influence Pain Medication Side Effects
Some people experience significant discomfort from adverse side effects during pain management while others experience no symptoms at all.
An article published by the American Academy of Family Physicians (AAFP) sheds light on why some patients experience adverse symptoms while using opioids to manage pain as well as interventions that may help address these negative side effects.
People taking opioids often experience stomach discomfort including nausea. This particular side effect can have a number of specific causes such as:
Neurological Stimulation: Opioids can stimulate a part of the brain called the Chemoreceptor Trigger Zone (CTZ). This area of the brain houses serotonin and dopamine receptors. When opioid pain medications stimulate these receptors, it can cause nausea.

Vertigo and Dizziness: Pain medications such as opioids sometimes increase sensitivity in patients' vestibular system (parts of the brain and inner ear). This sensitivity might make a patient feel woozy or dizzy like the room is spinning, further compounding symptoms of nausea.

Slower Gastrointestinal Processing: The American Cancer Society identifies constipation as a common adverse effect of opioid use. The pain medications slow the movement of stool in the intestines which can make the stool harder because more water is absorbed in the process.
Many patients who require opioid pain management find the adverse side effects subside over time without any additional treatment.
Still, others consult with their oncology teams to address the side effects while maintaining opioid doses strong enough to relieve their pain.
Doctors may adjust dosage, add another medication, or advise patients in ways to manage the side effects of their pain medicine.
Managing the Side Effects
When mesothelioma patients find the adverse effects of their pain medicine to be troublesome, it may require additional care to manage these symptoms while continuing to relieve pain.
There are many available options, so your oncology team is sure to find the right one to meet your needs.
Additional Medications
The AAFP details numerous medications oncologists may prescribe to counter ill effects of opioids:
Antipsychotics: Phenergan or Haldol may be used to block dopamine receptors in the CTZ, decreasing stomach discomfort.

Serotonin Antagonists: Medications such asZofran are thought to interfere with serotonin release, which may help relieve nausea.

Antihistamines: Benadryl or Antivert may help to address vestibular sensitivity, reducing movement-related nausea.

Stool Softeners: Medicines such as Colace may ease symptoms of constipation, making bowel movements easier, more frequent and less painful.
Dietary Changes
Doctors may advise patients to make a few changes to their diet to address constipation discomfort.
Fiber: Eating more raw fruits and vegetables may assist in relieving symptoms of constipation.

Supplements: Your oncologist may suggest adding a fiber supplement such as Metamucil or Citrucel to your diet to decrease discomfort.

Water: Sometimes patients can increase their fluid intake to find relief from constipation.

Dosage and Administration: Your oncologist may incrementally decrease your opioid dosage to continue relieving pain but also relieve any adverse symptoms. Doctors may also advise patients to eat a small snack before taking their medicine or lie down for a bit following a dose.
Families and patients can work together with their oncology teams to target pain and adverse side effects.
It is essential for patients to find appropriate pain relief, which may require treatment with opioid pain management.
If side effects occur as a result, patients can turn to their oncology team to find the right solution.
If a patient no longer requires opioid pain management because of improvements in health, desire to discontinue the treatment or any other reason, it is important to discuss options with the care team.
The American Cancer Society cautions that suddenly discontinuing opioid medication may cause adverse withdrawal symptoms such as diarrhea, sweating and other effects. Discuss your options with your oncology team.
Get Access to Free Resources for Patients & Loved Ones
Free Mesothelioma Resources